Jerry Lawler Opens Up On Cardiac Arrest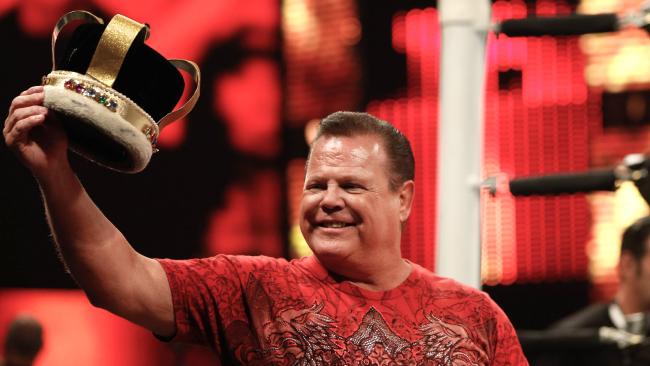 JERRY "The King" Lawler made a return to SmackDown Live for the first time in months for Tuesday's episode in his hometown of Memphis, Tennessee, but his interview with Dolph Ziggler quickly turned into a horrifying reminder that he nearly died on air in 2012.
Ziggler played a clip from the September 10, 2012, episode of Monday Night Raw, just a few minutes before Lawler collapsed while on commentary and was rushed to a medical facility.
Just 10 minutes before, Lawler was involved in a tag team match, partnering with Randy Orton against CM Punk and Ziggler. Ziggler repeatedly delivered elbows to the chest of Lawler, but the team of Lawler and Orton won the match.
Ziggler claimed he caused Lawler's incident, and on Talking Smack following the show, Lawler explained that while he doesn't blame Ziggler per se, he does believe Ziggler caused his cardiac arrest. Lawler also recalled some of the scary details of the night.
"I have alluded to the fact that 10 minutes before I had cardiac arrest — cardiac arrest and a heart attack are two different things. A heart attack, a lot of times, is caused by clogged arteries or something like that, plaque in your veins and that sort of thing. And you usually feel some pain because it's restricting the blood flow.
Cardiac arrest is when your heart — it's usually sort of like an electrical-type thing — your heart just stops. And only seven out of 1,000 people who (suffer) cardiac arrest survive. Usually those seven out of a 1,000 people survive because they're in a hospital or get immediate care.
And just fortunately, our ringside doctor was right there with the paramedics up in Montreal, started CPR immediately. It was still 22 minutes before my heart beat. And then they got the paddles and shocked me seven times.
The crazy thing was, my heart had been knocked off-rhythm, I believe by the elbows. By Dolph Ziggler. And it took about ten minutes for it to just freeze up and stop. Once they got the heart back on the correct rhythm, I haven't had one minute's problem since. I've been fine, knock on wood.
Renee Young: Do you blame (Ziggler)?
You know what, I don't know if I blame him, but I think that what we did and what happened in that match, those 10 elbows he gave me — I think that was the cause."
---
Story Credit: http://www.news.com.au/sport/more-sports/jerry-lawler-opens-up-on-cardiac-arrest/news-story/640509423819bf66b5e35099cf8ed1bf