Jack Essner's Story Of Survival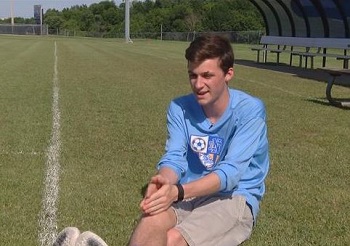 CAPE GIRARDEAU, MO (KFVS) - Whether you believe in miracles, good fortune or good timing...there's no denying that at least one of those things came into play on August 8 of last year.
In the shade of a lone tree on a grassy cross country track, a 17-year-old boy collapsed while running and stopped breathing.
Jack Essner suffered Sudden Cardiac Arrest--a rare, but often fatal condition.
How he survived brings us back to that original question....miracle, good fortune, or good timing?  A betting person would put money on all three.
On the morning of August 8, 2016, Jack Essner arrived for pictures at Notre Dame High School in Cape Girardeau.  That afternoon, he had soccer practice.
A life long athlete, his parents, Mary and Jim Essner, thought nothing as he ran out the door.
"He was a normal, healthy 17-year-old kid," Mary said smiling.
"I'm sure I felt good because I was a practice," recalled Jack, "but it turned out to be a crazy day."
Crazy is an understatement.
The day that began so ordinarily ended with Jack in a coma, so close to death that he received his last rites.
JP Schuchardt, at the time a Notre Dame junior, was on the soccer team with Jack.  High school soccer players know that at the beginning of the season, the toughest practices loom.
"Lots of running, conditioning.  It's hot and humid.  Like it always is in August.  These are some of the hardest practices, " said JP.
Practice started with a three mile run.  Two laps around the rough and hilly cross country trail.  A lone tree the only respite from the summer sun. JP and Jack, who ran about the same speed, teamed up.
"We were going to run it together," remembered JP.
They took off, but about halfway through, Jack started to fade.
Dan Martin, who had joined the Notre Dame soccer coaching staff just a few days earlier, recalls seeing Jack, "I remember him kind of stumbling and I was like, ""Come on Jack.""
About that same moment, JP looked around and noticed Jack was no longer with him.  Seconds later, Jack collapsed, face first into the weeds.
Martin was the first to get to him. "I rolled him over."
JP ran back to Jack.  He was unconscious, but breathing so JP wasn't too concerned.
"But then he stopped breathing," recalled JP.
For seven minutes, Martin, JP, and trainer David Enderle took turns performing CPR.  911 was called and an ambulance arrived on the scene.
"We were called for a 17-year-old boy in full arrest," said paramedic Brandon Hinkle, "We shocked him and he started breathing again."
When he and Mary arrived at St. Francis Medical Center,  Jim,  couldn't believe what was happened to their son.
"You hear about this on the news.  It always happens to someone else, maybe on a football field. It's never your child."
Within an hour of Jack's arrival, he was put into a medically induced coma.  Pads were placed on his body that brought his temperature down to about 90 degrees.  He would stay in the coma for two days.
Dr. Stephen Joggerst was the cardiologist on call when Jack came in,  "The cooling  of the body is to stop the damage from spreading.  It gives the brain a chance to rest."
Two days later, Dr.  Joggerst rewarmed Jack's body and he was brought out of the coma.
"He was able to respond and although initially confused, within a day he seemed like a normal, 17-year-old kid," Joggerst said.
Jack doesn't remember anything from that day.  Taking pictures, going to practice, collapsing.  It's all gone.  But other than that, he's back to the old Jack.
"All the statistics tell you that I should have brain damage but the nurse did the scan and said that my brain looked great," said Jack.
Jack suffered from what's called Sudden Cardiac Arrest of SCA.  It strikes 350,000 Americans every year.  95 percent of them don't survive and those that do usually have long term health problems.  A full recovery like Jack's is almost unheard of.
Dr. Joggerst credits Martin, JP, and Enderle for Jack's outcome.
"They get the credit.  Jack didn't go without his blood pumping for very long.  That was critical for his good outcome."
Doctors still don't know, and may never know,  what caused Jack to collapse that day. But they know it has to do with the electricity of his heart.  And that's why on Friday, four days after he arrived at St. Francis, he was in surgery to get a defibrillator implanted in his body.
Dr. Sandra McCearley explained how it works.
"The device keeps watch on Jack's heart," McCearley said. "Whenever it senses a dangerous rhythm, it will send a shock to get his heart back into a normal rhythm."   It took a team of people....perhaps even a tree...being in the right place, at the right time, for Jack to survive and now thrive.  He wasn't allowed to drive for six months and there's still no running.
While all of this is hard for an athlete like Jack, he's accepted what's happened.
"This wasn't my plan, this was God's plan. Clearly it happened for a reason. I can't wait to find out what that reason is."
---
Story Credit: http://www.kfvs12.com/story/36093788/jack-essners-story-of-survival