Ceremony Honors Individuals who Saved the Life of Teen Volleyball Player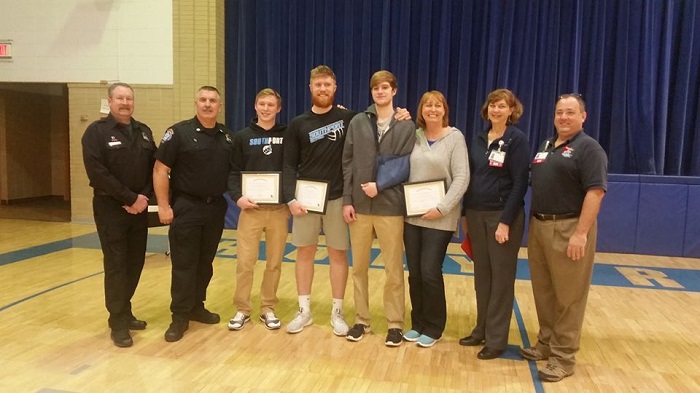 Tyler Gawlitta remembered the sirens.
And then, being treated at Children's Hospital in Wauwatosa the night of Nov. 30.
Before that, the 17-year-old Franklin teenager was practicing with his B-18 team of the Southport Volleyball Club at the Boys & Girls Club when he fell over. He doesn't remember falling over.
Gawlitta fell due to sudden cardiac arrest. He was later diagnosed with hypertrophic cardiomyopathy, in which the cell walls of the heart thicken, which leads to sudden cardiac arrest.
"I was really healthy before this. I was eating right. I was practicing three times a week, and I'd exercise daily," Gawlitta said. "I was working extremely hard at this practice, and then it happened."
Thanks to quick action by coaches and others at the practice, Gawlitta was given CPR and then rushed to the hospital.
On Sunday night, he and his mother Heather expressed their gratitude to those who likely saved his life.
At the ceremony in the Holy Rosary gym, where the team practices, Froedtert South Emergency Services Director Terri Harold presented certificates of recognition to Gawlitta's teammate Lucas Eggers, assistant coach Brad Barnes and Kim Ellingham, a nurse practitioner who was at the club that day.
Moving quickly
After Gawlitta toppled, Eggers helped him to the ground, while Barnes began CPR and assistant coach Ashley Hahn called 911. Team members located the automated external defibrillator. Ellingham administered the shock to Gawlitta that enabled his heart to restart.
Those actions increased Gawlitta's chances of survival, according to Piccolo.
By the time the fire department paramedics arrived, less than two minutes later, he had a heart rate and was responsive.
Capt. Neil Flannery of the Kenosha Fire Department commended those who worked on Tyler before paramedics arrived.
"It made our job easy," he said. "By the time we got him to the ambulance, he was talking and saying some words to us. That's amazing."
He went to Kenosha Medical Center for stabilization and then to Children's Hospital.
"We'd like to commend the efforts of everyone that day," said Harold.
Dave Piccolo, coordinator of EMS for Froedtert South, said that Gawlitta's condition is rare.
"I can count the number of times I've seen this in my career on one hand, and I can tell you it just doesn't happen," he said. "But to have the outcome where he's awake and alert. ... He was sticking his tongue out at his mother at the hospital. That just doesn't happen."
Big applause
During Sunday's ceremony, loud applause greeted Gawlitta as he was welcomed by Brian Sharkey, the volleyball club's co-director and head coach of Indian Trail High School and Academy's boys volleyball team.
"Thank you to everybody (during) such an emotional, frantic, life-changing evening for all of us," he said. "I think we learned so much more about ourselves and what we're capable of in a time of need. While we can't play next to Tyler anymore, he's always a teammate there to inspire our teams."
More than 350,000 sudden cardiac deaths occur each year nationwide, Harold said. Many are healthy and with no known heart disease or risk factors. About 32 percent receive the type of response administered to Gawlitta, and only 10 percent survive.
"Sudden cardiac arrest is not a heart attack," she said. "It occurs when the electrical impulses in the heart become very rapid and chaotic, causing the heart to suddenly stop beating."
Gawlitta now has an implantable cardiverter defibrillator, which tracks his heart beats.
"It'll shock my heartbeat into the (correct) rhythm if it seems my heart is not under control," he said.
Heather Gawlitta, Tyler's mother, said she was grateful the quick actions of everyone involved.
"Because you guys acted so quickly he has all his brain faculties. He's able to continue with life — maybe not volleyball — but that's OK," she said, holding back tears.
"Everything else is there because of you guys ... and thank you to everyone who was involved. My heart goes out to you."
---
Story Credit: http://www.kenoshanews.com/news/local/ceremony-honors-individuals-who-saved-the-life-of-teen-volleyball/article_6e98dca2-12d2-5a1a-b892-c10ab587909a.html