Implantable Defibrillator May Not Mean End To Sports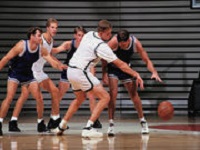 MONDAY, June 5, 2017 (HealthDay News) -- Competitive sports may be safe for many athletes who have an implantable cardioverter defibrillator (ICD), new research suggests.
The four-year study followed 440 athletes with ICDs who participated in vigorous sports such as running, basketball, soccer, tennis, volleyball, skiing and snowboarding.
An ICD is a battery-powered device placed under the skin. When it detects an abnormal heart rhythm (arrhythmia), it delivers an electric shock to restore normal rhythm.
In 2015, the American Heart Association said participating in competitive sports may be considered for athletes with ICDs. That advice was based on a study that followed hundreds of athletes with the devices for two years.
This longer study of 10- to 60-year-olds followed competitive athletes at the national and international level, high school and college athletes, and others.
During the study period, 121 of the athletes received a total of 184 shocks. Seven percent received appropriate shocks while participating in competition or practice (identical to the previous study); 5 percent received shocks during other physical activities; and 6 percent received shocks while resting.
The study was published June 5 in the journal Circulation. It was funded by ICD makers Boston Scientific Corp., Medtronic Inc. and St. Jude Medical.
"Even though some people did receive shocks while they were participating in sports, no harm came to patients," said lead author Dr. Rachel Lampert, a professor of internal medicine at Yale School of Medicine.
"After a four-year follow-up, we still did not see any failures of the device to terminate an arrhythmia, or injuries related to the arrhythmia or device, in these patients," she added in a journal news release.
The study did find that athletes with a type of inherited heart disease called arrhythmogenic right ventricular cardiomyopathy (ARVC) "were more likely than others to experience life-threatening ventricular arrhythmias requiring shock during sports," Lampert said.
They were also more likely to require multiple shocks to end their arrhythmias during physical activity.
"While all the shocks were ultimately successful in this study, this raises concern that vigorous physical activity could lead to arrhythmias that would not be terminated by the device," she said. "Although the ICD did work eventually and got the ARVC patients out of the arrhythmias, we don't like to see people requiring multiple shocks," she said.
Athletes who have ICDs and want to participate in sports should talk to their doctors because the risk for many of them is lower than had been previously thought, Lampert said.
---
Story Credit: https://www.doctorslounge.com/index.php/news/hd/72796