If Someone You Know Goes Into Cardiac Arrest, You're Their Best Chance Of Survival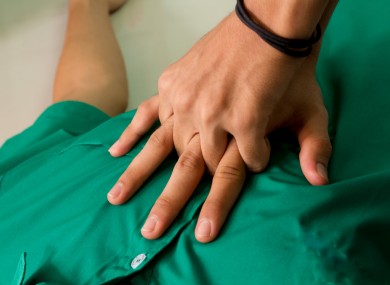 SOME 5,000 PEOPLE in Ireland die from sudden cardiac arrest each year – that's 13 lives lost every day.
Today marks the Irish Heart Foundation's 27th annual Happy Heart Appeal, the organisation's biggest fundraising campaign.
One of Irish Heart's key goals is to help save more lives from cardiac arrest, when a person's heart stops beating, through CPR training.
Dr Angie Brown, a consultant cardiologist and Irish Heart's medical director, told TheJournal.ie: "CPR can double if not triple a person's chance of survival.
"Without CPR or defibrillation, the chance of survival falls by up to 10% a minute. After five minutes, a person may only have a 50% chance of survival."
CPR, or cardiopulmonary resuscitation, involves pressing hard and fast on the centre of a person's chest and breathing into their mouth. An ambulance should, of course, also be called – a full guide can be read here.
Seven in 10 cardiac arrests happen in people's homes, meaning a loved one or friend doing CPR is often a person's best chance of survival.
Brown added that while cardiac arrest is more common among the older generation, younger people are not immune to it, stating: "We're all aware of people collapsing on sport pitches. Luckily most of the big stadiums have defibrillators now."
Genetic causes
Brown said about 80% of coronary heart disease is avoidable, citing obesity and diabetes as some of the main risk factors.
Of course, there are also genetic causes such as arrhythmia and long QT syndrome (a rare heart condition).
"There are inherited things that you can't do anything about other than have an awareness and hopefully getting a diagnosis … Even if you had an ECG scan the diagnosis might not be clear, a condition might not be picked up on," Brown noted.
Irish Heart is hoping to raise €500,000 through this year's Happy Heart Appeal– a 40% increase on 2016.
Kate O'Reilly, the organisation's national campaigns manager, said the money will "ensure that we can continue to provide essential CPR training to every community in Ireland".
"If a loved one or someone you know goes into a sudden cardiac arrest, you are their main chance of survival. Not a passerby, you and your hands. Now more than ever, we need more people to learn CPR and save more lives," O'Reilly noted.
---
Story Credit: http://www.thejournal.ie/cardiac-arrest-cpr-3384063-May2017/?utm_source=shortlink