iBeat Heart Watch Now Shipping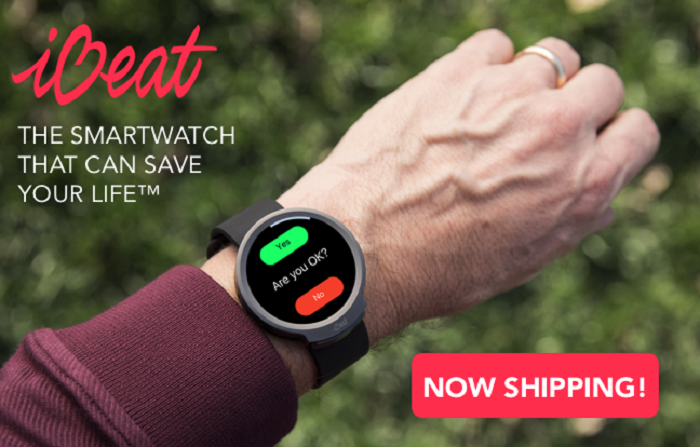 Medical alert disruptor, iBeat ships its Heart Watch to 11,000+ pre-order customers and is now available for purchase.
SAN FRANCISCO; July 11, 2018 – iBeat, a health tech company empowering people to live longer, today announced the release and shipping of its iBeat Heart Watch – a heart and blood flow monitoring smartwatch that will engage the user and can notify first responders for immediate medical aid if something appears to be wrong.
The iBeat Heart Watch looks and functions like an everyday watch, but inside is what sets it apart from any other wearable or health tracker on the market today. The watch has an array of sensors that measure heart rate, blood flow and other biometrics which it then analyzes in real-time, leveraging AI, to look for potentially worrisome changes, such as heart rate or blood flow slowing or stopping. If something appears to be off, the watch will engage the user and ask if everything is okay. If the user confirms the need for help or does not respond, the Heart Watch will automatically connect to the iBeat's 24-hour dispatch team, who can send the appropriate help – emergency medical services, police, firefighters, friends, or family. The watch also has an emergency button that can be pressed at any time to get users emergency or non-emergency aid.
According to the Centers for Disease Control and Prevention, every 43 seconds, someone in the U.S. suffers a cardiac emergency, and emergency response time can make the difference between life and death. Because these emergencies are often unwitnessed and can happen anywhere, the iBeat Heart Watch has the potential to reduce delays in emergency response times, which could save lives and possibly prevent a user from suffering brain damage or organ failure.
Features of the iBeat Heart Watch:
Continuous Heart Rate and Blood Flow Monitoring – Looks for changes in real-time and alerts the user when there might be a significant or potentially serious change
Dispatch and Emergency Contact Notifications – Immediately notifies iBeat's 24-hour dispatch team, the user's emergency contacts, and if needed, 911
Emergency Help Button – Can be pressed at any time to get aid from friends, family, loved ones, or emergency services
No Smartphone or Wi-Fi Needed – Equipped with built-in cellular functionality that can send and receive calls for help; No phone, Wi-Fi, or Bluetooth pairing is required to set up or use the watch.
Built-in GPS – Alerts responders and designated contacts to the user's exact location in an emergency
User Dashboard – Shows overall heart health, activity levels, location, and any emergency-triggered incidents
Heart Hero Network – Access to the largest and fastest growing lifesaving network that makes aid available to anyone, anywhere. With more than one million people trained in first aid and CPR, the network will be automatically alerted if a nearby iBeat Heart Watch user suffers a cardiac emergency.
While the iBeat Heart Watch is intended for use as an everyday watch or for those with a heart concern, it is also an ideal replacement and upgrade from the antiquated medical alert devices currently on the market. Most medical alert systems are pendants that brand the user as sick or elderly and require the user to stay tethered to a base station – unable to be used outside the home. They do not have the ability to measure cardiac parameters or automatically call for help. In contrast, the iBeat Heart Watch is a stylish watch that gives users the freedom to go anywhere they want, whenever they want, and keeps them within reach of immediate emergency or non-emergency aid.
"We've spent the past two years building a breakthrough product that is incomparable to anything on the market," said Ryan Howard, founder and CEO of iBeat. "Starting today, we are eliminating the stigma of, 'Help, I've fallen and I can't get up,' and are empowering people to age gracefully, while feeling fearless, exploring, and living longer. We truly believe this mission and product will disrupt the $6 billion-dollar personal emergency response system (PERS) industry and turn it on its head."
iBeat is pursuing FDA approval for use of its Heart Watch as a medical device and recently partnered with two of the top leading life insurers and reinsurers, Transamerica (AEG:NYSE) and SCOR Global Life (SCR:PAR), to extend longevity.
Pricing & Purchase Details
The iBeat Heart Watch is currently for sale at www.ibeat.com for $249, with monthly monitoring starting at $17. Users who pre-purchase a yearly monitoring plan will save $41 on the service. iBeat also offers 0% financing, enabling customers to forgo one full payment and instead pay in easy and flexible monthly payments. Unlike other medical alert devices currently on the market, the Heart Watch does not require any contracts or commitments, and users can cancel their service at any time.
About iBeat
Located in the heart of San Francisco, iBeat is a health and wellness company empowering people to be fearless, explore, and live longer lives. Their flagship product, the iBeat Heart Watch, is a breakthrough cellular smartwatch that continually monitors users' heart 24-7 activity. In a life-threatening cardiac emergency, iBeat will instantly alert the user, their loved ones, and emergency responders in real-time, helping ensure immediate care and potentially saving the user's life. It also has an emergency help button that can be pressed at any time to get users aid. While the company is pursuing FDA approval for use of its Heart Watch as a medical device, the product is currently a consumer wearable and is not intended for use in the diagnosis of disease or other conditions, or in the cure, mitigation, treatment, or prevention of disease.
Media Contact:
Kristin Tinsley
iBeat Marketing Communications Director
kristin@ibeat.com
---
Article Credit: https://www.ibeat.com/press_release/ibeat-heart-watch-now-shipping/