'I Feel Blessed': Boy Whose Heart Stopped Recovers in Hospital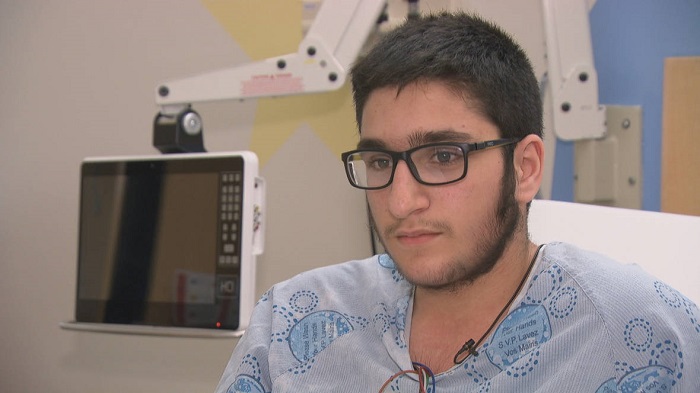 A weekend indoor soccer tournament in the city's west end almost took a tragic turn.
Abdulla El-Astal, 15, was playing in a year-end futsal tournament, a version of indoor soccer, at Sir Robert Borden High School on Greenbank Road.
He was feeling fine that day, he said, until partway through the game.
"I felt like I was tired, so I went to the bench and just collapsed," he said. "I just blacked out as soon as I fell. I can't remember anything."
'He stopped breathing'
Paramedics said he went into cardiac arrest, and they credited the quick actions of bystanders with saving his life.
Angela Seshadri, a pediatric cardiologist, was in the stands waiting to watch her son play in the same tournament when she noticed a commotion on the court below.
"He was sitting on the bench and he fell forward, and to me, as a cardiologist, that did not sit right," she said.
She rushed from the upper balcony down onto the gym floor. El-Astal's condition seemed to worsen quickly, she said.
'He stopped breathing and turned blue'
"I kept my hand on his wrist, feeling for a pulse and then suddenly he stopped breathing and turned blue," she said. "So I lay him on his back and started CPR."
Everyone there pulled together to help, she said. The team's coach called 911 and several people hurried to find an automated external defibrillator (AED).
According to paramedics, El-Astal regained consciousness en route to the hospital, making him the fifth person this year to be revived with the help of a public access defibrillator.
Ottawa Paramedic Service spokesperson Marc-Antoine Deschamps said having AEDs close by is crucial in many cases.
"People have been very good at using them," he said. "I'm very proud that the public stood up to the challenge, and did what they had to do."
'A hard transition'
El-Astal said he was diagnosed with a heart condition last year — an abnormal thickening of the heart muscle — but that he didn't expect anything like this to happen.
Now he faces two more weeks at the Children's Hospital of Eastern Ontario, and is undergoing a barrage of tests to figure out the best treatment. It might be a pacemaker, he said, which doesn't faze him so long as it helps keep him alive.
For now, doctors have told him he might not be able to play competitive soccer anymore.
"Since I started walking, I started kicking a ball," he said. "So if I'm not able to play soccer anymore, it's going to be a hard transition."
'They saved my son'
His father, Sulimen El-Astal, said the family will have to find new activities that aren't quite so strenuous — and that each activity Abdulla does will be a little bit nerve-wracking.
He and his wife weren't able to be at the tournament Saturday because they were both working. Hearing how people acted to help his son overwhelmed him with gratitude.
"They saved my son," he said.
"I can't explain my feelings. I can't."
---
Story Credit: http://www.cbc.ca/news/canada/ottawa/heart-attack-teenager-hospital-ottawa-1.4612340