I 'Died' Twice And Was In A Coma For Almost A Month But Now I Want To Play Again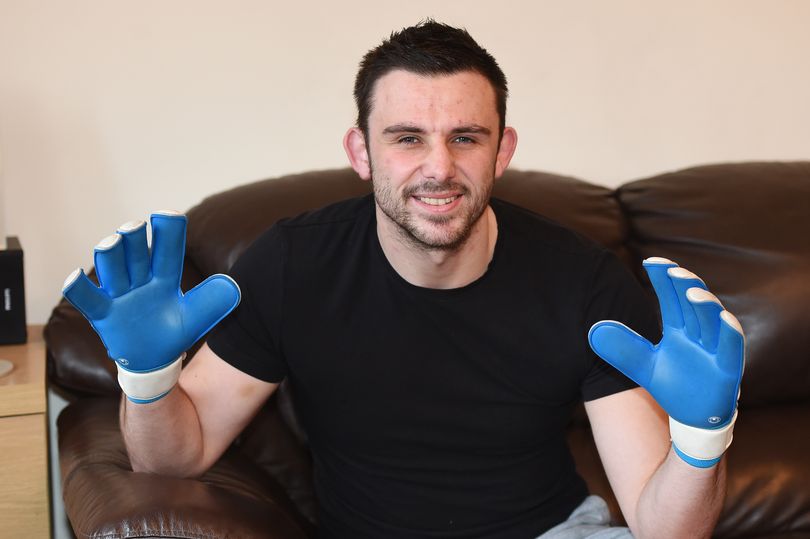 Shepherd suffered a heart attack, cardiac arrest and two strokes last September but his dream of pulling on the gloves again keeps him focused on the road to recovery.
Six years ago this weekend Graeme Shepherd felt like he was on top of the football world as he prepared to make his Partick Thistle debut as a fresh-faced teenager.
The rookie keeper was pulling on the Jags' No.1 shirt for the first time in a crucial Championship clash with Queen of the South at Palmerston.
And the 18-year-old was bursting with pride as he took what he hoped would be the first real steps on a career in the big time.
Fast forward six years and the big shotstopper is just glad to be alive after the most harrowing episode any young athlete could imagine.
Shepherd spent three-and-a-half weeks in a coma in September after suffering a sudden heart attack followed by cardiac arrest – the result, it is suspected, of his drink being spiked on a night out.
As medics battled to save his life, the normally superfit keeper then suffered two strokes and at his worst point was given a 20 per cent chance of survival.
It is, doctors have said, only because of his phenomenal levels of fitness that Shepherd is still alive today – and now on the road to a full recovery.
The keeper, who also had a spell with Albion Rovers before dropping into the junior ranks with Arthurlie, Irvine Meadow and latterly Cumnock, opened up on his ordeal to Record Sport this week.
Speaking from his home in Clydebank, where he is still learning to talk again, Shepherd said he is driven by a determination to prove the experts wrong and pick up his goalkeeping career where it left off. He said: "What I have been through in the last five months I just can't describe.
"I was basically gone twice but the doctors brought me back both times.
"I was in a coma for almost four weeks and when I came back round there were messages on my Facebook saying 'RIP Shep'. That was frightening.
"I'd been out for a few beers on the Sunday and when I came home I was sitting on the couch when I felt a weird sensation. Then I just remember my mum came in and said, 'Look at the state of you'.
"She phoned an ambulance and the last thing I remember was choking on my sick and black liquid coming out my mouth.
"That was it. The next thing I was coming out of a coma three-and-a-half weeks later.
"I had suffered a heart attack. I was gone for three minutes they told me. But they brought me round and took me to the Southern General Hospital where I was stable.
"I was given a sedative drug called propofol but it turns out I must be allergic to it and it caused me to suffer a cardiac arrest. I was gone twice in the space of an hour.
"The whole time I was in a coma seemed like I was having constant nightmares.
"Your brain is still awake and I can remember the awful dreams. It seemed like I must have had one every day I was in the coma.
"The nightmares made me think that I was in hospital because I'd been shot. I asked the nurse if I was in Carstairs. I don't know why I thought that. I just didn't have a clue what had happened.
"Now I know the true chain of events it makes me realise just how scary it must have been for my family and friends.
"The doctors told me that it will take a year to get back to normal. They say I can't do this and can't do that. But where I am already after just four months rehab is a small miracle according to the surgeons.
"At my worst they had told my family to bring my loved ones in because I only had a 20 per cent chance of survival.
"But I'm here now and getting stronger and while I'm under no illusions this is going to be a long and hard journey, I'm determined to get back to full fitness."
Shepherd, who was working in an insurance company call centre at the time of his ordeal, has had to start learning to talk and walk properly again.
But he is already well ahead of schedule in his rehab. One source of frustration though is his lack of hand-eye co-ordination which has made catching things near impossible so far.
He said: "I have had to start learning everything from scratch again – my speech is getting there and I'm managing a little exercise.
"But my co-ordination is still not right. I'm desperate to get back playing in goal but I tried to catch a ball recently and it wasn't happening. It was like I had cabbage wrists.
"My brain was telling me to catch it but the body wasn't doing it. It was soul-destroying. It would be easy to roll over and give up but that's not in my make up. I will play again."
Shepherd says the support he received from ex-team-mates and supporters while in hospital was a source of strength.
Old pals from his Firhill days including Stuart Bannigan, Kris Doolan and Chris Erskine were in regular contact and he received a flood of messages from supporters.
Even his hero, Andy Goram, who coached him for a short time at Irvine Meadow, sent his best wishes.
Shepherd said: "The support I received from my mates in football and supporters was amazing.
"I had five great years at Thistle and came through the youth system with Stuart Bannigan so it was nice to hear from him when I was in hospital.
"It's incredible to think it's six years since I made my debut for the first team. That remains the highlight of my career.
"It was a special day and I only found out on the morning of the match when the physio, Kenny Crichton phoned me to say I was about to make my debut.
"Kenny was a joker and I always took everything he said with a pinch of salt so even then I wasn't sure if he was telling the truth.
"The game ended 3-3 which wasn't great as we had led 3-1 with just a few minutes left but I was on such a high as I was only 18.
"I might never get back to that level but the target is just to get back playing football. Then – who knows?"
---
Story Credit: http://www.dailyrecord.co.uk/sport/football/football-news/died-twice-coma-month-now-9794985