Hundreds Farewell Waitohi Rugby Player Bevan Moody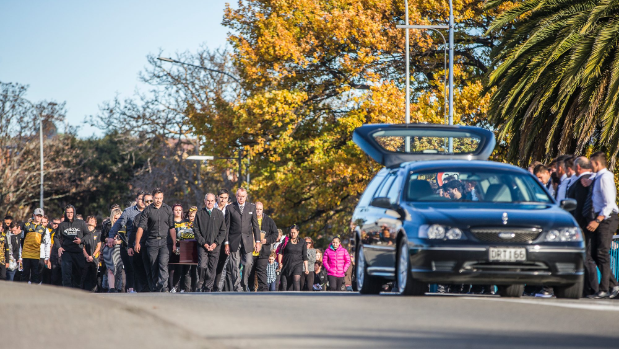 Hundreds have gathered to farewell a rugby player who collapsed on the field, marking his funeral with a haka on the streets of Blenheim.
The colours of his beloved Waitohi featured strongly at the funeral of Bevan Moody on Tuesday, from his rugby jersey draped over his casket to his daughter fully kitted out in yellow and black.
Friends, family, coaches and team-mates of the 22-year-old spoke emotionally about Moody, known affectionately as "Bear", inside the packed 700-seater ASB Theatre.
Moody's coach Tonga Taumoefolau​ said he first told Moody to try out for the team after seeing him watching from the sideline most weeks.
Moody was a force to be reckoned with on the field, quick to tackle, he said.
He also led a fierce haka at many games, playing for the Marlborough Boys' College First XV before joining Waitohi.
"I watched him improve, not just in his rugby," Taumoefolau said.
"When the baby came along, I saw a boy not only become a man, but his whole world was tipped upside down for the better. It wasn't all about rugby anymore, it was about supporting his family."
Moody and his partner Kendra Stewart have a second child on the way.
His best friend Atu Moli​ described Moody's attempts to catch the eye of Stewart as they walked to school.
After a much-deliberated friend request on Facebook, she let him help her walk the dog, and Moody was too shy to say a single word, Moli said.
His former teacher Gray Cornelius said Moody's loyalty and sense of humour made him a popular college prefect.
"Bear loved sport. He loved it so much he decided to spend 14 years at school instead of 13 like other people," Cornelius quipped.
"He didn't care who the opposition were, where they were from, what they looked like, he was going to go hard for his mates.
"Bev was big, but the biggest quality Bev had was his loyalty."
His former college would play Nelson College this Thursday, their "traditional foes", Cornelius said.
"This game will be for Bev. I know he'll be looking over us, I just hope he's got the game plan right."
Waitohi club "auntie" and manager Di Ivamy​ said Moody was loved by all who knew him.
"Bear did things at his own pace. Didn't rush for anyone. Always the last showered and dressed after games. Such a gentle bear. But on the field, he became a wild grizzly bear.
"You just couldn't help but love the big guy."
She was one of the first to reach Moody when he collapsed at Nelson's Neale Park on May 20, she said.
"I held him in my arms and I told him to stay with us and that his two girls needed him.
"I knew then that I couldn't fix him this time. I lost it when I looked up and saw his Waitohi brothers. That memory will stay with me forever."
SUDDEN DEATH IN YOUTH
Sudden death among young people is exceedingly rare.
Statistically, the most common underlying cause is a genetic abnormality, which can lead to a variety of heart conditions that affect the electrical rhythms, the physical structure of the heart, or its functioning.
Sadly, it can be fatal when an underlying condition triggers for the first time.
In New Zealand, around one to three young people a year die during sport and there are about 20 cases per million people involving sudden cardiac arrest in under-35s.
Athletes who have cardiac arrests are fitter than average and, usually, anyone who dies between the age of 1 and 15 was likely to have been suffering from 'long QT syndrome', which affects heartbeat rhythm, or a condition called CPVT, an uncommon adrenalin-induced condition.
Long QT syndrome tends to affect young boys, young men, and adult women.
For young people over 20, it's more likely to have been hypertrophic cardiomyopathy (HCM), an inherited condition in which the walls of the heart muscles thicken over time and eventually cause rapid, or irregular beating, or ARVC, which stands for arrhythmogenic right ventricular cardiomyopathy, a buildup of fatty deposits on the wall of the heart, forcing it to work harder and harder until a cardiac arrest.
There are other, rare, conditions that can affect young people and a sudden blow to the chest can also kill, a condition known as 'commotio cordis'.
To look at it another way, most young people who die suddenly are not athletes and more than half of sudden deaths among people aged under 35 occur while sleeping or during routine activity.
Genetic abnormalities are, sadly, often silent and have no symptoms until they present.
A heart attack is different to a cardiac arrest. The former is a disease predominantly of the middle-aged and elderly when arteries are blocked, or constricted, leading to less oxygen to the heart muscles and chest pain.
A cardiac arrest is a fast, irregular, heart rhythm in the lower chambers of the heart, the ventricles.
The Cardiac Inherited Diseases Group has more information and anyone with a family history of cardiac arrests under the age of 40, a history of fainting during exercise, or seizures while sleeping, should see a doctor.
---
Story Credit: http://www.stuff.co.nz/sport/rugby/93150586/hundreds-farewell-waitohi-rugby-player-bevan-moody