How Two 'Heart Sisters' Helped Each Other Heal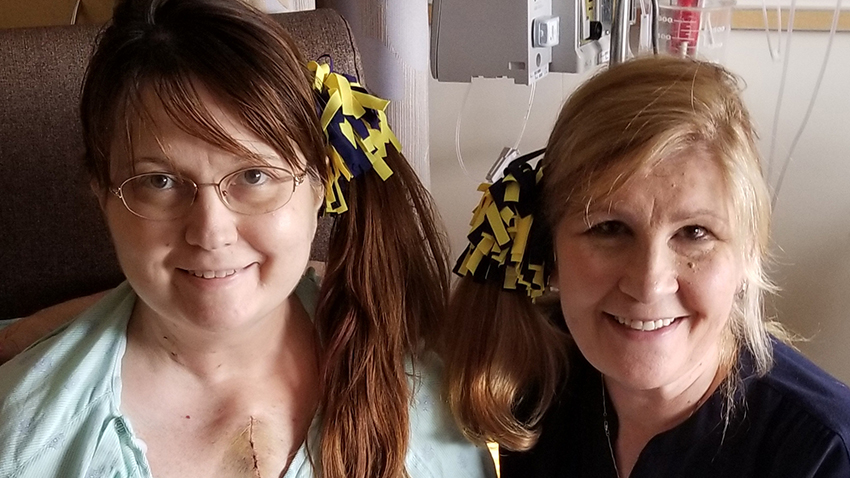 Teresa Harris and Terri Elliott were each born with a special heart.
Both recount childhood memories of long hospital days, being teased for sitting out of gym class and feeling lonely as friends enjoyed team sports they couldn't participate in.
And their congenital heart journeys at University of Michigan C.S. Mott Children's Hospital led the adult women to each other more than two decades ago.
"I had felt so isolated before," says Harris, now 52. "Meeting her changed that."
The deep friendship has since included big milestones. Each woman has been at the other's side through weddings, babies and grandchildren.
They've also stuck together in tough times. Harris was there for Elliott after a cardiac arrest and Elliott was the first one Harris called after learning she had received a heart for the transplant she needed this year.
Though not related by blood, the two will celebrate their special bond as part of National Sister's Day on Aug. 6.
"We just started calling each other 'heart sisters,'" says Elliott, 60. "When people ask 'What's a heart sister?' we tell them we are connected by heart. Our friendship grew so much over the years that we just feel much more like sisters than friends.
'Someone else who understood'
The relationship began 23 years ago when Harris asked her doctor if there was anyone else like her.
Harris was born with a large hole in her heart called a ventricular septal defect, which meant living with low oxygen levels and limited exercise ability.
Doctors at Michigan Medicine helped connect her with Elliott. After all, it was long before the days of social media and online support groups.
Elliott's congenital heart condition, she learned, wasn't exactly the same. But the woman also had a large hole in her heart and similar valve abnormalities that limited physical activities.
They met in Ann Arbor and became fast friends, sharing stories about their care at Mott, frustration over limitations during childhood and ultimately beating the odds when it came to their health.
"We just hit it off right away. I'll never forget the day we met," Elliott says. "We talked all night. So many of our stories were the same."
Harris was especially interested in Elliott's experience having a baby, as she wanted children of her own but had been told the prospect was risky. Elliott, likewise, shared things she didn't ever expect to do — including jumping horses.
The timing couldn't have been better.
"I was going through a rough time and it felt great meeting someone else who understood my experiences," adds Harris. "We just connected and now I feel so blessed to have her in my life."
Elliott went on to stand in Harris' wedding and was at the hospital during her son's birth. They talked every day and often made the two-hour trek between their respective homes in Zeeland and Oxford. Harris came to Elliott's daughter's bridal shower and wedding.
Unbreakable bonds
The women continue to support each other through medical challenges.
In 2009, Elliott suffered cardiac arrest, requiring a shunt surgery led by cardiac surgeon Edward Bove, M.D., who heads the Department of Cardiac Surgery at Michigan Medicine.
Harris experienced congestive heart failure in March. Elliott, of course, was a regular visitor during Harris' eight-week hospitalization while she waited for a new heart at the U-M Frankel Cardiovascular Center.
Elliott was at work when she got an exuberant phone call from her ailing friend in May.
"She screamed: 'I got a heart!' Elliott remembers. "I was so excited I started bawling and then cried the whole drive there.
"I don't know what I'd do without her," she adds. "I was petrified for those eight weeks that something would happen to her. Mott and University of Michigan kept us alive, but I feel like we make each other stronger."
Strength in numbers
About 1 in 100 children are born with some type of congenital heart disease — with Elliott and Harris' conditions on the serious and complex end of the spectrum.
Doctors credit advances in heart care and surgery for the significant increase in more children surviving and number of adults living with congenital heart disease. Elliott is among the oldest patients with the specific variation of her heart condition.
Mott cardiologist Mark Norris, M.D., M.S., who has treated both women, said their friendship is a strong example of how patients can turn to each other for emotional support.
"Many people with congenital heart disease describe feelings of being different and isolated starting in childhood," he says. "This may be due to physical scars from surgery or inability to participate in some competitive sports or gym class.
"Friendships with other 'heart kids' have been life-changing for many of my patients."
Today, there are more opportunities for heart kids to connect, Norris says, including experiences and relationships built through heart-specific summer camps such as North Star Reach in Pinckney, Michigan. Social media has also allowed people to find other heart communities, such as the patient-led Adult Congenital Heart Association.
Long-term health requires more than modern medicine, as the "heart sisters" gladly attest.
"We know that hope is essential for our patients to thrive, and friendship or mentorship can be an encouraging and hopeful relationship," Norris says. "Both of these women continue to inspire me to work alongside my patients, to help them pursue their goals and live fully."
---
Story Credit: http://healthblog.uofmhealth.org/heart-health/how-two-heart-sisters-helped-each-other-heal