How Tragic Death Of N.J. Student Helped Save Another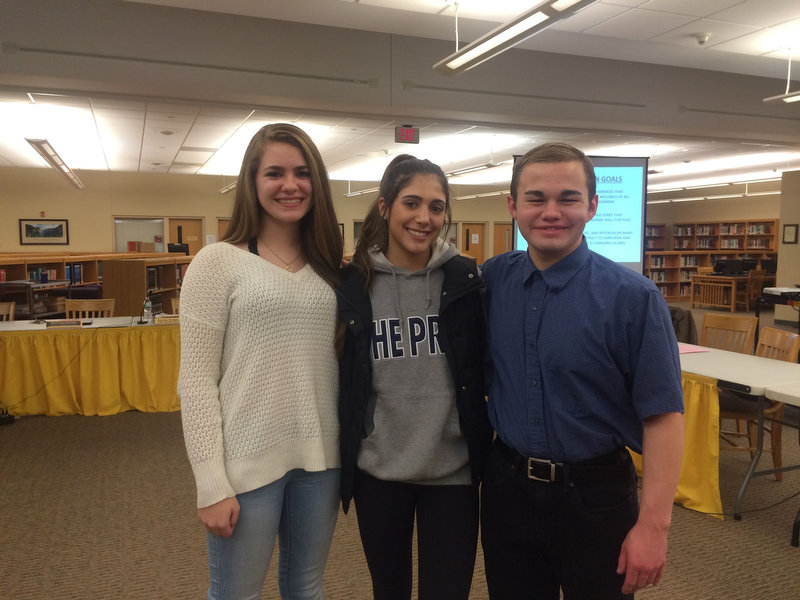 WATCHUNG - Sarah Magaldo, strapped to a climbing harness, had climbed roughly one-third of the way up a tree in her Adventure Education class at Watchung Hills Regional High School when she felt ill.
She had gone into sudden cardiac arrest.
At that moment in late January, classmates Emma Reedman and Andrew Zimmer sprung into action. Reedman raced up a ladder on the tree to secure Magaldo and ensure she didn't further injure herself.
After she brought Magaldo down from the tree and could not find Magaldo's pulse, Zimmer began the first round of CPR. Reedman did a second round of 60 chest compressions.
Minutes later, school nurse Angela Valerio arrived with an automated external defibrillator, hooked it up to Magaldo and resumed chest compressions. She was also given oxygen until first-responders from Atlantic Ambulance EMS-8 and Medic Unit Mercy 6 quickly arrived and transported Magaldo to Overlook Medical Center in Summit.
Those involved in saving Magaldo were honored Tuesday night at a board of education meeting.
The presence of the AED in the school, which is largely credited for saving Magaldo's life, was the result of Janet's Law, named after Janet Zilinski, an 11-year-old from Warren Township who died of sudden cardiac arrest in 2006, in part, because no AED was at her school after she collapsed following cheerleading practice. It took 22 minutes for emergency personnel to arrive.
Her parents, Jim and Karen, fought for six years to have a bill passed requiring all public and non-public schools in the state to have an AED on school property.
"My wife and I were talking and we said that with our daughter everything that could've gone wrong, went wrong," said Zilinski. "In this case, everything that could've gone right, went right. This is the reason we worked so worked to get this bill passed. This is a bill that saves lives.
"We're very proud of how the students and the school reacted in this situation. We're so happy this young lady will have a full and happy life. Her family and friends don't have to feel the pain we've felt. For us, this makes all the sleepless nights worthwhile."
The bill was signed by Gov. Chris Christie on Sept. 21, 2012. By Sept. 1, 2014, all schools, K-12, were required to have at least one AED in an accessible location and have a minimum of five trained first-responders in both the use of the AED and CPR.
Assemblyman Jon M. Branmnick (R-Morris, Somerset, Union) spearheaded the effort to get the bill passed into law.
After an eight-day stay in three hospitals - Overlook, Morristown Medical Center and New York Presbyterian Hospital, where she had a heart defibrillator implanted - Magaldo return to school on Thursday.
The Watchung Hills Regional High School District board honored Reedman and Zimmer for their heroism. Both received a plaque and countless heartfelt hugs of appreciation.
"I can't thank Andrew and Emma enough," said Magaldo, a 16-year-old junior from Gillette. "I wouldn't be here today without them. ... I don't remember anything. Only what everybody has told me. I was really nervous that day. When my adrenaline gets up, I have an irregular heartbeat."
Sarah's father, Michael, was overcome by emotion at the ceremony honoring the students, both of whom are volunteer firefighters with CPR training.
"I'm the happiest man walking this planet right now," he said, fighting back tears. "My wife, Sandra, and I are eternally grateful to everyone involved. The worst call a parent could ever get turned into the biggest blessing of our lives. Thank you for saving my little girl's life."
School Superintendent Elizabeth C. Jewett presented the plaques to the students.
"I'm in awe of both of these students," said Jewett. "I'm truly grateful you were there."
Reedman, 17, is a senior from Green Brook who has been a volunteer firefighter in Warren since ninth grade and also works with the Warren Township EMT. Her father and brother are firefighters in Warren. Her mother is a former EMT worker in Green Brook.
"I grew up with it," said Reedman. "My training prepared me. My first instinct was to go up there and help Sarah. I've always wanted to help people and to put my training to use and actually help save someone's life is very rewarding."
Zimmer, 18, is also a senior from Green Brook. Last year, he was a junior member of Green Brook Fire EMS. In December, he joined the Bethel Fire Department as a probationary member. "I just wanted to help my friend," said Zimmer. "I knew I had to do something. I'm glad I could help save Sarah."
Zilinski said that to his knowledge Sarah Magaldo is the 16th student saved by AED since Janet's Law was put into effect in 2014. His daughter would've been a member of the Watchung Hills High School Class of 2013 and a senior in college this year.
"All of the lives save with an AED are special but this one is extra special for my wife and me because it happened in our town," said Zilinski. "This is what the law was meant to do. I'd like to think my daughter is watching over all of the students."
---
Story Credit: http://www.nj.com/somerset/index.ssf/2017/02/lifesaving_aed_janets_law_saves_watchung_hills_stu.html