How to Prevent and Prepare for Sports Tragedies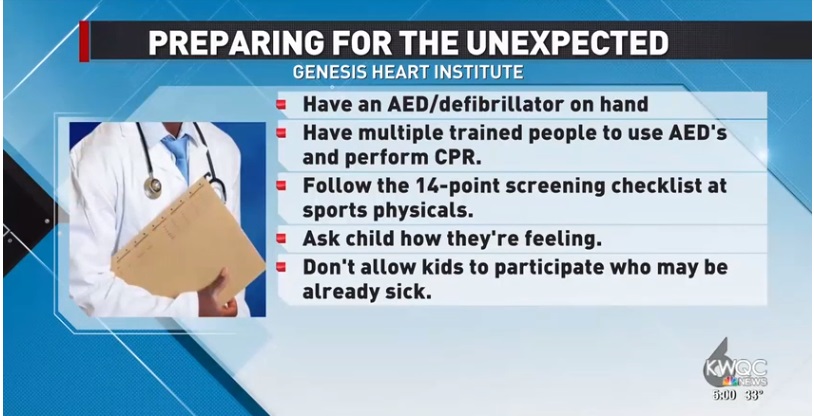 Although it's highly unlikely a sudden cardiac death happens during a sport, it is something everyone around events should be prepared for and aware of.
Dr. Kelly Airey of the Cardiovascular Medicine Group, as well as Dr. Jose Armendariz - a sports medicine specialist from the Genesis Medical Center - both said being cautious about heart symptoms is always important, but there are other things to look for.
Not just at sporting events, but really at any event - there should always be AED's or defibrillators handy. Even if a facility has them throughout the building, there should be one on hand and accessible in the room the event is happening.
The AED's don't mean much if there aren't trained people who know how to use them, so making sure coaches or teachers are trained and ready to use those resources at a moments notice, as well as being trained in CPR, is very important.
When you take your child to a sports physical make sure to bring up the 14-point screening checklist for the doctor. That checklist covers family medical history, the child's personal history, how the child feels when exerting energy, etc.
Communication with your child, student, or student-athlete is huge. Let the child know you may not always see if something is wrong, so they should feel comfortable talking about how they're feeling while doing physical activities. For example, if they're struggling to breathe, they need to know to speak up.
Even the common flu could stop a kid from playing in a sport, at least for the time being. You don't want to put any stress on someone who may already be struggling to maneuver or breathe regularly.
"You always want your kids to have fun. I think reassuring people that this is very, very rare is number one - but number two is being aware and cognizant of the warning signs that your child might have a serious cardiac problem," said Dr. Airey.
"It's important that we educate our kids to let their teachers and parents know that if they become light headed or dizzy when they're exercising that they need to tell somebody. And, it's important that we educate our parents and teachers that if the kids don't look right when they're exercising we need to pay special attention to them," she added.
Dr. Airey said because this is very rare, instead of focusing on each individual case the most effective way to save people from sudden cardiac attacks is to have these AED's everywhere and ready to go instantly. She said defibrillators and CPR are what saves lives.
Dr. Armendariz added that today's athletes want to prove their mental and physical strength, but you shouldn't feel embarrassed if you need to tell someone you are getting too tired too quick.
---
Story Credit: https://www.kwqc.com/content/news/How-to-prevent-and-prepare-for-sports-tragedies-501826681.html
---
Since you're here, we have a small favor to ask. Requests from schools and districts for our screening services are growing, which means that the need for funds to cover the cost of those services is also growing. We want to make our services available to those who request it and beyond, so you can see why we need your help. Safebeat heart screenings take a lot of time, money, and hard work to produce but we do it because we understand the value of a child's life, PRICELESS!
If everyone who reads this likes it and helps fund it, our future would be more secure. For as little as $1, you can support Safebeat and it only takes a minute. Make a contribution. -The SafeBeat Team