Here's What You Need To Know About The New Guidelines For High Blood Pressure In Children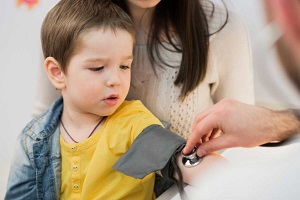 Sadly, no child is too young to have high blood pressure. In fact, an estimated 3.5 percent of children and adolescents in the U.S. have hypertension, or abnormally high blood pressure—and experts say that number is likely much higher.
To address these concerns (and catch the condition much earlier!), the American Academy of Pediatrics recently updated the guidelines for identifying high blood pressure in children and teens. Twenty experts worked on the committee to develop the report, reviewing about 15,000 scientific articles and studies published since 2004.
And what did they find? For starters, the normal blood pressure values in the new guideline are lower than in the old guideline. Because the new tables are based only on blood pressures from normal-weight children, it is possible that more children will be diagnosed with high blood pressure because of the new, lower normal BP values. (You should never ignore these signs of high blood pressure.)
As a result, the new blood pressure values are lower than they were before, meaning more children are likely to be diagnosed with hypertension. But that's not necessarily a bad thing; doctors can now catch cases of hypertension that would have previously gone untreated.
"Prevention and early detection are key," said Dr. Joseph Flynn, who co-chaired the subcommittee that developed the report. "High blood pressure levels tend to carry into adulthood, raising the risks for cardiovascular disease and other problems. By catching the condition early, we are able to work with the family to manage it, whether that's through lifestyle changes, medication, or a combination of treatments."
Untreated high blood pressure could take a serious toll on the body, including damage to the heart, kidneys, and brain. To catch the signs of hypertension early, pediatricians must perform routine blood pressure checks at annual doctor's visits, according to AAP's guidelines. And a child diagnosed with hypertension should adopt certain lifestyle changes, such as decreasing their consumption of foods that worsen high blood pressure and increasing foods that can lower hypertension. Exercise can also combat obesity and high blood pressure, the report says. If that fails to work, or the child has another condition like diabetes or kidney disease, blood pressure-lowering medications might be necessary.
"These guidelines offer a renewed opportunity for pediatricians to identify and address this important—and often unrecognized—chronic disease in our patients," David Kaelber, co-chair of the AAP Subcommittee on Screening and Management of High Blood Pressure in Children, which developed the report, said in a statement. "The easy part was developing the new guidelines. Now we begin the harder work of implementing them to help children and adolescents."
Thanks to these guidelines, parents and doctors can now work together to identify high blood pressure in their children. Don't miss the things your doctor might not tell you about healthy blood pressure, either.
---
Story Credit: https://www.rd.com/health/conditions/new-guidelines-high-blood-pressure-children-aap/