After Suffering Cardiac Arrest as Teen, Heidi Stewart Aims to Educate Others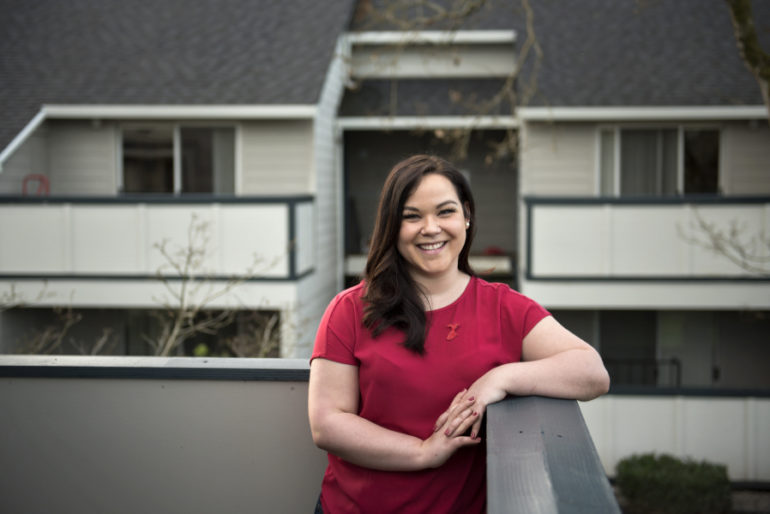 The first thing Heidi Stewart did when she woke up in the cardiovascular intensive care unit was try to wiggle her fingers and toes. The 18-year-old high school senior had suffered sudden cardiac arrest. She feared that the rest of her life she would be confined to a hospital bed.
When she saw her fingers and toes move, Stewart knew she had defied the odds.
"I told myself I would never take my second shot at life for granted," Stewart said.
Instead, she would use her platform — her story of survival — to advocate for young athletes like herself. And in the five years since Stewart woke up in that hospital bed, she has done just that, devoting herself to causes close to her heart: The Quinn Driscoll Foundation and the American Heart Association.
Stewart, 23, continues to share her story for one reason: "Simply to save lives."
AED saved her life
Stewart collapsed in the hallway at Evergreen High School on Feb. 12, 2013. Quick-acting staff members started CPR and administered three shocks from an automated external defibrillator.
Stewart was clinically dead for eight minutes. The AED used to save her life was donated by the Quinn Driscoll Foundation, named after a 13-year-old student-athlete at Wy'east Middle School who died in 2009 after suffering cardiac arrest during gym class.
Stewart attended Wy'east with Driscoll. They were the same age. They had mutual friends.
"I live for him every day," Stewart said.
Tests revealed Stewart has a rare heart condition, arrhythmogenic right ventricular dysplasia. The condition occurs if muscle tissue in the right ventricle dies and is replaced with scar tissue, which disrupts the heart's electrical signals and causes arrhythmias, according to the American Heart Association.
Surgeons implanted an internal defibrillator with a built-in pacemaker, which shocks Stewart's heart if she goes into cardiac arrest. The condition means Stewart can't let her heart rate get too high or her body too stressed.
"When my heart is given the opportunity to act up, it will," Stewart said.
In high school, Stewart was a four-year varsity swimmer. She was the captain of her swim team. Now, cardiovascular exercise is largely off the table. She does yoga regularly and tries to walk for an hour each day. But that's the extent of her exercise regimen.
"It's been hard going from a full-force athlete to nothing," Stewart said. "The athlete inside is crying."
'Created a life for myself'
Stewart's diagnosis also changed her post-high school plans.
Stewart had planned to go to Eastern Washington University, where she wanted to join the ROTC program and study nursing. The heart condition meant the military was no longer an option. And nursing, she was advised, was too demanding and stressful for someone with her limitations.
Stewart enrolled in classes at Clark College, but after a few months, she began to feel like she was suffocating. She couldn't escape her own story. Depression swept over her.
So she headed out of the state and toward the mountains, enrolling at the University of Montana in Missoula. There, she joined a sorority, studied communications and got involved with the American Heart Association.
"I created a life for myself," Stewart said. "It's the kind of place where I was able to grow."
After three years, in May 2017, Stewart left Missoula with a bachelor's degree — a feat that seemed impossible four years earlier. Stewart moved back to Vancouver last summer and is on the hunt for a job. She hopes to stay connected to the medical world. If she can't be a nurse, she wants to be working in or with a hospital in some other way.
She's also stayed involved with the Quinn Driscoll Foundation and the American Heart Association.
Stewart was recently named a national spokeswoman for the American Heart Association's Go Red Real Women campaign aimed at educating women about the No. 1 killer of women: heart disease. On Friday, Stewart will wear red for the annual Wear Red Day and urge women to know their numbers. And on Feb. 12 — her five-year Heart Day — Stewart will be lobbying at the state Capitol to raise the tax on tobacco.
"She's just a great representation that heart disease can strike anyone, at any age," said Lanette Trickey, executive director of the American Heart Association of Oregon & Southwest Washington. "She's an example of our mission in action."
Stewart is also working to promote the Quinn Driscoll Foundation's upcoming heart screening for young athletes. She hopes the screenings will prevent other athletes from experiencing sudden cardiac arrest and save young lives.
"To be the girl who collapsed and didn't wake up for 10 minutes, my success is implausible," Stewart said. "It still shakes me to my core."
---
Story Credit: http://www.columbian.com/news/2018/jan/29/after-suffering-cardiac-arrest-as-teen-heidi-stewart-aims-to-educate-others/