Heart screening saves lives at El Camino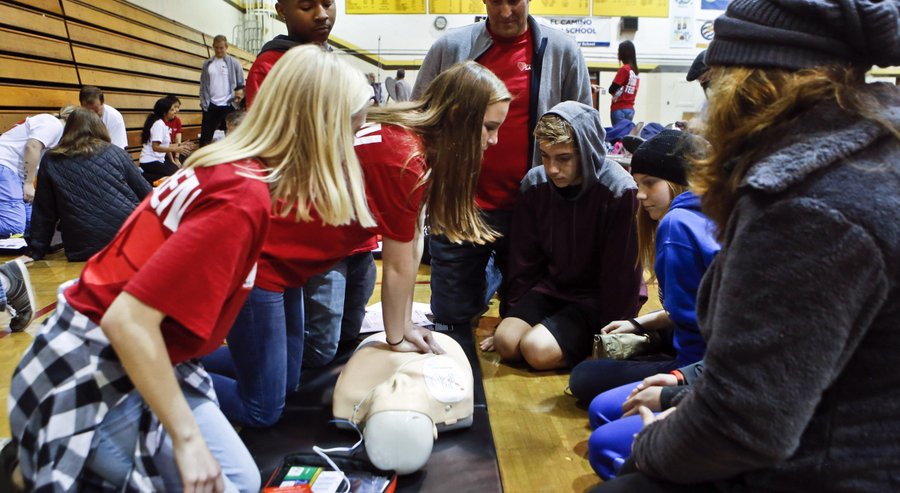 Oceanside — Five years ago, 15-year-old Brandon Zapata died from sudden cardiac arrest in an El Camino High School physical education class. A seemingly healthy student, he collapsed at the starting line during routine wind sprints.
This week, the school hosted a cardiac screening organized by a nonprofit group that's determined help avoid such tragedies. More than 550 students took part in the screening, and three were found to be at risk for the potentially fatal condition, officials said.
When Zapata collapsed at school on Oct. 25, 2010, P.E. teacher Doug Musgrove immediately began administering CPR and also used an automated external defibrillator, or AED, to try to revive him. An AED is a portable electronic device used to give electrical therapy to stop arrhythmia.
Musgrove remembers the boy's parents visiting him several days later.
"It was homecoming week," the teacher recalled. "The hardest part was that his dad thanked me. Then the mom came over and hugged me and I pretty much lost it."
"I've not had to use CPR ever again," he said.
On Sunday, the Eric Paredes Save A Life Foundation administered free teen heart screening at El Camino for 563 kids, 10 of whom were found to have some kind of heart abnormality, said Maureen Legg, executive director of the foundation.
Three of those cases "were serious enough to put the youth at risk for sudden cardiac arrest," Legg said. "They were potentially fatal."
She said she could not provide additional information about the students because of privacy concerns, but all have been referred for follow-up care.
Since its founding five years ago, the foundation has performed heart screenings on more than 18,000 kids between the ages of 12 and 25, mostly in San Diego County. In that time, 155 kids have been found at risk of sudden cardiac arrest.
Sudden cardiac arrest is fatal in 92 percent of cases if not properly treated within minutes. Abnormalities are typically congenital and possibly inherited, and can become more pronounced as young hearts grow.
A cardiologist was at El Camino on Sunday to read the echo-cardiograms and EKGs used in the screening; students found to have abnormalities were referred to outside physicians.
EKGs measure electrical activity and are used to detect irregular heart beats. Echo-cardiograms takes a snapshot of a heart with ultrasound waves, very much like a sonogram does for babies. The tests look for heart conditions such as heart disease or an enlarged heart.
Musgrove, who now teaches P.E. at Jefferson Middle School, returned to El Camino on Sunday to lend a helping hand in the heart screenings.
"I'm hoping to save lives," he said.
The Eric Paredes foundation was founded to honor a 15-year-old Steele Canyon High School student who lost his life to sudden cardiac arrest in 2009. The group educates parents, teachers, physicians and elected officials on the prevalence of sudden cardiac arrest among teen-agers, and the importance of standardizing EKGs as part of their regular health care.
Sudden cardiac arrest is an abnormality in the heart's electrical system that may be detected with an EKG. The first symptom of sudden cardiac arrest is often death, but screenings are not part of youth health checkups or standard sports physicals, Legg said. Zapata had a physical only two weeks before his death, Musgrove said.
Warning signs of sudden cardiac arrest include fainting, racing heart, palpitations or irregular heartbeat, dizziness or light headedness, chest pain, excessive shortness of breath and unexpected fatigue.
Legg said her organization is working with state lawmakers on introducing legislation in Sacramento that creates more awareness about sudden cardiac arrest for parents, students, athletes and coaches. The legislation, if passed, would require high school coaches to have CPR training, and empower coaches to remove an athlete from play when the student faints, and next require that they get evaluated before they can return.
The group is already working with the California Interscholastic Federation to introduce sudden cardiac arrest prevention protocols into high school sports programs statewide.
pat.maio@sduniontribune.com; (760) 529-4929; twitter: @patmaio
By Pat Maio
© Copyright 2016 The San Diego Union-Tribune. All rights reserved.