Heart Attack And Cardiac Arrest: THIS Is What To Do If You Suffer An Emergency On A Flight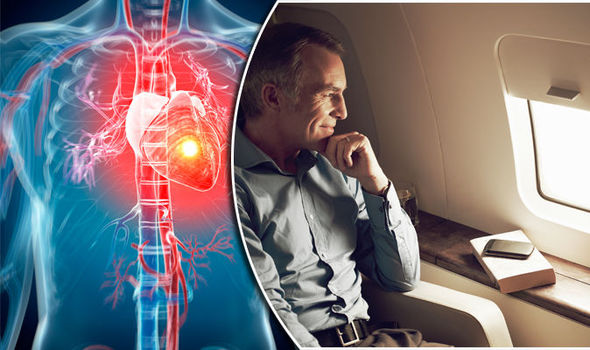 HEART attacks and cardiac arrests are two of the heart-related emergencies that can affect people at any moment - including on a flight.
Every five minutes someone in the UK has a heart attack, which is where the supply of blood to the heart is suddenly blocked.
A cardiac arrest is when your heart stops pumping blood around your body, and there are over 30,000 a year that take place outside of a hospital.
However, 1,000 people die annually due to the latter happening in the air, according to recent findings presented to a meeting of the European Society of Anaesthesia in Geneva.
Researchers are now calling for airlines to carry more medical equipment - including electrocardiograms and defibrillators - for dealing with in-flight cardiac arrests.
However, there are many other factors which can help reduce your risk or potentially save your life in the rare event you do suffer a heart emergency in the air.
Before you fly
Maureen Talbot, Senior Cardiac Nurse at the British Heart Foundation, said: "If you have an existing heart condition, you should always check with your GP or heart specialist that you are fit enough to travel by air, particularly if you've recently had a heart attack, heart surgery or been in hospital due to your heart condition.
"They can also advise on any medication you may need to take with you throughout the trip."
This is particularly important as you may need to make extra arrangements.
"Patients with more severe angina and heart failure may require airport assistance and in flight oxygen and this should be discussed with your doctor before you fly to minimise any complications and allow sufficient time for the appropriate airport and in-flight arrangements," explained Dr Sayan Sen, consultant cardiologist at Highgate Private Hospital and Hammersmith Hospital.
"You should also ensure you have appropriate travel insurance," she added.
Flights may be expensive and planned far in advance, but you should not risk it.
Dr Clare Morrison, doctor at online pharmacist and doctor MedExpress, said: "Of course it can sometimes be very difficult to predict what will happen, but bear in mind the fact that lower air pressure on a plane causes a slightly lower oxygen concentration, which could aggravate heart problems such as angina.
"If there is a risk of serious heart problems during a flight, you should avoid travelling by plane. You may have to wait until your condition has stabilised, or consider travelling via another form of transport."
When packing
Dr Sen said: "Take your usual medications - enough for the entire trip.
"If you are known to have a cardiac condition or any other chronic medical condition then also pack a document summarising what condition you have, what treatment you are on and any operations you may have had. This can be the last letter from your specialist or a summary from your GP."
Just don't put everything in your hold luggage.
Dr Morrison explained: "It would also be a good idea to carry your regular medication in your hand luggage so it's accessible, and in case your hold luggage goes astray, as well as a warning bracelet or card if there are any really important medical issues, such as a pacemaker, drug allergy, or you are taking a blood thinner such as warfarin."
On flight day
"Leave plenty of time to get to the airport and board the flight on the day of travel," advised Dr Sen.
"It can be a busy, but don't forget to take that day's regular medication."
During the flight
Dr Morrison recommended: "Try to keep calm, and stick to your normal sleep and wake cycle until you get to your destination, if possible.
"Consider wearing 'flight socks' during the flight to help prevent thrombosis, drink plenty of water, and avoid alcohol which acts as a diuretic and can therefore cause dehydration."
If you have a heart problem
Alert the cabin crew or another passenger immediately.
Talbot said: "If someone has suffered a cardiac arrest, where the heart has stopped and the person is unresponsive, every minute is critical to their survival. They urgently need cardiopulmonary resuscitation (CPR) and a defibrillator should be used if available."
Quick action is also needed in the case of a heart attack.
"If you do experience symptoms on a flight, you should not ignore them but call for help. Flight attendants have been trained in first aid, have access to oxygen and can call for passengers who are healthcare professionals to help.
"A heart attack is an urgent medical emergency so must not be ignored and the sooner you reach hospital the more likely you are to survive," she explained.
Importantly, never hesitate.
Dr Sen said: "It is important that you let them know as soon as you think something maybe wrong.
"Keeping your symptoms to yourself in the hope that things will improve may waste valuable time in getting you basic treatment that may help you."
Remember that people are there to help.
"The flight attendants could ask if any of the passengers have medical experience," explained Dr Morrison.
"They may need to divert the plane to another airport, so that you can get proper medical attention. The pilot would make this decision based on how great the risk is thought to be."
---
Story Credit: http://www.express.co.uk/life-style/health/813869/heart-attack-cardiac-arrest-symptoms-treatment-flight-plane