Health Minister Supports Prescreening Of Student Athletes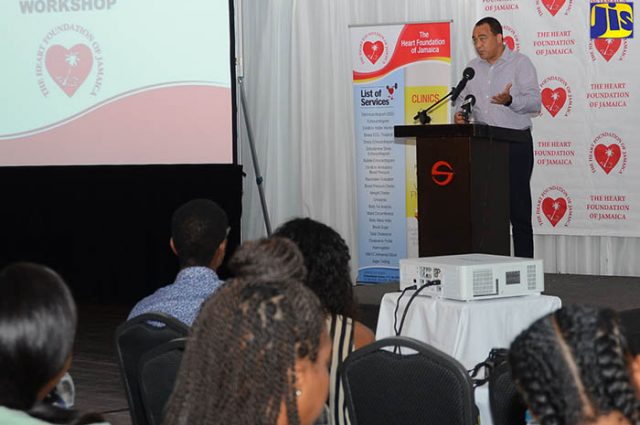 Health Minister, Dr. the Hon. Christopher Tufton, says he is in full support of efforts to encourage the prescreening of student athletes in sports.
Addressing a Sudden Cardiac Arrest (SCA) Workshop, hosted by the Heart Foundation of Jamaica (HFJ), at the Spanish Court Hotel in New Kingston on June 21, Dr. Tufton indicated that the involvement of critical stakeholders would play an integral role in the process.
These stakeholders include the Ministry of Culture, Gender, Entertainment and Sport and the HFJ, among others.
"So, we are going to be working with all the various groups (sporting associations and clubs), along with the Heart Foundation of Jamaica… to ensure that this level of awareness is normal across the length and breadth of Jamaica," the Minister said.
Dr. Tufton indicated that SCA is an important cause worth highlighting not only among student athletes, but also for those individuals who supervise, coach and regulate sporting activities at all levels.
He emphasised the importance of being proactive in preventing or substantially reducing the occurrences of SCA, particularly among teenagers, due to the pain, grief and suffering caused to friends, relatives, teams and the country in general.
The Minister hailed the HFJ for its work in heart care and wellness and the significant leadership role it has played in bringing awareness to sudden cardiac arrest.
In an interview with JIS News, Executive Director of the Foundation, Deborah Chen, said the staging of the workshop is timely, as it falls within the organisation's observation of June 18-24 as Cardiopulmonary Resuscitation (CPR) Week, under the theme 'Prepare, Respond, Revive'.
She also pointed to the occurrence of SCA among student athletes as one of the main reasons for staging the event.
"We are using the occasion to give information to coaches, sporting groups and athletes themselves about what can cause sudden cardiac arrest and what they can do about it if it should happen in their presence," she said.
Research indicates that SCA is a leading cause of deaths in the United States (US), killing more than 325,000 persons each year.
According to the World Health Organization (WHO), cardiovascular diseases accounted for the deaths of approximately 17.3 million people in 2008, representing 30 per cent of all global deaths.
This number is expected to reach 23.3 million by 2030.
During the workshop, several speakers presented on a number of topics, including: 'Sudden Cardiac Arrest in Sports Globally', 'The Effects of Energy Drinks and Supplements on the Heart', and 'The Pressure Faced by Adolescents to Compete in Sports'.
Presentations were also made on the causes of sudden cardiac arrest and ways to prevent its occurence.
The event was attended by sports administrators, umpires, referees, officials and athletes, among other persons.
---
Story Credit: http://jis.gov.jm/health-minister-supports-prescreening-student-athletes/