Hardaway Heroes Save Her Son's Life, So She Can Celebrate Mother's Day Instead Of Mourn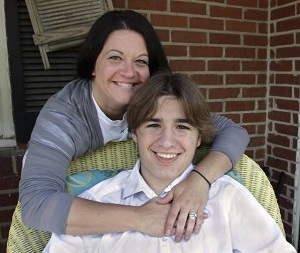 Lindsay Ellis proudly wears a new piece of jewelry, a necklace her two sons, funded by their father, gave her for Mother's Day.
The pendant depicts a normal electrocardiogram, which her oldest son, Cody, has now but didn't April 26, when he collapsed while playing basketball in the Hardaway High School gym – and for 12 minutes so much went wrong in his body while so much went right in that school.
This seemingly healthy 16-year-old sophomore suffered cardiac arrest, stopped breathing and had no pulse. But thanks to the heroic efforts of Columbus police Cpl. Will Bassett, school nurse Dee Owens and health occupations teacher Natalie Kelly, who tag-teamed to resuscitate him, plus assistance from coaches Mike Getkin, Chris Gilstrap and Kendall Mills, the Ellis family is celebrating instead of mourning this Mother's Day.
"Everybody was in the right place at the right time," Lindsay said.
Referring to the necklace, Lindsay said Thursday, "It's very symbolic just for the fact that we were dealing with Cody and his cardiac arrest to now. It is fixed. It is normal. And we all have to embrace this. I embrace it. I will cherish this forever."
Asked why he and his 12-year-old brother, Tristan, already gave her the Mother's Day gift, Cody said, "I couldn't wait."
The survival rate for an out-of-hospital cardiac arrest is 10.6 percent, and the survival rate with good neurological function is 8.3 percent, according to the American Heart Association's 2015 report posted on the website of the Sudden Cardiac Arrest Foundation.
Except for not being allowed to play contact sports because he now has an implantable cardioverter defibrillator in his chest to regulate his heartbeat, Cody has fully recovered and returned to school. They hope pending test results will determine what caused Cody's cardiac arrest.
"I know that, statistically, there are parents out there who are celebrating Mother's Day a different way, and my heart aches for them," said Lindsay, a full-time student at Chattahoochee Valley Community College, studying to be a registered nurse after working in the Midtown Medical Center lab. "In this case, I have to rejoice to know that my son is still with me. It's almost like a rebirth.
"From when they were younger, I'd go in there and watch them, making sure they're breathing. And I'm still doing that now, making sure that he's OK. He's still breathing. And I still have my son with me. I still have my oldest with me. Being a mom is the most precious gift that anybody can experience. It's a gift that nobody can take away, and I have my son with me today. I have my son with me on Mother's Day, and it's just like being a mom all over again, a new mom."
Lindsay emphasized the value of two abbreviations that helped save her son's life: CPR and AED. She urges more people to learn CPR, cardiopulmonary resuscitation, and she wants more public places, especially schools, to have an AED, automated external defibrillator. An AED is a portable device that checks the heartbeat and can electrically shock the heart to restore a normal rhythm.
Lindsay and her husband, Chris, vividly remember April 26, as do the Hardaway heroes. Cody, they are glad to hear, doesn't recall that day at all.
"It's a blur," he said.
The following account is based on the Ledger-Enquirer's interviews and the timeline Hardaway principal Matt Bell created from his own interviews and the time-stamped recordings of the AED's summary and the school's surveillance video. The Muscogee County School District's attorney, Greg Ellington, denied the Ledger-Enquirer request for a copy of the video because it shows "an acute medical event experienced by a student and acute medical care rendered to that student" and would be an invasion of personal privacy, according to state law.
Collapsed
12:58:23 p.m. -- During a basketball game in gym class, Cody takes a 3-point shot and immediately starts walking toward the baseline. He stumbles and falls to the floor but doesn't hit his head.
"The video shows he shot the basketball and missed it," Kelly said. "As the ball bounced off, most of the boys went toward the ball, and he kind of just staggered, like he was trying to get off the court. He got right underneath the goal, and that's where he collapsed."
12:59:08 – Students alert Getkin and Gilstrap to check on Cody. On the staff's two-way radio system, Getkin calls for Owens to bring a wheelchair to the gym. When the coaches realize Cody isn't breathing, they notify the office.
Owens was a cardiac nurse at St. Francis Hospital for nearly 10 years, but this was her first life-saving moment outside of a clinical situation. After taking time off to be at home with her children, she had been working at Hardaway for less than a month before Cody collapsed. Owens works at Hardaway from 12:30 to 4 p.m.; a clinic worker is there in the mornings, she said.
"I think God meant for the three of us to be here together when Cody needed us," Owens said.
Owens was in the clinic when Gilstrap called. On her way to the gym, she heard over the radio that Cody didn't have a pulse, so she ran and prayed, "Please, God, let it be wrong."
12:59:10 – Bell advises the coaches to apply the AED that's stored in the gym, asks for the student's name and instructs office secretary Felicia Harris to call 911 and Cody's parents.
Lindsay was in class at CVCC when Harris called. The secretary told her, Lindsay remembered, "We believe that Cody had a severe asthma attack. He is unconscious and the ambulance is on the way."
Cody was diagnosed with mild asthma at age 9, Lindsay said, but has needed to use his rescue inhaler only once. He takes Flovent twice a day to control and prevent symptoms, but his asthma had nothing to do with his cardiac arrest, Lindsay said doctors told her, and he never had a problem with this heart. All of which makes this episode even more bewildering.
"I freaked out," Lindsay said. "Even though I'm a nursing student, I'm a mom."
She gathered her belongings, ran out of class and called her husband, Chris, to share the horrible news. Chris also was in Phenix City then, installing laminate in a home off Summerville Road for Fuller Flooring.
Chris' reaction: "You can't wrap your mind around it."
12:59:16 – Bassett arrives and radios the 911 dispatcher to request ambulance for an unresponsive student. Then he starts CPR, only 53 seconds after Cody collapsed.
Bassett, with nine years as a police officer, had performed CPR in training and through ride-alongs with EMTs but never in a situation like this. He has worked part-time for about two years as an MCSD resource officer, usually assigned to Hardaway.
He was in Hardaway's discipline office when he heard Gilstrap's urgent call over the school radio, that a student had fallen.
"It sounded like an injury at first," Bassett said.
As he headed to the gym, Bassett heard Gilstrap's voice on the radio again: "No pulse."
Bassett ran. When he arrived in the gym and saw Cody, he said, "You could immediately tell there needed to be some sort of intervention. … He was blue. … He was cold-ish."
Driving from Phenix City to Columbus, Lindsay called the Hardaway office for more details about Cody:
"Is he breathing?"
"No, he is not."
"Is CPR happening?"
"Yes."
Lindsay called Chris again. They agreed to meet at Midtown Medical Center instead of Hardaway, hoping the ambulance would have transported their son by then.
12:59:24 – Mills opens the AED and hands the device to Bassett, who places the electrodes on Cody's chest.
As she sped toward the hospital with her car's hazard lights flashing, Lindsay prayed, "God, please, protect my son," but she prepared for the worst.
Chris also was speeding and praying: "I was just hoping he'd be awake when I saw him and that I'd be able to speak to him again."
12:59:53 – Owens arrives and begins chest compressions, followed by mouth-to-mouth. Kelly arrives right behind her.
Kelly, in her 16th year as a teacher and CPR trainer, is a former X-ray technician and has been certified in CPR for 35 years, but this also was her first life-saving emergency outside of a clinical situation.
"It is the day I have dreaded since my first day of teaching," Kelly said, "where it's life or death for a student."
1:00:36 – AED shocks Cody's heart with 201 joules of electricity. One joule equals 1 watt of power radiated or dissipated for 1 second. AED recommends continued chest compressions.
Kelly said Hardaway that day had an AED at the baseball field and one in the gym, steps away from Cody.
"The recognition that we needed the AED on the child and that it was there is just critical," Kelly said. "There are other schools in the county that don't even have an AED on campus. The AED and the quick response are what saved his life."
Kelly also noted, "Having a skilled nurse in the clinic, that is not common in Muscogee County."
Muscogee County School District communications Valerie Fuller told the Ledger-Enquirer in an email Friday she was waiting on officials to provide the number of AEDs, nurses and staff members trained in CPR at each MCSD school, which the L-E requested Wednesday and Thursday.
The day after Cody's collapse, Kelly said, Hardaway ordered a third AED to be kept in the school's office. Most AEDs cost between $1,500 and $2,000, according to the American Heart Association.
1:00:50 – Owens notices a retainer in Cody's mouth. Kelly dislodges it. Along with Bassett, they continue taking turns performing CPR.
"I just reached across and ripped the retainer out of his mouth," Kelly said. "When I did that, I mean, I could feel his body just literally go lifeless."
1:03:46 – AED shocks Cody's heart with 247 joules of electricity. AED recommends continued chest compressions. Response team administers breaths via oxygen bag mask.
"The AED is prompting you the whole time," Kelly said. "As long as the pads are on the chest, it's telling you what to do."
1:04:30 – Kelly applies pulse oximeter to determine how much oxygen is in Cody's blood. His level is at 86 percent. A normal range is 95 to 100 percent. Kelly also measures Cody's blood pressure. His level is 84/42, considered low (hypotension), which can cause dizziness, fainting and, in severe cases, can be life-threatening, according to the Mayo Clinic.
"It was scary," Owens said. "I have an 18-year-old, so I can't even imagine getting that call as a mother."
1:06:40 – AED shocks Cody's heart with 266 joules of electricity. AED recommends continued chest compressions.
1:09:34 – AED shocks Cody's heart with 229 joules of electricity. AED recommends continued chest compressions. Responders also continue oxygen pump.
"You're mimicking what his body should be doing on its own," Kelly said.
1:09:45 – Responders continue CPR. Oxygen level in Cody's blood is down to 64 percent.
Kelly's main thought: "Just keep doing what we're doing so we don't lose him. It was just very fast, but nanoseconds felt like an eternity because we were waiting for the ambulance to get there."
1:10:20 – Columbus Fire Department unit arrives.
1:10:30 – EMT and paramedic arrive and take over care of Cody.
Cody was carried on a stretcher out of the gym through a side door and into the ambulance. Although nobody likes to hear somebody scream, Bassett and Owens welcomed it from Cody then.
"It was kind of a spooky moan, a painful-type thing," Bassett said. "But you could see on the printout that he had, I wouldn't call it a normal rhythm, but it was a rhythm of his own."
Owens added, "He was really a sick child, but it was a miracle that he was screaming. It was pitiful, but it was a good sound."
"Screaming means breathing," Bassett said. "… I knew the paramedic and the EMT that were on that truck were very capable and competent, so I knew he was in the best possible place to survive this incident."
Rushed to emergency room
Lindsay and Chris arrived in the Midtown Medical Center parking lot and waited for the ambulance transporting their son.
"I wanted to lay my eyes on him before I walked inside," Lindsay said. "We were still overwhelmed, still scared."
They saw Cody carried into the emergency room, and they followed him into the pediatric unit. The emergency room doctor explained to them that Cody had a cardiac arrest and he would need to be intubated if he doesn't start breathing on his own again. About 15 minutes later, however, the doctor told them Cody indeed was breathing on his own – and they could come see him.
"It was still overwhelming," Lindsay said, "but I knew it was a lot better than what I was preparing myself for."
Chris focused on "trying to stay as calm as possible" while calling family members. "We had a strong support group through the whole situation," he said. "Lots and lots of prayers. We're very thankful."
A scan of Cody's brain revealed no damage, despite being without oxygen for "at least 2 minutes," Chris said.
"It's very incredible," Lindsay said. "Even if he recovered, he could have had cognitive disabilities. But just last night, he and his brother were playing video games and cutting up like it never happened. It is amazing."
Irreversible damage begins when the brain is without oxygen for 3-5 minutes, according to the Brain Injury Foundation. That's also the maximum amount of time to place an AED on a patient before risking permanent heart damage, Bassett said, citing American Heart Association guidelines.
"These people got that AED on there in less than 2 minutes," Bassett noted, "which is just unheard of for an out-of-hospital cardiac event."
Kelly also praised the coaches for clearing the gym and pulling a curtain across midcourt so students would be spared from witnessing more of the trauma.
"Based on that AED report, there were times in the event there was no (heartbeat)," Kelly said. "The majority of the event, he was unresponsive."
Bassett followed the ambulance to the hospital. Cody wasn't conscious then, Bassett said, but he was stable. Bassett left the hospital assured by Lindsay that Cody was on the way to recovering.
"Her boy was doing well," Bassett said. "It was all she could ask for."
As well as the police officer.
"If this was the only time I ever use the education I got through a CPR class," Bassett said, "it's worth every minute of it."
Bassett called the actions of the Hardaway heroes that day "an unbelievable showing of teamwork from people that had never practiced this together before. … Everything worked out that could have possibly happened the right way to save this young man's life. Not only that, but I truly believe there was a level of divine intervention. There has to be some greater plan for him."
Meanwhile, back at Hardaway, all Kelly and Owens could do after the ambulance took Cody was pray for him.
"Lots of prayers for a good outcome," Kelly emphasized, "but I think we all were pretty scared that it would not be."
So she called her mother and implored, "I don't know what you're doing, but I need you to stop right now and pray for this young man. It's bad."
Kelly, however, received the good news quicker than she expected, thanks to her friend who works in the Midtown Medical Center's emergency room, where they were planning to bring her students for an educational event that night.
She recalled him telling her, "Ms. Kelly, I just want to let you know, your kid's OK. He's stable, and his vital signs are good."
Kelly reflected on the relief from that phone call and said, "It still gives me the chills. … You realized you were literally between this child and death. The responsibility and the weight of responding to something like this, there's not really any words for how that feels."
She shared the good news with Owens.
"It was very emotional," Owens said.
"Hardaway High School was on point that day, from the second he collapsed on that gym floor to that time the ambulance took over," Kelly said. "From the coaches to the front office contacting the parents and keeping them abreast of the situation. Everything was in perfect sync, and we didn't have a second to lose."
In fact, the Hardaway heroes performed so well, Kelly said, hospital staff members discussed Cody's case the next day as a textbook example of proper response.
Helicopter to Atlanta
Cody was taken by helicopter to Children's Healthcare of Atlanta at Egleston, where specialists could try to determine what caused this seemingly healthy 16-year-old's cardiac arrest.
Lindsay and Chris went home to tell Tristan what happened to his brother. Lindsay told him, "He's going to be fine, but Mommy and Daddy have to go to Atlanta. You'll be here with your grandma."
When they finally saw Cody in Egleston's cardiac intensive care unit, he opened his eyes, but he didn't recognize his parents.
"As long as he was moving and breathing on his own," Chris said, "that took a lot of pressure off, and we knew we were going to make it through this."
They stayed that night with Chris' brother in Atlanta. The next morning, a nurse briefed them on his progress and reported words for which they had yearned: "He asked for you."
Lindsay thought, "He's coming back."
Seeing that he recognized them, Lindsay said, was "pure joy, pure bliss."
That night, they watched TV coverage of the first round of the NFL draft, and Cody's memory resurfaced in bits and pieces.
The next day, Lindsay noticed Cody overhearing discussions about his cardiac arrest, so she decided it was time to tell him why he was in the hospital. Chris wanted to have that conversation before Cody would turn on his phone and learn about his crisis through messages from well-wishers.
When his parents told him why he was in the hospital, Cody said, "It was shocking. It was very odd."
His phone gushed with more than 100 messages after he turned it back on when he regained consciousness in the hospital. They were full of prayers and well-wishes.
Cody said, "I felt loved."
Cody couldn't comprehend the story, but Lindsay told him that didn't matter. What does matter, the mother told her son, "You are alive, and you're going to be OK."
Return to Hardaway
Mayor Teresa Tomlinson honored the Hardaway heroes with a proclamation declaring May 2, 2017, as Officer Will Bassett, Nurse Dee Owens and Instructor Natalie Kelly Day in Columbus.
"Everyone who was involved," Chris said, "they're angels."
Owens predicted, "The three of us will be linked forever."
On May 5, nine days after his cardiac arrest, Cody returned to school -- not to attend classes yet but to, as Lindsay explained, "put faces with the names, hug them, shake their hands and to say, 'Thank you, thank you, thank you so much,' and so they could see how well he is recovering."
Kelly shook her head in amazement as she recalled, "We just stood there and stared at him. … The whole time he was in the hospital, I knew he was doing well, but I wanted to see him. I wanted him to walk through the doors of our school."
Now, she is looking forward to Cody walking into her health occupations classroom next semester, when he will learn the precious skills to pay forward this heroism and perhaps save someone else's life.
"That will be the coolest thing ever," Kelly said.
Cody is scheduled to return to Atlanta for a checkup May 22 and will continue to be monitored by his cardiologist in Columbus while waiting for the test results.
"God has a big plan for him," Lindsay said. "It's still shocking and unreal, this whole event. If we did not live it, I would not have believed it myself."
Three weeks later, Cody still can't fathom the thought.
"It's pretty crazy that it happened," he said.
Bell, who held Cody's hand while the responders treated him, explained how the emergency affected the Hardaway family.
"Most of the time, our focus as educators is all about academic performance," the principal said. "I always say that teachers are equal to doctors. They operate on the hearts and minds of students every day. This takes on a whole new meaning for me now. I will never look at another student the same way again. I will be forever grateful for our PE staff, office staff, Will Bassett, Dee Owens and Natalie Kelly."
Epilogue
Having an implantable cardioverter defibrillator in his chest the rest of his life means Cody can't play contact sports anymore. Although he is disappointed that means no more wrestling for him, he is grateful to the responders for helping him survive such a trauma in such a healthy way.
"I just want to tell them thank you very much for saving my life," he said.
Cody returned to classes Friday at Hardaway without any problems and intends to finish the school year's final two weeks as well.
"He said it was awesome," Lindsay said. "People kept coming up to him and thanking God he's still with us. He enjoyed getting back there and seeing his teachers and his friends."
Cody had no trouble focusing on academics, she said. His only limitation is sitting out gym class until he gets medical clearance.
"That just shows how much he has recovered," Lindsay said. "He has no cognitive delays, so he's back to being Cody."
Even before his cardiac arrest, Cody's career goal has been to become a nurse, like his mother.
"I want to help people stay alive and everything, make sure they're safe," he said, then added while gesturing toward his mother, "and because she's one too."
But now, he has extra motivation.
"It makes me more determined to become one," he said, "so that I can tell people about my experience if it ever happens to them."
---
Story Credit: http://www.ledger-enquirer.com/news/local/article150366492.html