Harcum Student Will Graduate Thanks To LM Officers Who Saved Her Life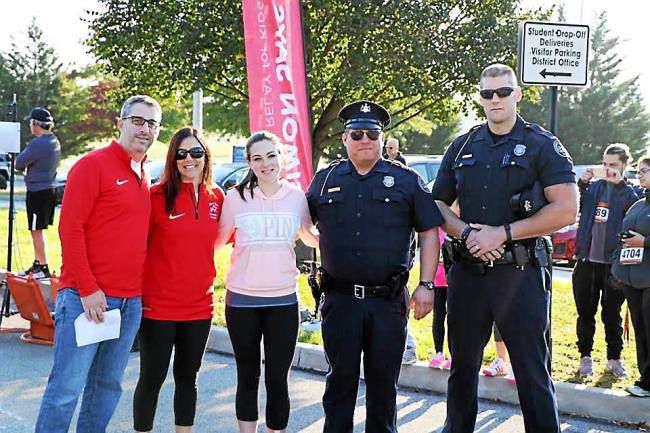 In February of last year, Annie FitzPatrick, 20, of Merion nearly died after suffering sudden cardiac arrest in the parking lot of a Wawa in Penn Valley. She survived thanks to two Lower Merion police officers, Jeff Sullivan and Robert Whitt.
The officers just happened to be at the store that day and fresh from their training early that morning on the use of the Automated External Defibrillators or AEDs, the officers worked together to save her life.
This week, FitzPaticik is ready to graduate from Harcum College in Bryn Mawr where she continues to be thankful to the officers who saved her life that day.
"They were amazing," FitzPatrick said this week. "I owe my life to them. I would not have survived if they had not been there because the Wawa didn't have an AED."
That day began a fateful morning when she had an MRI at Lankenau Hospital. She had been having seizures since 9th grade. Her doctors believed she had epilepsy. What they didn't know was that she had something called Long QT that caused her to have a sudden cardiac arrest. On the way home from the hospital following her MRI, she and her mom, Heather Cronan, stopped at the Wawa on Montgomery Avenue in Penn Valley, FizPatrick recalled.
As they walked toward the store, she placed her head on her mom's shoulder. That was her warning that she was about to have another seizure. At first, her mother thought it was just another of the seizures she's been having for years. But when she didn't revive, her mom knew something much worse was wrong.
While people were calling 911, Sullivan pulled into the lot.
In an interview with the two officers just after the incident last year, Sullivan said when he got to the Wawa he noticed that there was some type of commotion going on. When he approached, he found FitzPatrick unresponsive on the ground. Her mother was over her daughter, searching for help. He raced back to his car, grabbed the AED while calling over the radio what was happening. Officer Whitt took the call and arrived just a few seconds later. Whitt performed CPR while Sullivan used the AED. In the end, the two officers saved her life and stayed with her until an ambulance arrived.
Since the incident, FitzPatrick has become an advocate for teaching people about the condition that nearly took her life and getting access to life-saving equipment.
"I been a huge advocate for AEDs and putting them in more places," Fitzpatrick said. She also has gotten involved in Simons Fund, the organization that helps get children the tested for the condition she has. She has spoken before the Lower Merion Board of Commissioners to get AEDs in township parks.
"It's something I feel really strong about and I want to keep doing it until people realize how important they are," she said.
FitzPatrick has what, at the time, was an undiagnosed condition called Long QT syndrome that can cause a seizures and sudden cardiac arrest.
"We didn't know that all of the seizures I was having were followed by cardiac arrest because my heart started up each time and the only time it didn't start up again was at the Wawa," she said.
Since learning about why she had the sudden cardiac arrest, she has had a pacemaker implanted and has not had another seizure.
"So another thing to be aware of is if you have fainting, seizures, shortness of breath or chest pains or any of that, make sure you get your heart checked because too many people die from sudden cardiac arrest because they don't get their hearts checked," she said.
A 2014 graduate of Lower Merion High School, FitzPatrick will graduate Sunday from Harcum College in Bryn Mawr with a 4.0 GPA in Animal Center Management.
"They [Harcum] really cares about every specific student and how they were doing and making sure they have what they need to succeed," she said.
Originally, FitzPatrick was going to attend Bloomsburg University but then decided she wanted to stay closer to home. She will be going to Drexel University with a scholarship, she said.
After her education, FitzPatrick said she would like to do wildlife rehabilitation.
She is still in communication with the officers who saved her and she says she can't wait to see them at her graduation.
In addition to her classes, she will continue to work to help people have a better understanding of Long QT.
"Just be aware of the signs of heart problems," FitzPatrick said. "I don't want anyone to fall over because they didn't get their heart checked because that was what happened to me."
---
Story Credit: http://www.mainlinemedianews.com/mainlinetimes/news/harcum-student-will-graduate-thanks-to-lm-officers-who-saved/article_a520d12d-cac7-51bb-ab26-8d544a774cf3.html