Grieving Parents Says Saving Lives in Son's Memory is 'Silver Lining'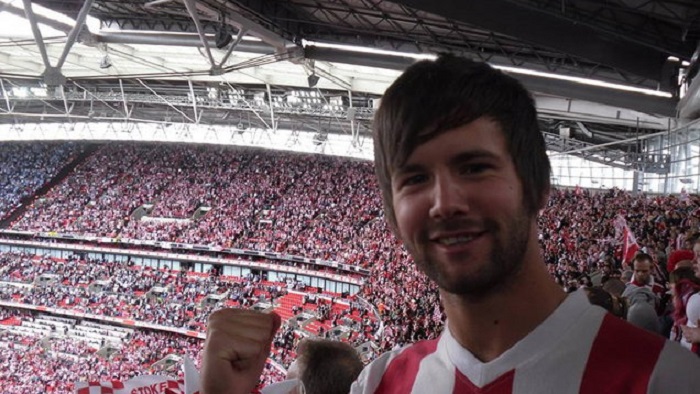 A campaigning mum has revealed how her postman son's sudden death could have helped to save 1,000 young lives, thanks to her tireless fundraising to provide vital heart screenings in his memory.
Describing his impressive legacy as "a silver lining in a really dark cloud," Sue Hughes and her husband, Rolls-Royce project engineer Dave, are now determined to help save lives, by making young people aware of the dangers of undiagnosed heart defects.
Sue, 57, of Stoke-on-Trent, Staffs., explained how she found their son, Daniel, 28, lying unresponsive in bed, after he failed to get up for his post round, adding: "No mother should ever have to go through what I did that morning."
A post-mortem after Daniel's death on 19 March, 2015, showed he had suffered sudden arrhythmic death syndrome (SADS) – also known as sudden adult death syndrome – which he had no idea he had.
The condition – responsible for 12 UK deaths in under 35s, not previously diagnosed with heart conditions, every week – causes cardiac arrest, by bringing on a ventricular arrhythmia, or disturbance in the heart's rhythm, according to the charity Cardiac Risk in the Young (CRY).
Sue continued: "Finding Daniel unresponsive like that was a feeling I will never ever forget. All the work that we do in Daniel's memory is to prevent this happening again. Our goal is to leave a legacy in his name, so that the young people of our local community and beyond have access to heart screenings and are aware of the dangers of undiagnosed heart defects. Our work is our way of turning a devastating event into something positive for other people."
Sue and Dave, who have now raised £153,000 for the heart screenings, remember their son as a fit and healthy young man, who loved sport and played football for four local teams – even captaining a match a week before he died.
Dave, 59, said: "Daniel was a really nice, well-mannered, decent lad. He loved to have a laugh and was always the life and soul of the party.
"He loved his life, and everyone he met, from friends to people he was delivering mail to, thought he was a great lad."
The night before his death on March 19, 2015, the family enjoyed a meal together, before Daniel went to bed at around 9.30pm.
Dave got up for work at 4.30am the next day, with Sue, a former secretary, rising at 6.30am.
At 7am, concerned that she had not heard Daniel getting ready, Sue knocked on his door, going in when he failed to reply, only to be met by a sight she will never forget.
Sue recalled: "I knew something was wrong as soon as I opened his bedroom door. I kept on saying, 'Dan, Dan,' and tried to wake him, but it wasn't to be."
Her son had started to turn purple, but was lying in a "perfect" sleeping position and, CPR trained, she tried to revive him, while waiting for paramedics to arrive – but it was too late.
Dave was at work when he received the phone call every parent dreads.
He recalled: "Sue asked me to come home and when I asked why, she said our son had died.
"You hear words like ' heartbreaking,' ' devastating' and 'grief-stricken,' but I honestly struggle to put into words how it felt, because it was so horrendous."
After Daniel's funeral on April 7, 2015, the family, which includes Daniel's sister Kimberley Hughes, 32, a teaching assistant, received £300 in donations, which helped them to focus on how they could create a fitting legacy for him.
Dave said: "We were trying to decide what we would do with the money, when we heard about the charity Cardiac Risk in the Young (CRY) – which works to reduce the frequency of young sudden cardiac death.
"We set up a page raising funds to go towards heart screenings and we have never looked back."
To date, the family have funded 996 young people's heart screenings in the Stoke and East Midlands areas.
Dave said: "We lost our son in such a sudden and cruel way, but there aren't many people who can say they have saved a life. To be able to say your son has potentially saved 1,000 people, is really special and we are immensely proud of that. We already know of two people who could have died if it hadn't had been for our screenings. It's a silver lining in a really dark cloud."
---
Story Credit: https://www.tv3.ie/xpose/article/real-life/265156/Grieving-parents-says-saving-lives-in-sons-memory-is-silver-lining-in-a-really-dark-cloud