Grieving Father Is 'All Heart' About Turning Son's Tragic Death Into Life-Saving Cardiac Program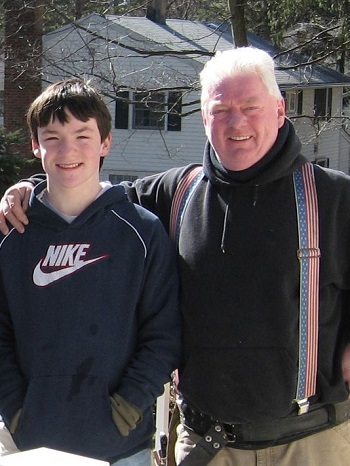 Jim Fisher, whose teenage son, Sean, collapsed and died on a football field after going into sudden cardiac arrest, the result of an undetected heart defect, stood inside Saint Peter's University Hospital's state-of-the-art simulation center in New Brunswick.
An easel displaying four oversized color pictures of Sean, who died on his 13th birthday in August 2008, created a heart-touching backdrop as Fisher, a resident of Waldwick in Bergen County, spoke to members of the media about the Sean Fisher Memorial Foundation's latest mission.
"He's my inspiration," Fisher said, glancing over his shoulder at the quadrant of photographs of his only child. "When I get discouraged, I just take a look at a picture of him and say, 'Get back up there, you've got work to do.' "
A tough-as-nails union carpenter, Fisher, with tears welling in his eyes, explained that cardiac screenings — providing free ones was initially the primary goal of the foundation established in his son's name — are not enough to prevent sudden cardiac death in athletes.
According to the American Heart Association, the incidence of such deaths is one in 200,000, but Dr. Nidhi Kumar, a cardiologist and Medical Director of Women's Health at Saint Peter's University Hospital, said many experts believe the incidence is greater, making the need for rapid response and the availability of automated external defibrillators paramount.
While state law requires all public and private K through 12 schools in New Jersey to have an AED within reasonable proximity of a gymnasium or athletic field, as well as an emergency action plan for sudden cardiac arrest, no such legislation exists for youth leagues.
Youth leagues are not mandated to have an AED on site and less than 30 percent of youth league coaches are trained in cardiopulmonary resuscitation (CPR), according to a Sports & Fitness Industry Association and Aspen Institute report, the results of which appeared in the Washington Post.
Fisher, in concert with the Players Development Academy, a nationally recognized elite soccer club headquartered in Somerset, is trying to change that statistic starting with a grassroots effort in the Saint Peter's University Hospital's simulation center, where more than 80 coaches from PDA will receive training in CPR and AED use before the start of the spring season.
The initiative is part of the All Heart program, whose goal is to educate coaches and leaders of youth sports leagues nationwide about the need to be trained to handle a sudden cardiac arrest emergency, which results from an electrical disturbance in the heart that compromises its ability to pump blood to vital organs. Without immediate treatment, through CPR and defibrillation, death ensues.
---
Story Credit: http://www.mycentraljersey.com/story/sports/2018/01/18/heart/1034854001/