Gold Star Mom Donating AEDs to Keep Military Hearts Beating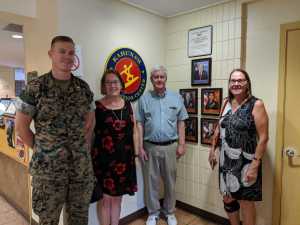 Not a day goes by, Laurie Finlayson doesn't think about her son, David.
"All his whole life he wanted to go into the military," Finlayson explains. "We were proud of him and supportive when he decided to join the Marines at the age of 23."
David loved motorcycles, anything fast and according to his mom, blowing things up.
"I want him to be remembered as a proud Marine who never missed his target, who loved what he did and who brought great joy and laughter to everyone he knew," Finlayson says of her son with a smile.
David died on Nov. 7, 2013. The seemingly healthy and strong 25-year-old collapsed during a 5-mile training run with his marine battalion in Hawaii. An undiagnosed heart problem lead to Sudden Cardiac Arrest (SCA). David's heart suddenly stopped beating.
"David made it 4 3/4 and said 'my legs aren't working,' and he collapsed," remembers Laurie. "I never worried about his heart. He went through the medical screening and then joined the Marines."
Laurie says SCA is the leading cause of non-traumatic death in the military, adding that more than half of those who suffer SCA have no prior symptoms.
SCA is different than a heart attack and happens without warning. SCA can be triggered by an electrical malfunction in the heart, according to the American Heart Association. SCA stops the flow of blood to the brain and other organs. If a person doesn't receive immediate treatment, first with CPR and then with an automated external defibrillator or AED, they will die within minutes.
After David died, Laurie met other parents who had lost their children to sudden cardiac arrest, including Darla Varrenti. Darla's son Nick died in 2004 and prompted Darla to start the Nick of Time Foundation. To date, the group has helped screen more than 15,000 young athletes across the state of Washington.
"What the military does now catches 10 percent or less of heart problems," Finlayson said. "If they added an EKG (electrocardiogram), they could catch as much as 86 percent. That's a huge difference. We could really save lives that way."
Meeting Darla Verrenti inspired Laurie to take action of her own, starting the Lion Heart Heroes Foundation with a mission of keeping military hearts beating.
"The name of course comes from the lion that David had on his shoulder," Laurie explains. "The lion is a symbol of bravery and courage which suits him and suits all our military."
The heart represents the focus on cardiac issues and the heroes honor all those who serve.
The mission of the Lion Heart Heroes Foundation is to make advanced heart screenings, including EKG's standard for all military personnel, especially those entering the armed services. Finlayson encourages people to reach out to their military contacts and volunteer at screening events.
"I realize now that making change in the military is going to take a very long time," Finlayson shares. "I'm willing to go the full route, even if it's speaking before Congress."
In addition to raising awareness and pushing for screenings, the foundation is working to raise money to donate AEDs.
This month, Laurie and her husband John, who is also a veteran, traveled back to Hawaii where David was stationed. Five years to the day of David's death, the couple donated 3 AEDs to the base in his memory, adding to the 80 already on hand. One of the AEDs will be placed on the wall at Kahuna's Recreation Center, a place David hung out with his friends.
"It's a really great spot and didn't have an AED," Finlayson said. "Now it has one and will hopefully save some lives."
An American flag flies proudly outside the Finlayson home in Bonney Lake, Washington. To remember David, and to honor all those who serve. Laurie and John hope that their message plants a seed of awareness and gives David's life meaning, so other's don't have to go through the pain they've experienced.
---
Story Credit: https://q13fox.com/2018/11/14/healthy-living-gold-star-mom-donating-aeds-to-keep-military-hearts-beating/
---
Since you're here, we have a small favor to ask. Requests from schools and districts for our screening services are growing, which means that the need for funds to cover the cost of those services is also growing. We want to make our services available to those who request it and beyond, so you can see why we need your help. Safebeat heart screenings take a lot of time, money, and hard work to produce but we do it because we understand the value of a child's life, PRICELESS!
If everyone who reads this likes it and helps fund it, our future would be more secure. For as little as $1, you can support Safebeat and it only takes a minute. Make a contribution. -The SafeBeat Team