Glencoe Receives Device For Treating Sudden Cardiac Arrest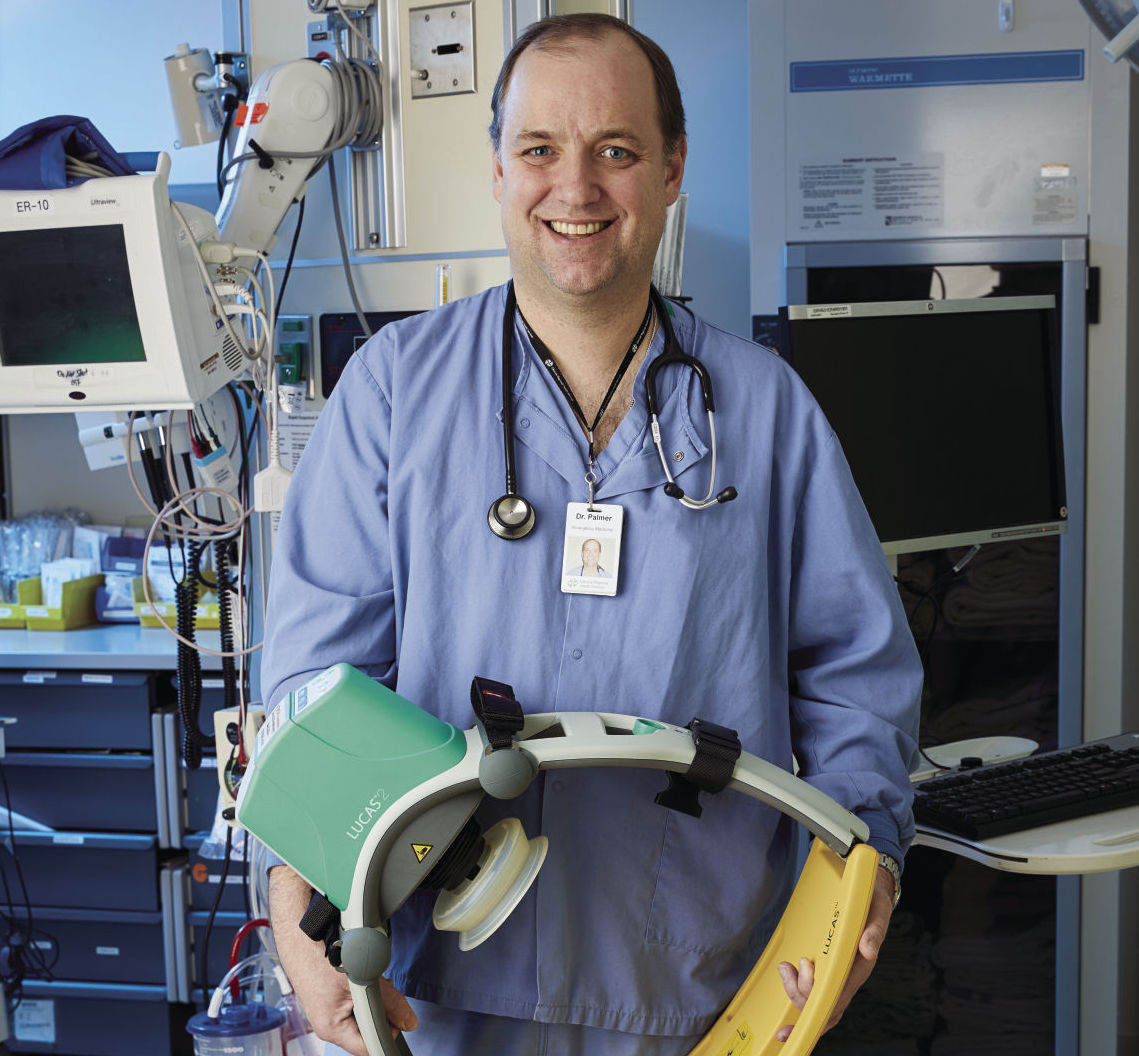 The Glencoe Regional Health Services emergency department recently received a Physio-Control LUCAS 2 mechanical cardiopulmonary resuscitation device through a grant administered by the Minnesota Department of Health Office of Rural Health and Primary Care.
With funding from the Leona M. and Harry B. Helmsley Charitable Trust, the state health department provided the LUCAS 2 device to all the rural Minnesota hospitals and ambulances services that previously did not have the device. The grant also provided training for staff at GRHS and other rural hospitals to use the device to deliver life-saving treatment to patients who are suffering from sudden cardiac arrest.
LUCAS 2 is an automated chest compression device that enables medical personnel to perform hands-free, consistent and uninterrupted CPR while attending to the patient's other needs during a sudden cardiac arrest. For example, an automated external defibrillator may be used to deliver a shock to the heart to re-establish a normal heart rhythm. The LUCAS 2 device can be used in conjunction with an AED.
According to Dr. Mitch Palmer, medical director of the GRHS emergency department, research data suggests that mechanical CPR is more effective than manual CPR. For example, the LUCAS 2 device compresses the chest as in manual CPR, but it also performs "active decompression," which manual CPR does not.
"Manual CPR is physically demanding. When the person performing it gets fatigued, it's hard to maintain a consistent quality in the chest compressions. It can help for someone else to take over the compressions, but then the CPR will be interrupted momentarily," Palmer said. "The LUCAS 2 device uses a computer to control the depth, force and rate of compressions and it never gets tired."
Sudden cardiac arrest is not the same as a heart attack. In a heart attack, part of the heart's blood supply is blocked, causing damage or death to the heart muscle. A heart attack victim is awake and will complain of symptoms, which usually include chest pain.
In a sudden cardiac arrest, the heart's mechanical activity stops suddenly. When this occurs, blood immediately stops flowing to the brain, heart and other organs and the person collapses. A sudden cardiac arrest victim will be unconscious and have no pulse. Without immediate intervention, the victim will die within minutes.
A heart attack can lead to a sudden cardiac arrest, but there are other causes including genetic conditions and disorders that cause thickening in the heart muscle, problems with the heart's electrical system and problems with heart valves. Recreational drug use, electrocution and a disruption in heart rhythm due to a sudden blow to the chest are also identified causes of sudden cardiac arrest.
The Sudden Cardiac Arrest Foundation reports 326,200 Americans of all ages have a cardiac arrest outside of a hospital each year and nine out of 10 of these victims die.
Minnesota's Commissioner of Health, Dr. Edward Ehlinger, said the Helmsley Charitable Trust grant is helping his department meet its goal of ensuring access to quality care for all Minnesotans.
"We hope to improve cardiac arrest survival rates by installing these devices in every ambulance service and hospital emergency room in the state," he said. Until the grant, the health department estimated 80 percent of ambulance services and hospitals in Greater Minnesota did not have access to a LUCAS 2 mechanical CPR device.
To view a video of the LUCAS 2 device in action, visit grhsonline.org/mechanical-cpr.
---
Story Credit: http://www.crowrivermedia.com/hutchinsonleader/news/local/glencoe-receives-device-for-treating-sudden-cardiac-arrest/article_17e47d78-ce33-50c4-8aba-dda1858d2535.html