Friends Mourn Sudden Loss Of Friend Who Excelled As An Athlete And As A Person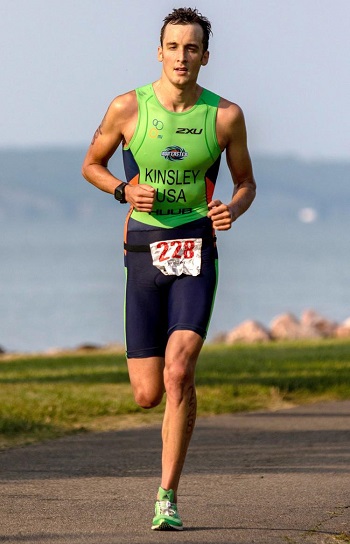 Kipp Kinsley ran the good race — not just in track and cross country, but also in life.
He excelled in both sports while competing at Yankton High School. He then took his talents to the NCAA Division I level, joining the nationally-recognized cross country program at South Dakota State University.
But Kinsley also developed a passion for the triathlon, which combines running, biking and swimming. He easily won Saturday's "Yankton Best Tri" at Lewis and Clark Lake. He was moving this fall to New Hampshire for a career as a professional triathlete with the Nor'Easter team.
Those plans ended abruptly Sunday, when he passed away at his home west of Yankton. He died of apparent cardiac arrest, according to his obituary.
His decision to enter the Yankton meet carried a special significance.
"Kipp decided to compete in his hometown triathlon, since 'It may be the last time I have a chance to compete at Yankton,'" the obituary said. "He won the event on August 25 with his mom and dad, (girlfriend) Mackenzie and many friends there to watch."
The news of his death spread quickly, with tributes pouring across social media. They spoke of Kinsley's tremendous athletic prowess, but they also praised him as a kind, compassionate and inspirational man.
YHS MEMORIES
Jenna Grossenburg, now an Aberdeen elementary school teacher, had been friends with Kinsley since middle school. They ran cross country together at both YHS and SDSU.
"Kipp always found the positives in life. He was a friend to everyone. He could find the good in people," she told the Press & Dakotan. "I ran with Kipp for about 10 years, and he helped me believe in myself when I didn't. Kipp would light up the room with his smile. His personality would always brighten your day. I can't speak highly enough of him. He was one of my best friends."
Kinsley and Grossenburg shared another honor — both were nominated for YHS homecoming royalty.
"He was respected by everyone. This week, I have received quite a few condolence texts. A few people from other towns said, 'I did not know Kipp, but from the information via Facebook, I can tell he was loved by many," she said. "As my friend Chloe (Cornemann) said, 'A life lost too soon, but a spirit and a smile that are everlasting.'"
Kinsley's life will be honored today (Friday) when Grossenburg and former SDSU teammates sponsor a remembrance run at the Lewis and Clark Lake marina. The public is welcome to participate in the 8:30 a.m. event.
"Our goal is to run for Kipp on this run and our upcoming runs. We will share stories about Kipp," Grossenburg said. "Our goal is to have an annual run for Kipp where we can honor him and celebrate his life. Our SDSU class has now lost two teammates. (They) are running in Heaven with angels, so we will run for them on Earth."
Former YHS cross country coach Dave Dannenbring carries fond memories of mentoring Kinsley during his high school career. The young man led by strong example that inspired others, his coach said.
"Kipp was the silent leader on our high school cross country team as he was one of the most dedicated, hardest workers I can remember coaching," Dannenbring said. "Kipp studied and evaluated every aspect of running as he set his goals and methodically and consistently did what it took to reach those goals. His daily example is what led our team. (He) influenced his teammates to reach goals and have the success they may not have achieved without Kipp's presence."
Kinsley was also very caring, Dannenbring said.
"Kipp had the quality I think is the most important quality we as humans need to make a positive impact on those around us, which is kindness," he said.
"He was always so kind and good to others, and he had that pleasant, kind smile. We can all learn a lesson from Kipp's life as to what is important and how to treat people. Kipp's passing will leave a giant gap in the lives of those with whom he interacted daily. A small piece of all of us who knew Kipp will forever be void of his kindness."
YHS track and cross country coach Luke Youmans describes Kinsley's passing as "devastating" for himself and others associated with the program.
"Our kids and our cross country program were so excited to have Kipp here working with our team in conjunction with Coach Rozy (Mark Roozen)," Youmans said. "He was our cross country strength and conditioning coach for the fall prior to his leaving to pursue his professional triathlon career."
Coaches Youmans, Dannenbring and Doug Haar worked with Kinsley for six years, starting in middle school.
"I was fortunate to coach him in both cross country and track, and am forever grateful for the hundreds of hours we were able to spend together," Youmans said. "I have two memories that are etched in stone in my mind. I can still see Kipp and these events unfolding even as I talk about it now."
The first memory came during Kinsley's junior year. He was running the 1,600 meter race at the Eastern South Dakota (ESD) Conference meet in Watertown.
"I can remember pleading with Kipp the last 200 meters to take a shot and run down the lead runner that was almost unrealistically out of reach," Youmans said. "Kipp took off and literally at the finish line out-leaned a Brandon Valley runner to win the ESD title by one-hundredth of a second. Kipp and I had to wait almost 10 minutes to find out he had won the race as they had to review the video for an extended period of time."
The second memory came during the ESD meet in Yankton during Kinsley's senior year.
"I vividly remember Kipp walking around our home track," the coach said. "Between each race, he had a new running outfit that he wore and, make no mistake, Kipp was the best looking runner on our track that day! Kipp and I had a good laugh about the changing Nike wardrobe of that day."
On a personal level, Kinsley excelled in everything he did but remained level-headed, Youmans said.
"He had a humbleness that was so uncommon, especially for male athletes of his caliber. He never saw himself in any different light than the least of those in our program," the coach said.
"In all his years in our program, there was never a missed practice, never a workout that was tanked, never late for a leave time, and ALWAYS supportive of his teammates and coaches. He loved to run and loved being a Buck."
Youmans said he, Haar and Dannenbring were happy and proud to have been part of Kinsley's life.
"We all loved Kipp like a son, and we all share in the heartache of his loss," Youmans said. "Kipp's parents, Jon and Shelly, hit a grand slam with the values and ethics they instilled in this young man."
Kinsley carried his strong work ethic on the job, according to Ken Kopetsky of Ace Bike and Fitness.
"Kipp lived and breathed swimming, running and cycling. It was extremely fun to have his enthusiasm in our shop which was certainly contagious to the rest of the staff!" the store owner said.
"His knowledge was unbeatable as he loved racing so dearly. He had his days planned methodically to make sure he could always fit one of his activities in along with handling his workload."
Last October, Kinsley reached out to Kopetsky about pursuing a career as a personal trainer.
"Anyone who knows Kipp would agree this is right up his alley. He was so enthusiastic about training, there was no doubt he would make an excellent personal trainer," Kopetsky said. "Kipp was a great guy to be around, and we were extremely fortunate to have him as a friend and a co-worker. He had a huge heart and loved his family and friends dearly."
OFF TO SDSU
After graduating from YHS, Kinsley took his talents to SDSU. While there, the Jackrabbit cross country team won the Summit League championship twice. He also competed in indoor and outdoor track.
He graduated with a Bachelor of Science degree in Education and Human Sciences with honors in 2016. He was a member of the American College of Sports Medicine and certified in Exercise Science.
Kinsley's death has devastated the SDSU cross country family, according to head coach Rod DeHaven.
"Kipp's unexpected passing is punch to the gut. It defies all logic as Kipp was so busy living life," the coach said. "I will always remember the polite, determined young man that was very curious about the process. And after the initial shock subsides, his life will be reminder of how to live life and how to treat our fellow man. He made us all better people."
Kinsley's SDSU teammates also spoke highly of their late friend.
Bloomfield, Nebraska, native Austin Hamm native described Kinsley "as good of a man as I knew" who remained modest.
"(Kipp) was a tremendously talented individual in almost every way, but you'd never know it from talking to him. If you asked him questions about himself, he would answer honestly, but always ask a genuine question about you in kind," Hamm said.
"He honestly cared about the people around him, and was never afraid to lend whatever help he could to someone. He was a joy to be around, making everything he was a part of more fun and enjoyable for everyone."
Kinsley inspired others with his grit and determination, Hamm said.
"He faced many struggles in the time I knew him, but met each of them head on and never let them weigh him down," Hamm said. "The last time I saw him, he surprised me and my wife by coming with some other friends to see our new house. I remember just being shocked to see him pop his head in the door, and I'd give anything to see that happen once more."
Connor Branick said he had known Kinsley ever since he competed against Yankton while attending Sioux Falls O'Gorman High School. He admired Kinsley's quiet demeanor and devotion to his sport.
"While the rest of us would eat burgers and chips, Kipp would usually have a smoothie with more fruits and vegetables than I could even name. He introduced me to kale and pomegranates," Branick said. "To this day, I still don't understand why he liked kale so much. He even would buy concentrated beet juice to boost performance and speed recovery time. He would spend hours after practice doing exercises and stretches no matter if he was fully healthy or recovering from injury. He loved the idea of being better."
One of Hamm's favorite memories was sailing with Kinsley on his Hobie cat, only to have his Yankton friend purposely tip the craft to teach others how to get back up quickly in case they tipped.
Other favorite memories involved going on runs together in Yankton, only to have Kinsley forget to notify the rest of the group where his route went.
SDSU teammate Dylan Slaba recalled the Hobie cat tip, with Kinsley laughing at his friends' quick dump into the drink. However, they knew it was all in fun and meant as a learning experience to benefit them.
"(Kipp) had energy and a smile that could turn any bad day around. It seemed nothing ever got (him) down," he said. "Our days of YouTube binges, Mario Kart races and early-morning and late-evening runs bonded us. I not only found a best friend, but a brother, a running brother."
SDSU teammate Grant VanKeulen noted Kinsley's tremendous efforts to come back quickly from injuries.
"(He did whatever was needed), if that meant biking through snow to get to the training room before an 8:00 class, adjusting his schedule so he could get a non-impact workout such as swimming in, or doing duck walks with a band around his legs back and forth in our tiny kitchen," VanKeulen said.
"He never stopped giving his best effort. At the same time showing that determination, he was also the first person to show selflessness. He would take time out of studying, eating and even his napping schedule to show and help me with stretching techniques I was having issues with, providing bike maintenance, or any other issue I was currently having."
LOOKING TO THE FUTURE
Kinsley joined the Nor'Easter professional triathlon team with the intent of pursuing triathlon full time, according to Coach Jim Petersen.
Kinsley spent the summer in Ipswich, Massachusetts, with a group of eight other professional triathletes, and this fall was looking to move to New Hampshire to work with the team for the foreseeable future.
"Kipp was an amazing person, one of the best people I have ever worked with," Petersen said. "He was caring, loving and brought a sense of calm to everyone around him.
"As an athlete, he showed tremendous potential. I mention this because I know how much it meant to him, and I believe he would like to be remembered in this light."
Kinsley went under four hours in his very first Ironman triathlon as an amateur and was aiming high next season as a professional.
"I can honestly say he would have been one of the very best this sport had to offer, as an athlete and as a person. (I saw) this picture is him winning his local South Dakota triathlon this past weekend. I am happy he was able to do what he loved all the way," Petersen said.
"No matter how competitive this sport gets, it is important to remember the things that really matter. I remember sitting with him on the front of our boat looking at the water and the mountains in awe of this world as we planned our future goals together."
Slaba offered parting words to his late friend.
"Your memories will never fade," he said. "Someday all your running brothers will rejoin you on a run around the lake chatting and laughing like old times."
---
Story Credit: https://www.yankton.net/community/article_324038a4-acce-11e8-891d-53f3a9dbb030.html
---
Since you're here, we have a small favor to ask. Requests from schools and districts for our screening services are growing, which means that the need for funds to cover the cost of those services is also growing. We want to make our services available to those who request it and beyond, so you can see why we need your help. Safebeat heart screenings take a lot of time, money, and hard work to produce but we do it because we understand the value of a child's life, PRICELESS!
If everyone who reads this likes it and helps fund it, our future would be more secure. For as little as $1, you can support Safebeat and it only takes a minute. Make a contribution. -The SafeBeat Team