Free Student Heart Screenings
Promoting Heart Health Across West Michigan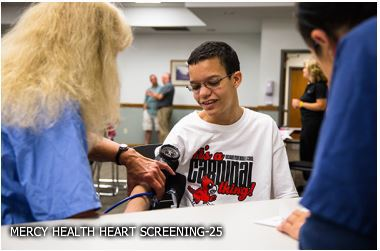 Heart Screenings Information
Mercy Health High School Student Heart Screenings are FREE and open to any high school student from ninth to twelfth grade or entering ninth grade in the fall. Each student must have a parent or guardian's consent to undergo the screening. The screenings take place at our Hackley Campus in Muskegon.
Heart screenings are a simple, quick method to identifying pre-existing heart conditions that could increase a student's risk of complications during physical activity and/or athletic competition. Since 2012, Mercy Health has screened a total of 3,518 high school students and diagnosed four at-risk students with a serious heart condition, while also identifying over 50% of students with borderline or high blood pressure.
Heart screenings are completed in approximately 15 minutes and consist of a heart history questionnaire, blood pressure check, 12-Lead EKG, physician exam and, if necessary, an echocardiogram.
Questions? Call 231-672-3047.
Sign Up for a Free Screening!
To register for screenings in March, April and July please click HERE.
To register for screening in August please click HERE.
Consent Forms
The following forms must be completed and signed before your scheduled heart screening:
Parent or Guardian Consent Form
Healthy Heart Check Questionnaire
Click HERE for the required forms from Mercy Health Heart & Vascular.
---
Story Credit: http://mercyhealthheartandvascular.com/heart/student-heart-screenings