Free Cardiac Screenings Offered to Adolescents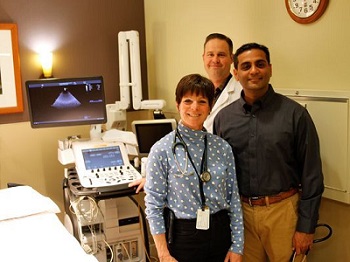 FARMINGTON — For any student athlete taking part in or looking to play sports, having a healthy heart ensures that passion can be long lasting.
That's why officials at the San Juan Regional Medical Center reinforced the need to check up on one's heart health during today's free cardiac screenings for those ages 13 to 18.
"What's we're looking for is just a few cardiac abnormalities that are readily identified on a screening ultrasound, They could put the athlete at risk," said Dr. Jude Gabaldon, a cardiologist at the hospital.
The medical staff performed electrocardiographic exams, or EKGs, on their patients to make sure their hearts were fine and to make sure there were no valve or electrical issues found.
"If they have an abnormal rhythm, they could have a cardiac event and put them in some kind of lethal rhythm. That happens occasionally," said Terry Chapman, manager of cadiology, cath lab, cardiac and pulmonary rehabilitation at the medical center. "Any youth could have some kind of problem with their valve. If we catch it early, they can do things to prevent that. It's better to treat it early versus later."
Gabaldon said doctors checked for conditions like a narrowed heart valve or a weakened or thickened heart muscle.
"That's something that people can inherit, and it's very rare, but we do know that young athletes can have poor outcomes based on that finding," Gabaldon said.
Fortunately for the young people who were examined today, their tests came out well.
As rare as it is for a young athlete to die from heart complications after playing in a game, that's what screenings like today's aims to prevent.
"That's an electrical part of their heart," Chapman said. "Maybe they had some sort of conduction system that's not proper. If their conduct happens wrong, it can put them in a lethal rhythm and then they go into cardiac arrest. Youth die all the time because of that, even professional sports players."
---
Story Credit: http://www.daily-times.com/story/sports/2017/12/09/free-cardiac-screenings-offered-adolescents/937110001/