For Otherwise Healthy Mom, 'Everything Changed' When Her Heart Stopped In Her Sleep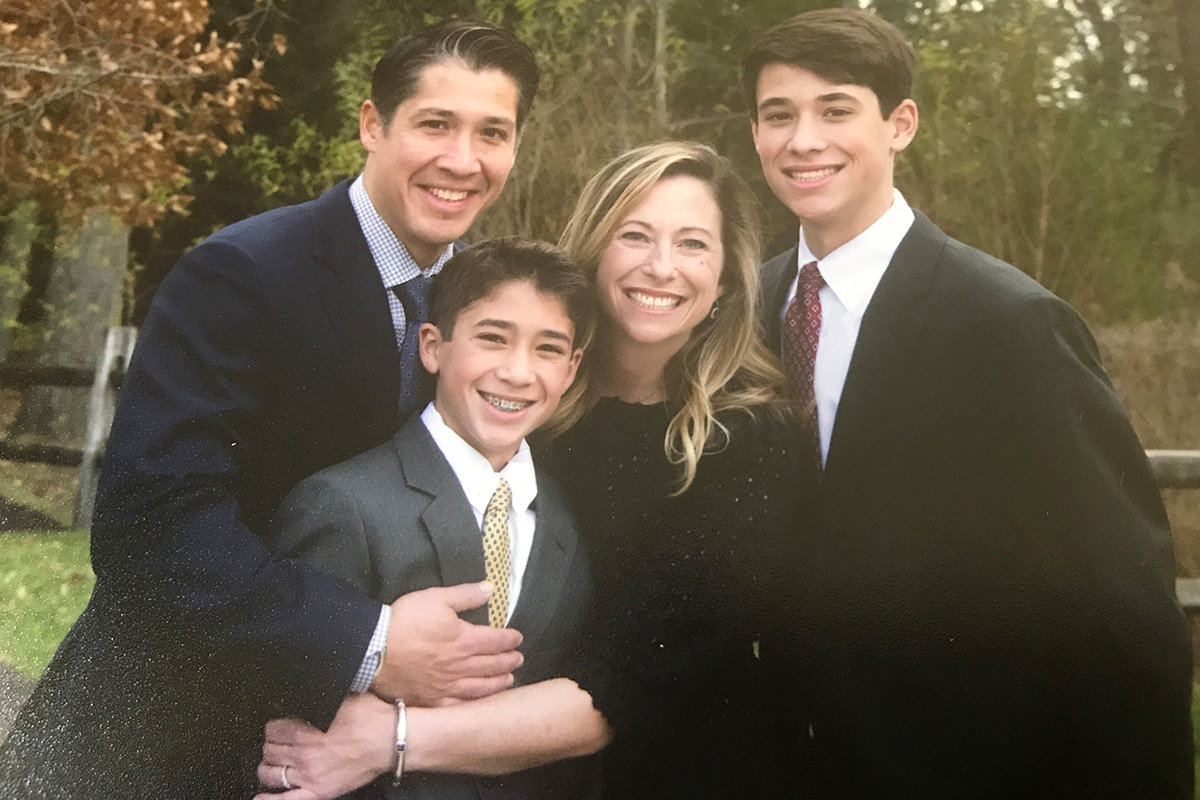 Almost nine years ago, I was 35 years old and in the best shape of my life.
Even as a busy wife and mother of two, I managed to find time to play on three soccer teams and a coed ultimate Frisbee team, lift weights and take tennis lessons, exercising at least six days every week. Fitness was one of my top priorities.
But in July 2008, everything changed when I experienced a cardiac arrest in my sleep.
My husband, Matt, is an orthopedic surgeon who often needs to answer urgent phone calls in the middle of the night. Little did we know that one of those early morning calls would ultimately save my life.
One morning that July, Matt was awakened by a call from a resident. While on the phone, he noticed something unusual — my breathing was irregular and I wasn't responding to his voice. When he rolled me over, he saw that I was turning blue and my pupils were nonreactive. Cardiac arrest is a complete stoppage of the heart, often without warning.
Immediately, Matt's prior CPR training kicked in. He quickly dialed 911 while performing CPR to keep my heart beating. Once we arrived at the hospital, the doctors told Matt that I was in heart failure, and asked him to retrieve my living will.
Fortunately, because I was an otherwise healthy, young adult and was with someone who knew how to perform CPR, I survived a massive cardiac incident that takes the lives of 90 percent of its victims. Two weeks later, I left the hospital with a pacemaker and a defibrillator in my chest.
Ultimately, it was my husband's CPR and fast action that saved my life.
Yet, looking back, I regret that I didn't know more of my family history.
Just a few months before my cardiac arrest, I learned that I had cardiomyopathy, a condition that makes it hard for the heart to deliver blood to the body. Because I was functioning at such a high level, nothing really changed after that diagnosis. But several years after my cardiac arrest I learned of a great aunt who had died suddenly of a cardiac event at the same age. Knowing this could have prompted more of a discussion when I got my initial diagnosis.
Today, I'm back to my active lifestyle, but some things have certainly changed since that fateful morning in 2008. I still exercise several days a week, but cannot be as aggressive, especially when it comes to increasing my heart rate. I play doubles tennis now, instead of singles. I gave up soccer but I still lift weights, walk and hike.
Of course, I also appreciate things to a greater extent than I possibly could have before that emergency. There is nothing like a near-fatal event to provide perspective.
That is why I have dedicated a great deal of my time to advancing the mission and goals of the American Heart Association. I'm a member of the Philadelphia Board of Directors for the AHA, advocating for legislation that prioritizes the importance of CPR training in Pennsylvania.
I am a vocal advocate for PA House Bill 1464 and Senate Bill 948 — bills that would ensure all students in the state of Pennsylvania receive hands-only CPR training before high school graduation.
In other cities, such as Portland, Seattle and Phoenix, where more everyday citizens are given CPR training and can perform some sort of lifesaving action in an emergency, more victims are surviving these types of attacks. People in the Philadelphia area deserve the same chance of survival.
I'm also an advocate for a new citywide hands-only CPR training initiative called CPR Ready. The campaign's mission is to double the number of people willing to perform bystander CPR and use an automated external defibrillator when available.
Even when I thought I was in the best shape of my life, I was at risk for heart disease and cardiac arrest. This is why knowing your family history and personal health numbers are among the most important things you can do for your own well-being. The power lies within you to make a change to save your life or the life of another. Trust me — don't wait!
Stephanie Austin lives in Montgomery County.
---
Story Credit: http://www.philly.com/philly/health/health-news/for-otherwise-healthy-mom-everything-changed-when-her-heart-stopped-in-her-sleep-20170606.html