For Daugherty, Odds Are Meaningless, But Family Is Not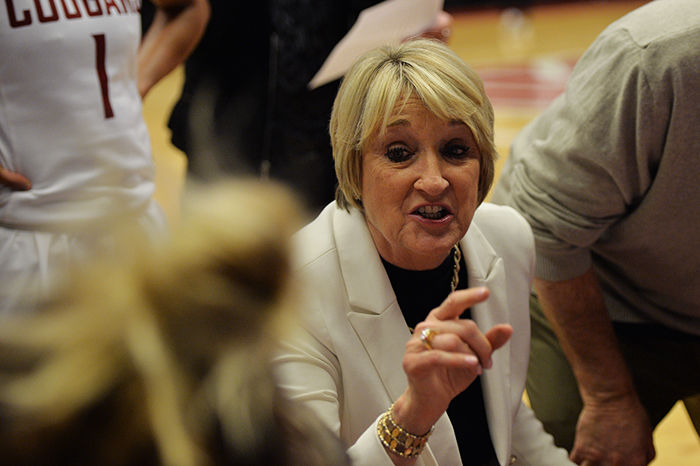 June Daugherty doesn't care about the odds.
The 11-year head coach of the WSU women's basketball team, a mother to twins and survivor of sudden cardiac arrest (SCA), Daugherty's life has taken several interesting twists.
Fresh off her stunning run to the WNIT semifinals, June Daugherty sat down with me to talk about her journey to Pullman.
Mom's Weekend festivities begin tomorrow, so I thought it was fitting to ask Daugherty about how she balances being a mother and a coach. When your children are younger than your players, any parent-coach knows this relationship presents challenges.
"Being a mother is the ultimate gift," Daugherty said. "I've been fortunate that Washington State and other places that I've had the privilege of coaching have always had a family contract so that my kids could travel with me."
Now young adults, Daugherty's twins, Doc and Breanne, do not travel with the team like they used to, but growing up around a WSU program that values the importance of family was unique for them.
"You feel like they can grow with the program more and have 15 big sisters," Daugherty said. "It's been a real gift that places like Washington State understand how important family is."
It was family who first reacted to Daugherty's SCA, a condition that causes the heart to stop beating completely, and often leads to death if there is any delay in response.
Luckily, there was no delay. Through the exhilarating adrenaline, Breanne managed to save her mother's life.
"I'm so blessed and fortunate to have survived it," Daugherty said. "One out of 10,000 survive [sudden] cardiac arrest, and that's not very good odds. Fortunately for me, my daughter happened to be with me that day. I was fortunate that she was there, fortunate that I was literally a stone throw away to a cardiac unit in a hospital that was two minutes down the road. Otherwise, I don't think I'd be here today to tell that story."
Following her quick recovery, Daugherty became a public advocate for SCA, raising awareness for the leading cause of death in the United States. In 2008, the Sudden Cardiac Arrest Association presented Daugherty with its Coach of the Year award.
However, Daugherty is not a public advocate to earn awards. The coach donates her time to the cause because heart disease is scary, she said. It is a life-taker as well as a life-changer.
"I always believe things happen for a reason, and I think one of the reasons it happened to me is that it gave me a platform to help other people understand how prevalent heart disease is," she said.
Daugherty remains a prominent figure on and off the court for others who survive SCA.
"I get random calls from people who say, 'I just went through cardiac arrest, I'm a healthy athlete and I'm scared to death to do XYZ. Can you talk me through it?' And they're total strangers, but by the time you get off the phone, you just hope that they feel like they're part of your family," Daugherty said.
Throughout this column, you may notice the word "family" is used liberally. That's no accident. Whether we're talking about Daugherty's biological family, her SCA experience or the basketball team she leads, there's always a family presence in her story.
Former SportsCenter anchor and WSU graduate Cindy Brunson said the same thing when I asked her about Daugherty's coaching staff.
Brunson said the WSU coaching staff is "incredibly special and is where the family vibe of this team starts."
The family atmosphere Daugherty has created at WSU is now being credited as the main reason the Cougars won their first four postseason games in program history last month after decades spent away from the playoffs. Brunson voted for Daugherty as Pac-12 Coach of the Year for this exact reason.
"My first big 'win,' if you will for the WSU program, and why I voted June Daugherty as coach of the year, was the fact this team, despite a quartet of devastating injuries, still finished among the top eight teams in regular season Pac-12 play," Brunson said.
No matter how bad a situation may look or what the odds say, Daugherty doesn't care.
"There's no doubt that this season is a cultural program-changer," Daugherty said. "We know now that we can play anybody."
---
Story Credit: http://www.dailyevergreen.com/sports/article_8ec19e18-1a5f-11e7-807b-9fb810e20a3a.html