Footballer Who Suffered Cardiac Arrest on the Pitch Owes Life to Bystander Who Gave Him CPR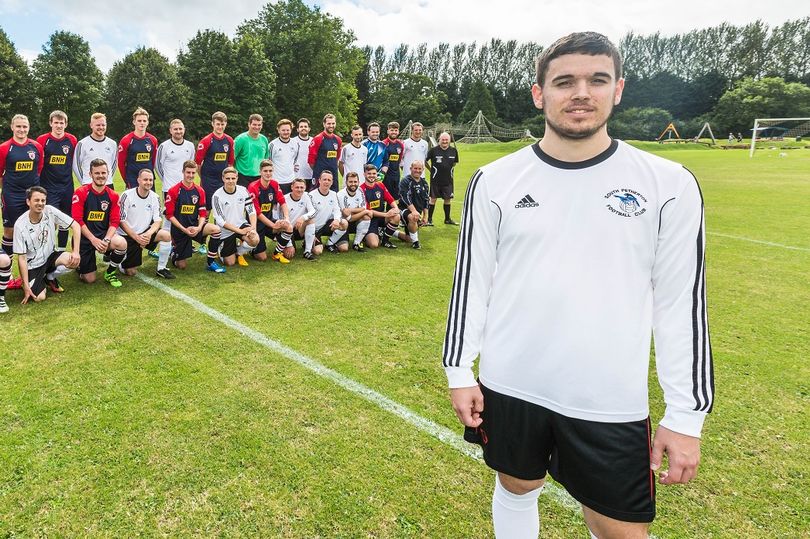 A footballer who nearly died when he suffered a cardiac arrest during a competitive match says that he owes his life to the fact that there were people at the game who had been trained in CPR.
Nick Hole collapsed while playing for South Petherton Football Club in November 2015 and was saved by the quick thinking of his teammates and a bystander who gave him CPR until paramedics arrived.
Although his life initially hung in the balance, Nick went on to make a good recovery from a brain injury he sustained due to a lack of oxygen.
His family and friends have rallied around and carried out a large amount of fundraising to help with his recovery, including a charity football match that took place between teams from South Petherton and The Gryphon School, where he is a former pupil.
Nick has now used some of his fundraising money to buy CPR mannequins for The Gryphon so that pupils can be trained to help save lives.
He said: "I would not be alive today if someone had not known how to do CPR. By doing this it may help to save someone else's life."
Who is Nick Hole?
Nick Hole was playing for South Petherton against Weston Super Seagulls in a Somerset Junior Cup game on November 14, 2015, when he collapsed and suffered a cardiac arrest in the opposition penalty box.
This was due to a previously undiagnosed heart condition, arrhythmogenic right ventricular cardiomyopathy (ARVC), an inherited condition which produces abnormal heart rhythms, caused by a weakening of one chamber of the heart.
After receiving emergency treatment on the pitch, Nick was flown by air ambulance to Musgrove Park Hospital in Taunton, where he was put into a medically induced coma.
After seven weeks at Musgrove, Nick then underwent six months of rehabilitation at the Somerset Neurological Rehabilitation Centre at Dene Barton.
Nick was fitted with an internal defibrillator but was left with brain damage.
His collapse bore similarities to that suffered by former Bolton Wanderers footballer Fabrice Muamba, who suffered a cardiac arrest during an FA Cup match against Tottenham Hotspur in March 2012.
Hayley Andrews, who runs the PSHEE programme at The Gryphon School, added: "I am so grateful to Nick and his mother Sam for donating these dummies.
"This will allow us to teach all students basic CPR over the next year.
"This is such a valuable life skill that I hope they will never have to use but if they do they will be prepared.
"This will bring benefits within the school as well as when children are out in their local communities."
---
Story Credit: http://www.somersetlive.co.uk/sport/other-sport/footballer-who-suffered-cardiac-arrest-841285