Five Heart Healthy Resolutions For 2017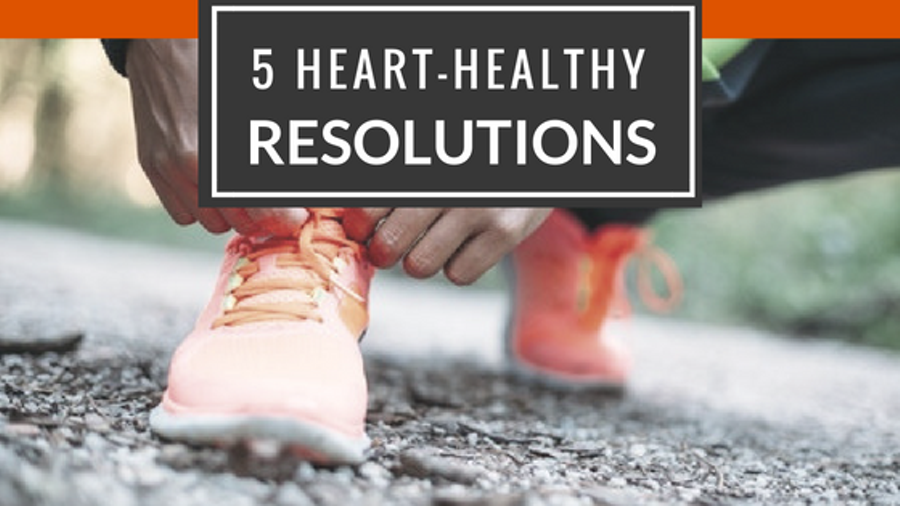 Guest blog: Julia Rodack, writer and blogger
The New Year is a perfect time to reflect on the past 12 months and assess what habits you want to take with you, and what you want to leave behind. Yes, resolutions can both feel and be hard to keep, but they don't have to be.
"Usually when people fail to accomplish their mission for a healthier life they don't set achievable goals and have a lack of commitment," says Maribet Rivera-Brut, nutritionist and American Heart Association volunteer. "And 'commitment' is the key word here."
It takes 21 days to make a habit and only one day to break it, says Maribet, so keep your focus. To ensure success, follow these rules:
Create realistic goals and strategies. "Set a goal you know you can keep," says Maribet. If you are trying to eat more vegetables, don't start by gorging yourself. Pace yourself."
Keep it simple. If you aren't used to eating something, try gradually adding it to your diet, suggests Maribet suggested. Not a fan of greens? Try mixing a small amount of frozen spinach to smoothies. Not sure you'll like quinoa? Add a scoop to salads to help get used to the taste and texture.
Be patient. "We need to accept the fact that we followed the same lifestyle for a very long time," says Maribet. "Changing it isn't always easy." And remember, it's OK to slip up sometimes - just remember to get back on track.
Ready to get started? Here are five easy, heart healthy resolutions for every lifestyle.
1. Drink more water
You've heard it time and again, but the fact remains: Drinking the right amount water is a key ingredient in staying healthy. If you're drinking more water, you'll have less room for sugary sodas - which is a good thing. "More than half of the calories we consume everyday come from sweetened beverages," says Maribet. "Many people forget the cheapest drink is readily available in our houses - known as water." If you're looking for more ways to get your eight glasses a day, check out this list.
2. Go green
Make 2013 the year of the kale chip - not the tortilla chip. By keeping your cabinets stocked with heart healthy fruits and vegetables you are in better shape to stick to your resolution. And if fresh doesn't work with your schedule or habits, remember you can get frozen or canned. Just be sure to rinse canned fruits and vegetables, as they may contain added salts and sugars.
3. Eat seasonally
Good for your budget and waistline, eating seasonally means you are getting food at it's peak performance and flavor level. (Farmers' market bounty varies by season, so before you head out take a look at this list.) Additionally, you'll be supporting your local community and farmers, which is always a great resolution as well.
4. Cut out processed food
Just do it. Decide that 2013 is going to be the year you say no to aspartame, high fructose corn syrup and hydrogenated oil. In addition to chemicals you're body doesn't need or want, processed foods are full of added salt. Higher salt intake puts you at risk for high blood pressure. In fact, 75 percent of the salt in the average American diet comes from salt added to processed food and restaurant food, according to the American Heart Association. So take control and cut out salt where you can.
5. Eat more fiber
Crucial to heart health and reducing the risk of heart disease, fiber is easy to add to your diet. Whole grains are filled with fiber, which makes digestion easier and helps you feel fuller when you're done eating - both key factors in weight management.
Julia Rodack is NYC-based writer and editor. She loves food, fashion and alliteration. Her work has appeared in Time Out New York, The Brooklyn Downtown Star and various online publications.
This blog originally appeared on the Go Red for Women website. #BhamGoRed is nationally sponsored by Macy's and locally by St. Vincent's Health System.
---
Story Credit: http://blog.al.com/heart-beat/2017/01/5_heart_healthy_resolutions_fo.html