Female Rugby Player, 23, Collapses And Dies After Training Match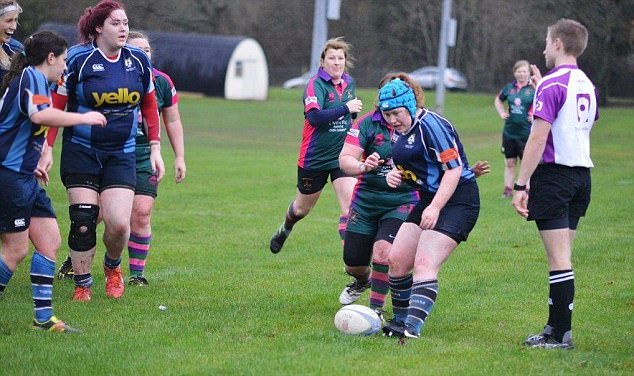 Lily Partridge hit her head during a development session in Devon in 2015
She moved to the sidelines, but suffered a cardiac arrest and stopped breathing
She never regained consciousness and her life support was switched off the next day
Her heartbroken parents said she had taken all the right precautions to protect herself while playing the game she loved
A rugby player who collapsed and died after suffering a head injury during a training match had suffered two other similar injuries in the nine months before her death.
Lily Partridge, who played for Exonian Ladies in Topsham, Devon, suffered the injury during a development session for a county team in December 2015.
It was the third rugby-related head injury suffered by the 23-year-old hooker in the previous nine months.
An inquest into her death in Exeter heard no one witnessed Miss Partridge being hurt, but five minutes later while preparing for an uncontested scrum, she told the referee she had hit her head and felt unwell.
Speaking at the inquest, team captain Katie Lunnon said she saw her friend leave the pitch and went to speak to her.
'While watching the match, I did see Lily involved in tackles and she didn't appear to have any after-effects,' she said in a statement.
'I saw he walk to the touchline and went to see if she was okay. She said she had a bit of a headache and I didn't really think anything of it.'
Miss Partridge, who worked as a zoo keeper, collapsed five minutes later after complaining of a headache and feeling sick. She then suffered a cardiac arrest and stopped breathing.
A physiotherapist attempted to resuscitate her and she was flown by air ambulance to hospital but never regained consciousness. Miss Partridge's life support machine was switched off the following day and her organs were donated.
Miss Partridge's cause of death was diffuse cerebral hypoxic injury, out of hospital cardiac arrest and a closed head injury while playing rugby, said the coroner.
After the hearing, her heartbroken parents Jeff and Liz urged players to have brain scans if suffer any head injury during matches.
The 61 year old couple, from Exeter, said: 'Lily loved playing rugby and her dream was to represent Devon.
'She was the victim of a tragic accident. No one is to blame for what happened to her.
'Rugby is a hard game and Lily took all the precautions to protect herself when playing.
'She had suffered a couple of concussions earlier in the year but had seen her GP and had followed the RFU protocols in taking time off not playing.
'A brain scan may have spotted any weakness caused by those head injuries.
'If we had known that her life may be in danger by playing rugby again, obviously she would have stopped immediately.
'Lily wore all the right gear when she played - the scrumcap, mouth guard and so on - but that wasn't enough to save her.
'In her final match she felt dizzy and came off the pitch feeling unwell after a minor contact with another player. But she collapsed on the sidelines and never recovered.
'We would like to see all players at every level of the game - male, female, young or old - receive proper medical treatment for head injuries which would include scans.
'A scan - however funded either by the NHS or privately because of the costs involved - would let a player know whether they were putting themselves in any life threatening danger.
'Professional rugby players have retired from the game because they cannot risk the prospect of further concussions.
'It is a great game involving big, strong, heavy, fit athletes but we need to make it as safe as possible.
'There are many thousands of girls and women playing rugby and Lily, like us, wants that to continue.
'While we will never recover from the loss of our beautiful daughter, we are immensely proud of the gift of life she gave to scores of people through her organ donation.
'She will never be forgotten by the people who loved her - and dozens more who she never met.'
At the inquest, Dr Michael Thomas, a consultant radiologist, said he carried out a CT scan on Miss Partridge and found no evidence of any previous head injury.
'Everything I saw on the scan would fit with the traumatic event Lily had suffered earlier that day,' he said.
The inquest heard that RFU guidelines state any adult player who has suffered a concussion must rest for two weeks and be symptom-free before seeking clearance from a medical professional. The earliest they can return to playing is after 19 days.
Miss Partridge had visited her GP on two occasions after suffering playing-related head injuries, on March 2 and April 1, 2015.
Dr John Fox, of the Exwick Health Centre, said: 'On March 2, she was diagnosed with a post-concussion headache and was advised at the time to follow rugby RFU guidelines with regard to when she restarted playing.
'I understand she stopped playing for the whole month after the episode.
'On April 1, she was again seen with a head injury. The doctor recorded she had fully recovered from the previous episode and again she sustained a hard tackle resulting in the back of her head hitting the floor.
'Again, there was no loss of consciousness or vomiting, loss memory or change in behaviour. She had a generalised headache and felt slow in thought.
'Again, a diagnosis was made of a further concussion. It is inferred in the notes she followed the RFU guidelines.'
She also visited an NHS walk-in centre on April 27 after hitting her forehead on a cupboard door at work and was diagnosed with a mild concussion.
A 'few weeks' before Miss Partridge's death, her partner witnessed her black out and feint.
'It took her a while to come around. It scared the life out of me. She started to convulse and fit - it was not an epileptic fit,' Anne-Marie McIntyre said.
'We had a conversation about it afterwards. What happened got to me a lot. I told Lily she needed to go and see a GP. She said she would look into it.
'I did not want her to go through that episode again, but Lily felt she had seen her GP so many times and it was just one of those things.
'She googled what happened, but did not see her GP, as far as I know.'
John Tomalin, assistant coroner for Exeter and Greater Devon, recorded a conclusion of accidental death.
'I was aware of two occasions where Lily consulted her GP where she said she had suffered head injuries while playing rugby. She had also hit her head while at work,' he said.
'We also heard about her collapse at home a few weeks before her death.
'I have no evidence to link any of these earlier events to Lily's death.
'In fact, the evidence from Dr Thomas is that from his study of the CT scan following Lily's collapse, it is his view that the subdural haematoma was suggestive of an acute bleed, a bleed that had occurred relatively recently, in keeping with it occurring on December 6.
'I have no eyewitness evidence of Lily suffering any head injury, but on the balance of probabilities, I am of the view Lily did suffer some form of injury to her head. What this was specifically, I don't think we can actually say.
'That injury most likely led to the bleed in the brain identified in the CT and that in turn has led to her death.'
Miss Partridge's family did not attend the hearing.
---
Story Credit: http://www.dailymail.co.uk/news/article-4448870/Female-rugby-player-23-died-training-match.html