Barrie Family Installs AED on Side of Home for Public Use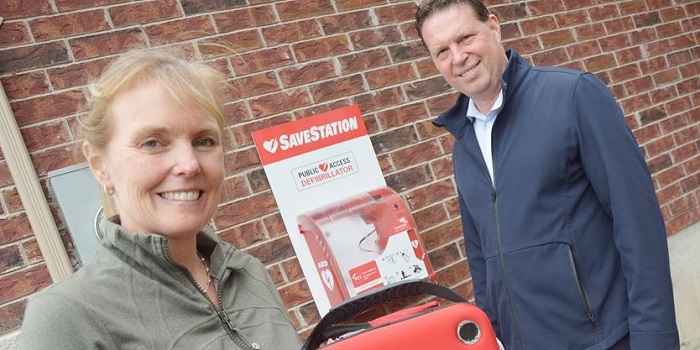 Roger and Deb Hennig are showing heart.
The Barrie residents and owners of Action First Aid have installed an outdoor automated external defibrillator (AED) SaveStation on the side of their Stapleton Place home. It is available to anyone in the neighbourhood who suffers sudden cardiac arrest.
This installation is part of the Neighbourhood Defibrillator program. The Hennigs believe it is the second outdoor AED to be placed on a house in Canada, and they hope their decision will inspire other communities to take action.
Outdoor AEDs are in use in 40 countries across the world.
"When you collapse and have sudden cardiac arrest, you basically have 10 minutes before there's zero chance of survival," Deb said, noting the AED will serve anyone within a four-minute running radius. "They're out there in arenas, but there are still so many places that need to get on board. We're getting it as close to people as possible."
Eighty per cent of cardiac arrest incidents happen at home or in public places.
Between 35,000 and 45,000 people die of sudden cardiac arrest each year in Canada, according to the Heart and Stroke Foundation.
While the first step should be to call 911, quick and easy access to a defibrillator and the delivery of effective CPR can significantly increase the chance of survival, Deb said.
"Defibrillators are designed so a 5th grader can basically use it," Roger said. "What's difficult is the intensity of the moment. This is really going to help save (lives)."
The SaveStation costs about $3,500 but it has an eight-year warranty, is registered on a global database and includes a storage cabinet built to withstand harsh winters. The location and integrity of the AED is tracked through remote digital monitoring.
Action First Aid will help organize crowdfunding efforts, to spread costs within a neighbourhood.
"Anybody is allowed to use a defibrillator now — they won't shock a heart that doesn't need it," Deb said. "Anything you do is better than nothing. These machines are safe to use."
More information on the outdoor AED is available at savestation.ca, actionfirstaid.ca or by calling 705-720-2978.
---
Story Credit: https://www.simcoe.com/community-story/8607988-barrie-family-installs-aed-on-side-of-home-for-public-use/