Families Push For Lifesaving AEDs In All Schools After Child's Death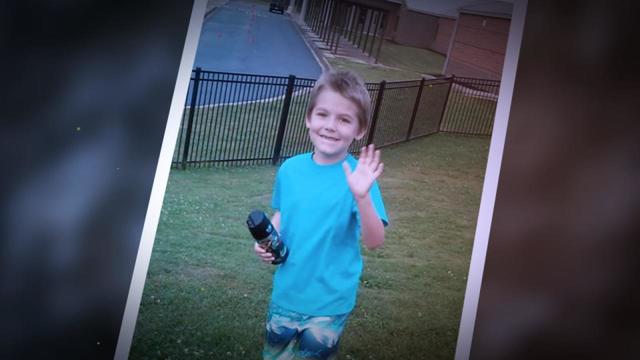 CHEROKEE COUNTY, Ga, - Families who have lost young children to sudden cardiac arrests say a Georgia law does not go far enough. The law requires that at least one Automated External Defibrillator or AED must be in every high school, but not in elementary or middle schools or at sports fields.
Channel 2's Craig Lucie started looking into the law after two metro area middle-schoolers collapsed while suffering cardiac arrest.
Aidan Heath was a typical 7-year-old. He was healthy, full of life and had a passion for soccer. Last September, his grandmother took him to soccer practice at a Cherokee County park.
"As he was walking back over on the sidelines he looked like he was play-falling," Peggy Moore, Aidan's grandmother, told Lucie.
"He had just scored a goal. He scored a goal and he just fell over," Ashley Heath, Aidan's mother said.
She and Peggy realized Aidan wasn't playing. He was struggling to survive.
"I sat there and watched his coach and my mom do CPR and mouth to mouth," Heath told Lucie.
Aidan died eight days later in the hospital. Doctors would later say that an automated external defibrillator or AED might have saved him.   Days later, their pain would be worsened when they found out there was an AED at the field. It was in an office 75 yards from where Aidan collapsed. But his mother, grandmother and Aidan's coach did not know it was nearby.
One month later, another Cherokee County boy collapsed, but this time, there was a different outcome. Caden Cherry, 12, was in his school's gym when he went down.
"Because the school is trained and they have an AED, they got on him in less than a minute," Caden's mother, Kerrianne Cherry, told Lucie. Caden is now back at his school, Creekland Middle School, and made a full recovery after cardiac arrest.
"They should have them because it doesn't matter who you are, you can still have a cardiac arrest," Caden told Lucie.
Because Georgia law only funds the purchase of an AED for high schools, many elementary and middle schools like Caden's depend on their parent-teacher associations.
"We got that one using fundraiser money. He's alive today because of that," Caden's principal, Dr. Deborah Wiseman, said.
Caden's mother agrees.
"One life is worth way more than $2,000," Cherry said.
Lucie sat down with Georgia Rep. Jason Spencer who sponsored The Andrew Cohn AED Act, named after a 15-year old who lost his life in 2010.
"It essentially required all school districts, all schools to have an AED. The current law states that it's only applies to high schools with interscholastic programs," Spencer told Lucie.
But Spencer's bill failed. He was told one reason was because it was too costly. He says the other reason was lawmakers who didn't back his bill because he hadn't voted for theirs. Lucie asked how that that failure made him feel personally.
"I think it made the General Assembly look bad," Spencer said.
Lucie requested data from 16 districts in the metro area to find out how many schools have AEDs. Thirteen districts have at least one AED in every school. But 55 elementary schools in DeKalb County do not have any AED's. Two elementary schools in Henry County and three with Atlanta Public Schools also do not have any AEDs.
For Caden and his family, they are on a new lifesaving mission.
"I'm gonna make sure every almost every school has an AED," Caden said.
Aidan's family says they want better emergency plans in place.
"It does no good to have an AED if people don't know about it," Peggy Moore said.
They want lawmakers to understand one thing.
"You can save a life. You can save a child's life. You can save an adult's life," Ashley Heath said.
"More people have to die before good policy gets enacted. That's the truth," Spencer said.
---
Story Credit: http://www.wsbtv.com/news/local/cherokee-county/families-push-for-life-saving-aeds-in-all-schools-after-childs-death/493057080