Here Are 15 Facts About Sudden Cardiac Arrest You Must Know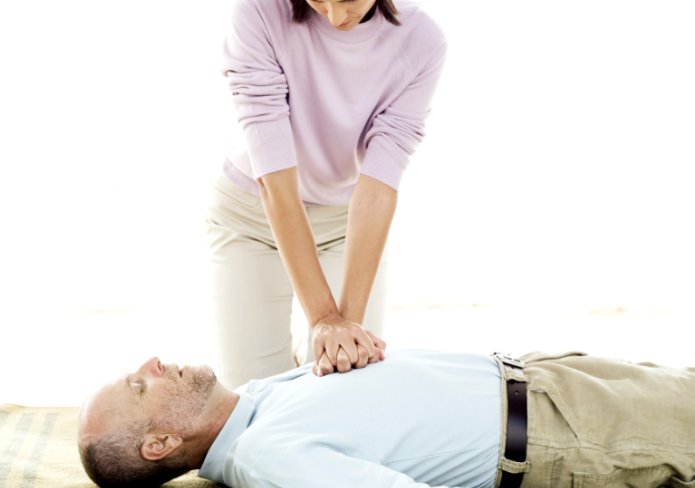 New Delhi: The survival rate of sudden cardiac arrest (SCA) is extremely low. When an individual has a cardiac arrest, survival depends on immediately getting cardiopulmonary resuscitation (CPR) from someone nearby. According to health experts, performing CPR in the first few minutes of a cardiac arrest can double or triple a person's chance of survival. Many celebrities are reported to have passed away due to cardiac events, however, there are very few cases of survival. Unlike in the case of a heart attack, where an attendant or rescuer has the golden hour to take the patient to a hospital, it's golden seconds for cardiac arrest. In the case of cardiac arrest, one should immediately call for an ambulance and simultaneously perform CPR.
Following the sudden demise of the veteran actress, Sridevi, on Saturday night (February 24) in Dubai, many people are left with confusion and anxiety over the cause of cardiac arrest, which was earlier reported to have claimed her life. On Monday, the autopsy report released by the Dubai Forensic Department stated the actress died due to 'accidental drowning'. The report said that the 54-year-old actress drowned in her hotel apartment's bathtub following a loss of consciousness and did not suffer a cardiac arrest.
Yet, a lack of proper knowledge has left many people in shock over the suddenness of it - cardiac arrest. Dr KK Aggarwal, Padma Shri awardee, President Heart Care Foundation of India (HCFI) and Immediate Past National President IMA, revealed some common facts about a sudden cardiac arrest. So, read on to clear all your doubts about cardiac arrest.
Over 70 percent of all sudden cardiac deaths are due to underlying heart blockages. And the frequency of heart blockages is much lower in sudden deaths occurring under the age of 30 (24 percent)
Sudden cardiac deaths account for 30 to 50 percent of deaths in patients with heart failure
About 10 percent of sudden deaths are due to underlying structural heart disease (congenital coronary artery anomalies, myocarditis, hypertrophic cardiomyopathy, arrhythmogenic, and right ventricular cardiomyopathy). The frequency is much higher in subjects under the age of 30 (35 percent)
Around 5 to 10 percent of sudden cardiac deaths are arrhythmias occurring in the absence of underlying structural heart disease (long QT syndrome, Brugada syndrome, Wolff-Parkinson-White syndrome, catecholaminergic polymorphic VT, all abnormalities seen on ECG).
Around 15 to 25 percent of cardiac arrests are non-cardiac in origin. The causes include trauma, bleeding, drug intoxication, intracranial haemorrhage, pulmonary embolism, near-drowning, and central airway obstruction.
Women are less vulnerable to sudden death than men, and a higher fraction of sudden deaths in women occur in the absence of prior overt blockages.
Sudden cardiac arrest (SCA) and sudden cardiac death (SCD) refer to the sudden cessation of cardiac activity with hemodynamic collapse, often due to sustained ventricular tachycardia or ventricular fibrillation. Other causes of SCA and SCD are asystole and pulseless electrical activity. These events most commonly occur in patients with structural heart disease (that may not have been previously diagnosed), particularly coronary heart disease.
Between 25 and 45 percent of patients with coronary heart disease have myocardial ischemia during daily life, and most (>75 percent) of these ischemic episodes are not associated with chest pain.
Most 'silent' ischemic episodes occur during minimal or no physical exertion.
Patients with diabetes, older adults, and those with prior heart attack or prior bypass surgery are particularly susceptible to silent myocardial ischemia
In a review of over 430,000 patients with a confirmed acute heart attack from the National Registry of Myocardial Infarction 2, one-third had no chest pain on presentation to the hospital. These patients may present with breathlessness alone, nausea and/or vomiting, palpitations, syncope or transient loss of consciousness, or cardiac arrest. They are more likely to be older, diabetic, and women.
About 65 percent of out of hospital cardiac arrests occur at home. If not resuscitated, fewer than two percent will be alive after one month. Having an arrest at home is a strong independent predictor of adverse outcome.
Bystander CPR is the only answer in out of hospital cardiac arrest.
Survival to hospital discharge with favourable neurologic status improve approximately two-fold with bystander CPR
Bystander CPR with chest compressions alone results in improved survival to hospital discharge.
In addition, Dr Aggarwal also gave some effective first-aid tips in case of sudden cardiac arrest. According to Dr Aggarwal, the guidelines of Heart Care Foundation of India encourage the performance of CPR using excellent chest compression alone. He said lay rescuers should not interrupt excellent chest compression to palpate for pulses or check for the return of spontaneous circulation and should continue CPR until an electric shock machine is made ready to give a shock, a doctor to assume care, or the patient wakes up. However, mouth-to-mouth ventilation is not required here, he said. Hope this article helps you to some extent in understanding the complexities of this extremely fatal melady.
---
Story Credit: http://www.timesnownews.com/health/article/here-are-15-facts-about-sudden-cardiac-arrest-you-must-know-actress-sridevi-death/202917