Enloe High School Students Show People How To Save Lives With CPR App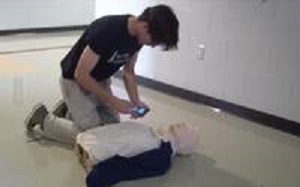 RALEIGH - A group of Enloe High School students is making it possible for ordinary people to use their smartphones and tablets to save a life when they see someone whose heart has stopped.
The students created CPRonDemand, a mobile app that can be activated during an emergency to walk people through the steps of performing CPR on someone who is in cardiac arrest. CPRonDemand is one of five national winners, including two from high schools in Charlotte, in the Lenovo Scholar Network National Mobile App Development Competition.
"We created our app with a fundamental purpose in mind: to enable the common man to save a life," said Arvind Rajan, one of the members of the Enloe team, in a YouTube video promoting the app.
People have until July 10 to go to http://lenovoscholars.com/2017-fan-favorite/ to vote for one of the five apps. The team with the most votes gets prizes such as state-of-the-art technology.
The Enloe students are members of the Raleigh magnet school's health sciences academy. It's among 675 academies nationwide sponsored by NAF, a nonprofit organization that has placed small academies in high schools.
As part of this year's Lenovo mobile app competition, the Enloe students focused on the problem of how the majority of people who are in cardiac arrest don't get the help they need before trained professionals arrive.
"If we can perform CPR within the first five to six minutes of cardiac arrest occurring, we can double or even triple the odds of survival," said Enloe student Guna Yarramareddy.
In an emergency, a person can activate the app that will go through steps recommended by the American Heart Association for providing CPR. On-screen prompts and videos guide users on how to perform CPR until help arrives.
"Action is better than inaction," said Enloe student Vedatman Basu. "Doing something is better than doing nothing.
"Due to the minimalistic design of our app, it boots up within seconds and is ready to help you perform CPR on demand."
Basu said Good Samaritan laws that offer legal protection to people who provide help to those in peril should shield people who use the app.
The students have ambitious goals for the app.
Enloe student Justin Miller said they want it to be a default app that's pre-loaded onto devices. He said they'd also like to expand the app to show things such as how to perform the Heimlich maneuver and to use portable defibrillators.
At some point, the Enloe students will make the app available for download.
---
Story Credit: http://www.newsobserver.com/news/local/education/article151510982.html