Employees Engaging In Preventative Heart Screening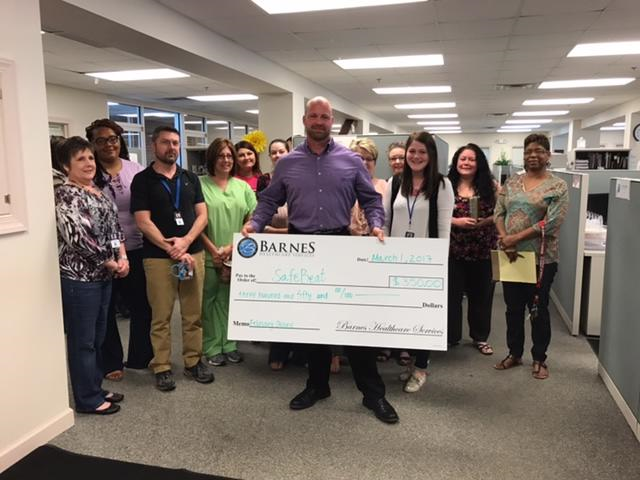 Imagine experiencing the fear and uncertainty of learning that your child has a life-threatening heart condition, not to mention the compounded panic and helplessness of being incapable of providing your child with the care he or she needed. On March 1st, Sheldon Hill, Executive Director of the SafeBeat Initiative spoke to the employees of Barnes Healthcare, explaining the necessity of SafeBeat providing free preventative heart screenings to public school children who may otherwise not have the opportunity to have such critical testing.
A group dedicated to supporting community transforming organizations, the employees of Barnes Healthcare regularly propose a clever fundraising effort, such as "jean friday". In the month of February, their attentions were turned to SafeBeat. After they discovered how subpar current sports physicals are in detecting underlying heart conditions and the need to supply a solution to their community, the employees donated three hundred fifty dollars to the Initiative. Eager to impact their community, they began asking the big question: "How soon can you come to our county and screen our kids."
For Hill, this was a success, as two of the organization's goals were met. SafeBeat's primary objective is to educate people. Most pediatric heart defects are not usually detected by a traditional physical examination but SafeBeat's non-invasive heart screening can help identify those potentially dangerous heart conditions. Access to such testing is crucial, and spreading awareness of the need for such a program is a success for its founders.
The second goal to be met was " to get a foot in the door to speak with a corporate leader". The employee's interest in the program successfully directed the corporate administrators' attention to the work the SafeBeat Initiative is engaged in. Following his presentation, Hill was able to meet with the groups' superiors, hopefully leading to the achievement of the third goal: converting a company to become a regular sponsor that believes and supports the SafeBeat Initiative!