Easton Company Says Its New App Improves Survivability Of Cardiac Arrests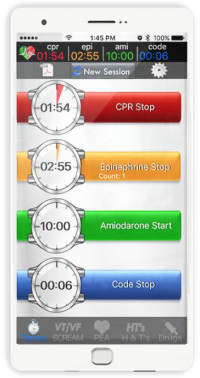 A Bridgeport Hospital study has shown that a newly released app, the Cardiac Arrest Resuscitation Mobile Application or "Carmaforlife," can help improve the survivability of cardiac arrests. Along with a comprehensive educational program, the app, manufactured by Easton-based ACLS Solutions LLC, helps practitioners direct the code blue team through the resuscitation. The results were presented by ACLS CEO and founder Gloria Bindelglass at the Joseph A. Zacanino conference at Yale New Haven Health System.
The educational program included a redefining of roles for the participants on the code team, practice with mock code simulations, expanded documentation and review of performance on all resuscitations with team members to promote continuous practice improvement. The centerpiece of the program was the Carmaforlife app, which includes a series of timers that prompt members of the code blue team to perform the correct steps at the appropriate times. Protocols for different types of cardiac arrests are listed in detail and interact with the timers to direct practitioners.
ACLS said that by using the Carmaforlife app, survival of a cardiac arrest improved by 37 percent to 78 percent, and that the number of patients who went home after having a cardiac arrest improved by 64 percent to 36 percent. By comparison, the national average for surviving an arrest is 56.7 percent, while the average chance of surviving a cardiac arrest and living to be discharged home at an average American hospital is 18 percent – half the chance of going home from Bridgeport Hospital if one suffers a cardiac arrest, the company said.
---
Story Credit: http://westfaironline.com/85849/easton-company-says-its-new-app-improves-survivability-of-cardiac-arrests/