East Kilbride Schoolboy Jack, 7, Fights Back After Double Heart Op Trauma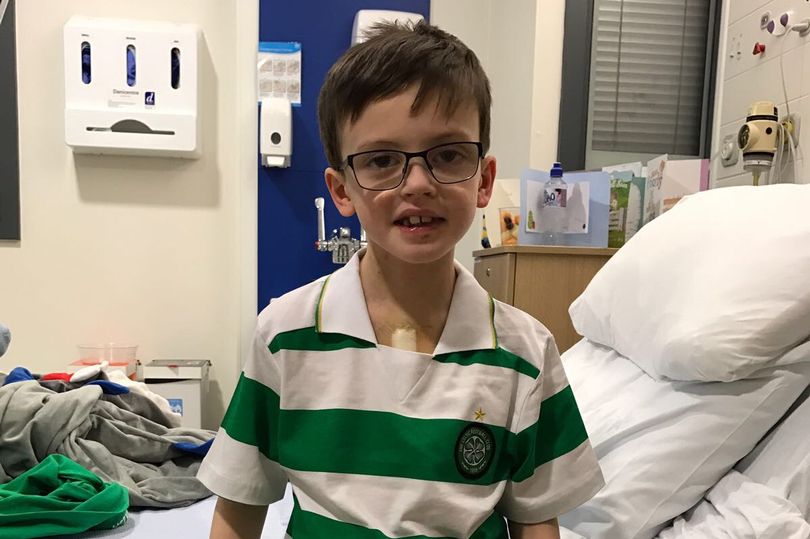 At the tender age of seven, little Jack Tennick from East Kilbride has gone through more than most.
For he has come through open heart surgery not once – but twice – in his short life.
He was just eight months old when he had his first operation after being born with Aortic Valve Stenosis (AVS) – a condition where the aortic valve is smaller or tighter than it should be, putting more pressure on the heart as it tries to pump blood around the body.
Although there are often no obvious symptoms in children, if left undiagnosed and untreated it can lead to sudden cardiac arrest.
While in some cases a child may have to be regularly monitored, Jack needed surgical intervention.
And in March the Mossneuk Primary pupil had to have open heart surgery for a second time as the repaired aortic valve had deteriorated to such an extent.
But despite such major trauma, mum Claire, told the East Kilbride News Jack has amazed everyone with his recovery.
"He is absolutely fantastic," she said. "He has shown such resilience through everything.
"You would never know what he has been through and he is only seven."
It was Jack's bravery and tenacity which inspired his Beaver pack to complete a sponsored walk around the James Hamilton Heritage Park Loch in aid of the Glasgow Children's Hospital Charity – raising more than £1200.
Doctors first picked up the irregularity in Jack's heartbeat just a couple of days after he was born but at first he was diagnosed with a heart murmur.
"Often AVS shows no symptoms," said Claire.
"Even as a baby he seemed to have no ill effects – there were no outward signs of it.
"But what they thought was a murmur when he first had a scan was diagnosed as AVS when he was four months old."
A few months later, Jack went through surgery to repair the faulty valve.
Claire said: "In a way the surgery was easier on Jack the first time round – he was a baby, he had no idea what he was going to go through or the extent of the surgery he was facing.
"It was myself and his dad, Martin, and the rest of the family who had to try and deal with it and watch him go through it."
While the first surgery was a success and, for many years, allowed Jack to be like any other little boy, last November medics realised he would have to go through surgery again.
"We were always told that Jack may need more surgery," Claire continued.
"But it was still hard when we knew it definitely had to go ahead. The condition of the valve had deteriorated to such an extent there was no option."
At the beginning of March Jack underwent The Ross Procedure at the Royal Hospital for Children in Glasgow.
Jack's diseased aortic valve was replaced with his own pulmonary valve.
Claire said: "It was much more difficult this time round.
"Jack is football-daft but he had to stop any strenuous exercise, including his football, as it would put too much pressure on his heart and could be dangerous.
"He is such an active wee boy. This wasn't an easy task and he found it tough not being allowed to do very much."
However, once again Jack showed his grit and determination by being back on the ward less than a week after surgery.
"For an adult to make it through what Jack has would be a big ask so for him to be out of intensive care in a couple of days was just unbelievable," Claire went on. "I don't think the doctors or ourselves could believe it."
Claire said she and her family couldn't have made it through everything without the support of the staff at the Glasgow hospital.
She continued: "The hospital was absolutely fantastic in preparing him this time round and helping reduce his anxiety.
"The staff did so many small things, from visiting the ward with him beforehand to the play specialists going into the anaesthetist's room with him.
"They couldn't have treated us any better and we will be eternally grateful.
"And his five-year-old sister, Sophie, was also included in everything by the play specialists to make it easier for her."
Claire added: "A big thank you also goes to the Beavers. It was great they chose to support the Glasgow Children's Hospital Charity this year after they treated Jack – they work so hard for every child who goes through the doors."
---
Story Credit: http://www.dailyrecord.co.uk/news/local-news/east-kilbride-schoolboy-jack-7-10658692