Early Investment in Automatic Defibrillators Can Save Lives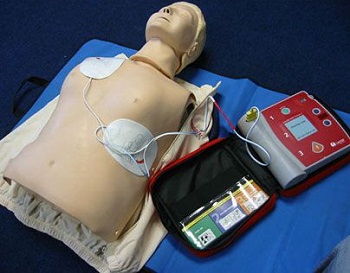 Talk about turning tragedy into triumph. When a 16-year-old high school student in Peabody collapsed earlier this month, going into cardiac arrest and falling to the floor just as school was getting out, things couldn't have seemed more grim. It turns out she was lucky to fall ill where she did.
Within moments, fellow students had summoned help, a staff member had grabbed a defibrillator, and the principal, a teacher and two nurses were well on their way to reviving her.
Twice, they used one of the school's four defibrillators to restart her heart. Their actions, Superintendent Herb Levine noted later, "effectively saved her life."
It was one of those situations, all too rare, when everything works the way it's supposed to. Students remained calm and acted quickly to get help. Staff members were trained and knew exactly what to do — and they did it.
Anyone who has faced a life-threatening emergency knows that isn't always the case.
"In crisis situations, you never know how you're going to react, including myself," Levine noted. "Some people freeze, some people forget their training."
No one did here. That is a credit not only to the individuals who stepped up to help, but to the foresight of nursing and administrative staff who saw to it that staff members were trained to respond and that they had the equipment — defibrillators — to save a life.
All schools in Peabody have defibrillators, and training is offered to all staff members on how to use them and how to administer CPR.
The automated external defibrillators, or AEDS, analyze heart rhythms and deliver electrical shocks to help the heart reestablish an effective rhythm during sudden cardiac arrest, according to the American Red Cross, which recommends that all Americans be within four minutes of an AED and someone trained to use it. The equipment is remarkably easy to use; a study in the medical journal Circulation notes that sixth-graders can be trained to use them effectively.
That kind of preparedness doesn't happen accidentally, however. A decade ago, community groups all over the region were raising money to donate defibrillators to public buildings. In Peabody, city officials got a grant to install 41 of the devices in schools and other public buildings.
Many other cities and towns, on both sides of the border, have done the same. In Salem, New Hampshire, the Fire Department recently won the designation of being a "HEARTsafe Community" for the town, for its efforts to place defibrillators in public buildings, and train citizens in CPR.
"At the end of the day, early defibrillation and CPR is really what saves people," said Salem Fire Lt. Brian Allard.
All of the attention given to defibrillators and CPR has paid off. Just look at some of the newspaper stories in recent years: A man collapses at a gym and makes a full recovery after a bystander uses a defibrillator to revive him. Someone drops to the floor during a basketball game and is revived by a YMCA staffer. A school secretary falls ill during a meeting and is revived with CPR and a defibrillator.
Still, statistics following heart attacks are sobering. More than 350,000 people in the United States suffer cardiac arrest outside the hospital each year, according to the American Heart Association. Because medical care is not close by, a staggering 90 percent of them die.
However, if the public knows how to perform CPR or use an defibrillator, chances of survival skyrocket. "CPR, especially if performed in the first few minutes of cardiac arrest, can double or triple a person's chance of survival," the AHA notes on its website.
About 20 percent of the schools in Massachusetts still don't have the lifesaving machines on hand, according to the AHA.
That, however, will soon change. In January, Gov. Charlie Baker signed a bill requiring all schools to have defibrillators by July 2018. That's good news for everyone.
In Peabody, administrators and staff should be commended for taking safety seriously, and the city for investing in training and equipment that has saved a life.
Leaders of schools and other buildings where the public congregates who don't have the devices should hurry to install them and train their staffs in how to use them.
---
Story Credit: http://www.eagletribune.com/opinion/editorials/early-investment-in-automatic-defibrillators-can-save-lives/article_f31f8e6b-73f4-593a-81a6-c9307e6a89e5.html