Diagnosed with HCM, Ashland University Basketball Player Stays Positive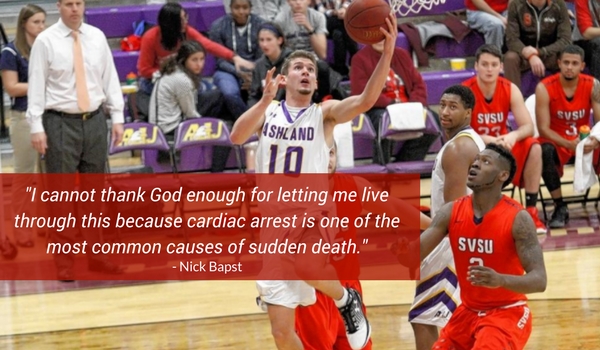 The holiday season always has been a special time for Bob and Lisa Bapst and their three children, whether they're sitting down together for a meal, opening presents or just enjoying each other's company.
This year, however, the Grove City family has something extra to celebrate — the gift of life.
While playing for the Ashland University men's basketball team, 20-year-old Nick Bapst went into sudden cardiac arrest during the early stages of a scrimmage Oct. 25 at Findlay.
After undergoing treatment, Nick returned to school Nov. 20.
His career as a basketball player likely is over, and there are medical issues he'll need to manage, but his family will be by his side.
"Thanksgiving was huge," Bob said. "It's cliche, but it's real in that it brought our family closer together. I have cousins who have little ones, and we have a niece and nephew who have health issues. We don't take things for granted anymore."
One atypical game
Nick, a junior who was projected to be a starter this season, had played the first five minutes of the scrimmage before coming to the bench for the four-minute media timeout on Oct. 25. That is when his life, and the lives of his family members, changed forever.
Nick suffered cardiac arrest while on the bench and was comforted by teammates, coaches and trainers as emergency medical personnel were dispatched. Emergency personnel used a defibrillator to revive Nick and transported him to Blanchard Valley Medical Center, where doctors decided to lower his body temperature — a temporary medically induced paralysis — so his heart and brain could heal from the cardiac arrest.
He did not suffer a heart attack, which occurs when a blockage stops blood flow to the heart. Cardiac arrest happens when the heart's electrical system malfunctions, according to the American Heart Association.
Nick later was flown to Ohio State's Richard M. Ross Heart Hospital, where doctors determined the cardiac arrest was caused by hypertrophic cardiomyopathy, a disease marked by thickening of the heart muscle. The family was told that in HCM patients, cardiac muscular thickening occurs with no apparent clinical cause.
Nick and his parents said he had no previous related ailments or symptoms.
"It's amazing that I've played basketball beginning with travel league at 3 or 4 years old and went through vigorous training sessions and trained my whole life at a very high level," said Nick, a 2015 Grove City High School graduate who starred for the Greyhounds.
"With all the basketball games I've played in high school, AAU and now college, which is at another whole level, I never had any heart problems. I never had any health problems," he said.
Road to recovery
The family credits emergency personnel for quickly determining Nick's condition and utilizing the defibrillator. They said without proper treatment, the survival rate for sudden cardiac arrest is less than 10 percent.
Nick was in a medically paralyzed state for 24 hours. He began showing signs of improvement a few days later, which included giving a thumbs up upon request from medical staff.
"It was great (to see the thumps up)," Lisa said. "All along there were so many things. When he started to talk, his sense of humor came out. His goal in life was to get out of the bed. … They were able to start getting him walking and he had a smile on his face when he started walking those halls.
"For the doctors, it was like they were seeing a ghost because they had seen him lying there and next thing you know, he's shaking their hands. This is my son. He's back."
Nick, who was in intensive care for two weeks, was strongly advised by doctors to end all competitive athletics.
He has remained a part of the Ashland team, attending practices and sitting on the bench during games, and the university has informed the family that it will honor the final two years of his scholarship.
Nick hopes to become a volunteer coach next season for the NCAA Division II program. He is majoring in finance and minoring in communications.
"It's been a crazy last month with everything that has happened, but I'm just blessed to be here and I'm happy to just move along with everything that I loved just before it happened," Nick said.
To help monitor his condition, an implantable cardioverter defibrillator was placed under his left arm. An ICD uses electrical pulses or shocks to help monitor life-threatening arrhythmias, especially those that can cause sudden cardiac arrest.
"His heart is totally normal, it's just that the left ventricle is thicker and it's common in athletes," Lisa said.
Nick will need to provide reports from the unit to a group of specialists four times a year and visit his cardiovascular specialist once a year.
Although his basketball career likely is over, Nick said he will continue playing golf, which is another longtime passion.
Supportive community
The family is thankful for the support it has received during Nick's recovery, which included visits and well wishes from current and former coaches, teammates and classmates.
Grove City boys basketball coach Greg Waits visited his former player several times in the hospital.
"Nick is such a quality kid and it was such terrible news when we heard about that, but he's a strong kid and he made it through it," Waits said. "He's living, he's surviving and he'll be a quality person. He might not be playing hoops anymore, but he'll be one of the best golfers in the state of Ohio. He'll work as hard in golf as he did in basketball."
Ashland coach John Ellenwood, who rode in the emergency vehicle with Nick to Blanchard Valley Medical Center and traveled to Ohio State later that night, is impressed with Nick's resiliency.
"If you did not know Nick, you would not be able to tell that anything has happened to him," Ellenwood said. "His faith and attitude dealing with a difficult situation are the strongest I have ever witnessed. Never once have I seen him complain or feel sorry for himself. He is a true miracle in my opinion."
To honor their former teammate, Grove City senior P.J. Jones is wearing Nick's No. 24 jersey this season, and Ashland senior Wendell Davis is wearing Nick's No. 10. Davis is a 2013 Reynoldsburg graduate who competed against Nick in high school in OCC-Ohio Division play.
"Those guys (at Ashland) are brothers," Bob said. "They are all strong in their faith. Nicholas and several of those guys do Bible studies. They are part of (the) Fellowship of Christian Athletes. It pulled them together and it pulled the university together as well."
The Bapst family has been synonymous with Grove City basketball for several years. Nick earned third-team all-state honors in his senior season and his brother, Brandon, a 2013 graduate, was a standout for the Greyhounds who went on to play four years at Malone.
Their sister, Lexi, is a sophomore guard on the girls team.
"Nick knows he's so blessed to have had the opportunities he's had all these years," Lisa said. "Nicholas is looking at this very well. His life has changed somewhat, but he's still part of the team. He can't do what he loves to do, which is compete and be the best he can be and that's the sad part of that, but he's still his same happy self."
Bob and Lisa are hoping their son's story will lead to continued awareness in area schools. They are promoting Lindsay's Law, which took effect earlier this year and requires young athletes and their parents to watch an educational video about the causes and warning signs of cardiac arrest.
"I cannot thank God enough for letting me live through this because cardiac arrest is one of the most common causes of sudden death," Nick said. "I'm just blessed that I was able to live through it and get the treatment and the care that I had from all the people at the hospital and that my parents were so strong through it all."
---
Story Credit: https://www.wimbledonhealthpartners.com/hcm-sudden-cardiac-arrest-ashland-university-basketball-player/