Des Plaines Gymnast's Heart Defect Discovered in Time
Maine West High School gymnast Rayna Davis is one of seven varsity members on the Warriors' team this year, and already in the new season they have three meets in the books. But, for her, just being able to return to the gym is a victory.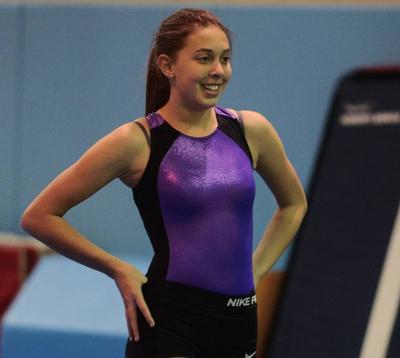 Davis is an all-around, versatile gymnast from Des Plaines, whose favorite event is the floor exercise. One year ago, during her routine sports physical before freshman year, her pediatrician heard a heart murmur and sent Davis to see a cardiologist.
Further testing turned up a congenital heart defect, known as an atrial septal defect (ASD), or a "hole" in the wall that separates the top two chambers of her heart.
"At first the doctor thought the hole was small, but it turned out to be the size of a quarter," Davis explained last week at practice. "I've always been really athletic, but I didn't know why I'd be so exhausted in gym class.
"Now I know," she adds. "My heart was working twice as hard as normal."
In July, before the start of her freshman year, Davis underwent a cardiac catheterization procedure to repair the hole.
She had to skip her freshman season of volleyball that fall, but when winter sports came around, she had bounced back enough to make the gymnastics team.
Head Coach Amanda Harrison describes the 26 gymnasts on the team as tight knit, likening them to a family, saying they rally around one another.
"When anyone has a setback, we are there to support them, like a family would," Harrison says.
Davis' best friend on the team, Gabby Demma of Des Plaines, says her teammates cheer each other on at their meets, especially Davis.
"We're always cheering her on to finish her routine," Demma says. "We know how tired she gets at the end. We want her to know that we're there for her."
According to the American Heart Association, between 6 percent and 8 percent of children are born with ASD. If a large hole is not repaired, it can damage the heart and lungs, and possibly cause heart failure or irreversible lung damage in adulthood.
This kind of happy ending for Davis resonates with Mary Beth Schewitz of Lake Bluff, whose 20-year old son, Adam, died in 2005 from an apparent heart irregularity -- having shown no prior signs of heart disorder.
Determined to prevent future incidents of sudden cardiac death in young people, his family started the Schewitz Foundation, with the mission of promoting awareness about sudden cardiac death and making electrocardiogram (EKG) tests available to schools during health screenings.
"We are seeing growing interest in cardiac screening for young adults, sadly too often triggered by a tragic death," says Mary Beth Schewitz, adding that Warren Township High School recently inquired about screenings after the sudden death of senior Josh Church at a water polo practice, though the cause of his death has not been confirmed.
"Several schools that we have not provided testing to before have recently contacted us," Schewitz adds, "and at least one other district is considering adopting testing for their entire high school student population."
Over the last 10 years, the foundation has held screenings at high schools throughout Cook and Lake counties, and just last month screened its 60,000th student, at Deerfield High School. At every school, they find students with hidden heart conditions.
"We consistently find between 1 to 2 percent whose EKG indicates the need for further medical follow-up," Schewitz adds.
All of which makes Davis' return to gymnastics a good news story for her family and her team.
"I'm just so happy they finally found out what was making me so tired," Davis says. "I'm surprised it was a hole in my heart, but now I'm back and my teammates are there to cheer me on, which gives me such a boost."
By Eileen O. Daday ~ Daily Herald Columnist
Story Credit: http://www.dailyherald.com/article/20161207/news/161209463/