Dempsey's Heart Condition Warrants Caution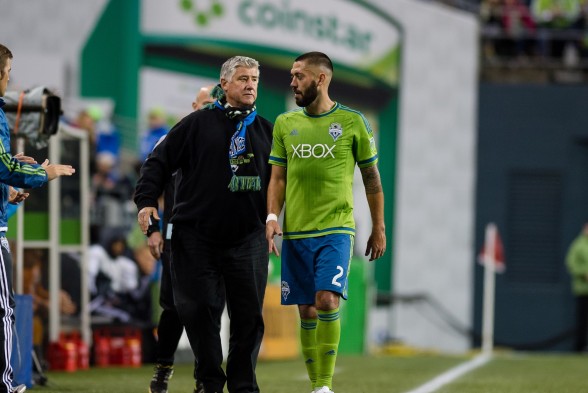 When an athlete has a serious problem with a shoulder, knee or hamstring, frustration and empathy abound. When an athlete has an issue with head or heart, people get scared.
So when Clint Dempsey didn't play against the Portland Timbers last week because the 33-year-old forward was undergoing medical evaluation for an irregular heartbeat, worry prevailed.
As of Thursday, the Sounders had nothing new to report regarding their highest paid and most valuable player.
"It's not my story to tell," interim head coach Brian Schmetzer said. "I'm not comfortable saying anything. I'm not a doctor."
So an independent doctor was consulted.
Jonathan Drezner is the director of sports cardiology at the University of Washington Medical Center. He is an expert in the diagnosis, severity and treatment of irregular heartbeats, known as cardiac arrhythmia.
Drezner has not treated Dempsey and spoke only in general terms of the disorder.
"An irregular heartbeat can mean different things," Drezner said. "An irregular heartbeat could be as simple as a benign premature beat, where a layperson often describes it as, 'My heart skipped a beat.' An irregular heartbeat can also be related to normal variation of the heart rate with breathing . . . a physiological response that is enhanced in children and athletes.
"An irregular heartbeat can also be more concerning, presenting a heart arrhythmia that originates outside the normal electrical circuit of the heart. That arrhythmia can be atrial in origin or ventricular in origin."
The last two types are the ones doctors worry about most. In either instance, an extra amount of electrical signals exists within the heart. The additional impulses can interfere with the heart's ability to function properly.
Atrial arrhythmias are referred to as supraventricular, while irregular beats emanating from the ventricle are called ventricular arrhythmias. Suprarventricular arrhythmias, Drezner explained, are bothersome but rarely life-threatening. Ventricular arrhythmias, meanwhile, can be fatal.
"Any supraventricular tachycardia, or more serious ventricular arrhythmia, could be more serious for an athlete, or any person, at a couple different levels," Drezner said. "Supraventricular arrhythmias are of concern because often they limit maximum heart function and can cause symptoms of light-headedness or fatigue at inopportune times, and very rarely can make someone pass out.
"Ventricular arrhythmias are much more concerning. They can represent a very bad heart rate, called ventricular tachycardia (an abnormally rapid heart rate). Sometimes when there are multiple signals, called ventricular fibrillation, it (can lead to) a fatal arrhythmia unless properly treated. Ventricular tachycardia can be fatal depending on how fast (the heart) goes and how well the patient can tolerate such an arrhythmia. In both cases, people can be very faint, pass out, or go into cardiac arrest.
"If that was present in a patient, you would want a very comprehensive cardiac evaluation to understand if there is an underlying cardiac disorder. There are some structural heart disorders that can cause ventricular arrhythmias, and there are some primary electrical disorders that can cause arrhythmias."
The Sounders have historical cause for concern. Since 1970, at least 56 professional soccer players around the world have died on the field from heart-related issues. The club doesn't need to look beyond an earlier roster to see a heart issue that ended a career.
Eddie Johnson, 33,who played for the Sounders in 2012-13 and represented the stars and stripes at the 2006 World Cup, was forced to retire at 31 due to a heart condition condition that was reported to be hypertrophic cardiomyopathy. The disorder involves heart muscles that are abnormally large. It is a leading cause of sudden death in young athletes, since it often goes undiagnosed.
It isn't publicly known where in the spectrum of arrhythmias Dempsey falls, but the actions of the club suggest that it may be serious enough to pose a threat to his future.
Sounders GM Garth Lagerway told reporters Aug. 26 that the Sounders had been monitoring Dempsey's condition through the season. That Dempsey was able to play through his condition for the majority of the season is encouraging. For Dempsey to sit now, though, could indicate a deterioration of his condition, or a discovery of something new.
Down on the list of concerns related to Dempsey's health lies Seattle's season. Prior to the announcement, the Sounders were rolling. They were unbeaten in five games, with a chance to have a six-point swing on the road in Portland.
Coming out of the 4-2 loss, Seattle looked as if holes had been ripped in its sails. The absence of Dempsey, while not the sole factor in the loss, was a blow to a team hoping to bail out its year.
Questions swirl. How serious is his condition? Will he play again this season? Can Seattle find a way to the postseason without their marquee player?
The club understandably will take as much time as necessary. Concerns about the club's playoff hopes will wait.
In the meantime, Dempsey, the Sounders, and fans of soccer in Seattle and the U.S. will share the universal experience of sitting in a doctor's waiting room, wondering what the test results will return.
By Andrew Harvey
SportsPress Newswire http://sportspressnw.com/2223163/2016/dempseys-heart-condition-warrants-caution