Heart Screening Champion Debbie Wins Volunteering Award and PM Praise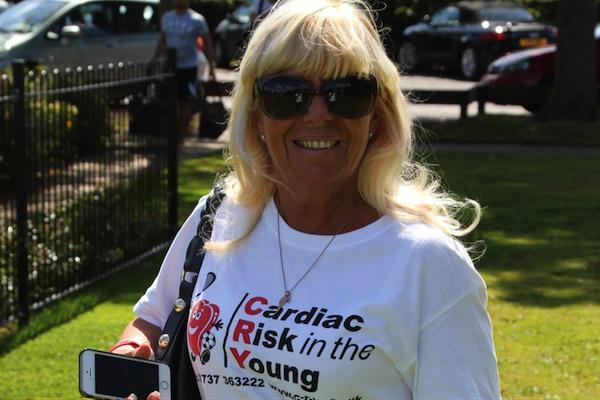 A FUNDRAISER who has helped 2,500 young adults have their hearts checked has been praised by the Prime Minister, Theresa May.
Debbie Dixon has today, Monday ,been awarded the 'Points of Light' award for exceptional voluntary service, becoming the 1,097th British winner.
Since the tragic loss of her son Aaron to an undetected heart defect aged 23, Debbie has raised more than £210,000 to fund screening days for 100 young adults at a time.
These screening days, run within the Cardiac Risk in the Young charity, are free to take part in for those aged 14 to 35, and can flag up potentially fatal diseases which would otherwise go undetected.
Screenings are critical for early diagnosis and preventing heart conditions from worsening, and 75 of those tested thanks to Debbie's efforts have been referred for further investigation.
One woman received a heart transplant after discovering she had a serious heart defect.
Debbie is now building on her screening work through a partnership with The English Institute of Sport and is funding a 12-month screening of elite athletes.
In a personal letter to Debbie, Mrs May said: "After the tragic loss of your son, Aaron, you have shown remarkable resilience and commitment to improving the diagnosis of undetected heart defects among young adults.
"The thousands of screenings you have provided have already made a real difference for young people in Cheshire.
"You should feel very proud of the profound impact you are making in Aaron's memory."
Debbie, who now lives in Tarporley but regularly runs sessions in Northwich, said: "I am absolutely delighted to be receiving this award in recognition of all the work I do for CRY in memory of Aaron.
"Since the loss of our son I have focused my efforts on raising awareness and money to screen for undetected heart defects, in order that other families do not suffer the heartache we do on a daily basis.
"Receiving this award contributes to promoting the need for young people to be screened."
Dr Steven Cox, chief executive of CRY, added: "Since 2011, the family and friends of Aaron Dixon – led and encouraged by Debbie – have raised over £200,000 for CRY, enabling the testing of thousands of young people in memory of Aaron and supporting CRY work towards a day when every young person will have the opportunity to have their heart tested.
"Debbie has not only enabled thousands of young people to have their heart screened, but with the support of The JD Foundation she has funded the screening of 100s of elite athletes in partnership with the English Institute of Sport. We look forward to continuing to work alongside Debbie and her family in the future."
"This is the fourth time that a family associated with CRY has been honoured with a prestigious 'Points of Light' award and we are all delighted to see Debbie deservedly recognised in this way, for her incredible commitment to CRY and saving young lives."
The Points of Light award involves a cross-party approach, with MPs from different parties often presenting their constituents with their prizes. Debbie also won the Northwich town mayor's Good Citizen Award last year, run in partnership with the Guardian and Brio Leisure.
---
Story Credit: https://www.northwichguardian.co.uk/news/17357176.heart-screening-champion-debbie-wins-volunteering-award-and-pm-praise/
---
Since you're here, we have a small favor to ask. Requests from schools and districts for our screening services are growing, which means that the need for funds to cover the cost of those services is also growing. We want to make our services available to those who request it and beyond, so you can see why we need your help. Safebeat heart screenings take a lot of time, money, and hard work to produce but we do it because we understand the value of a child's life, PRICELESS!
If everyone who reads this likes it and helps fund it, our future would be more secure. For as little as $1, you can support Safebeat and it only takes a minute. Make a contribution. -The SafeBeat Team