Curbing Cardiac Arrest Deaths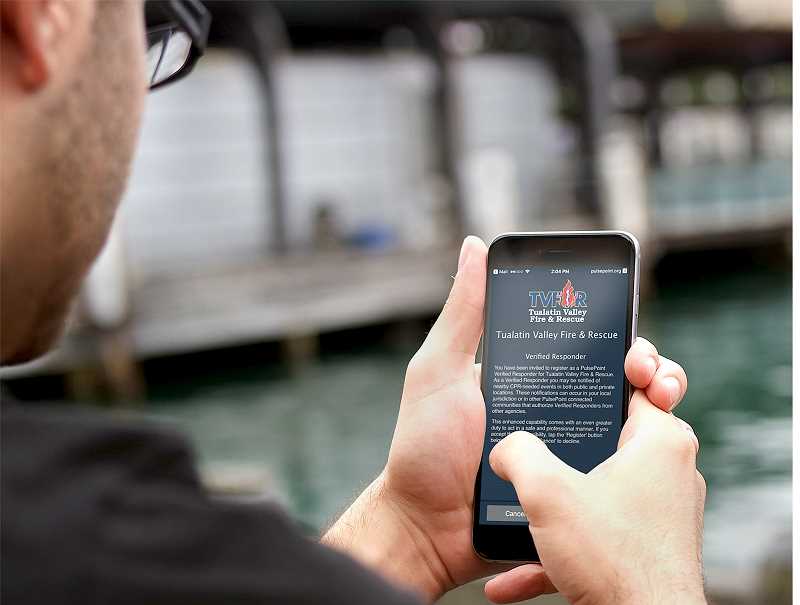 More than 200 firefighters with Tualatin Valley Fire & Rescue, including several in Newberg, have volunteered to be first responders in their off time as part of a pilot program to prevent death by cardiac arrest.
As part of the Verified Responder Pilot Program, each volunteer will carry an automated external defibrillator (AED) at all times and get alerts from the PulsePoint app whenever a cardiac arrest is reported within a quarter-mile of their location.
Cassandra Ulven, the district's public affairs chief, explained that when someone's heart stops beating, each passing minute decreases a person's chances of survival by 10 percent, making it critical for responders to arrive as quickly as possible, especially a firefighter with the proper training and tools.
"If you live right next door to someone, you could be there potentially in a minute or two," she said. "So that minute or two minutes could not only save a life but also dramatically improve their quality of life if they survive."
Nationally, about 350,000 cardiac arrests happen outside of hospitals and 90 percent of those are fatal, according to a TVF&R press release announcing the program. As such, the program is designed to get first responders on-scene as quickly as possible.
The program builds on the existing PulsePoint smartphone app designed to aid in lifesaving efforts. People who are trained in CPR can install the app and they'll get notified when there's a cardiac arrest medical call nearby. The idea is skilled citizens who are near the scene can provide assistance before TVF&R gets on scene.
However, TVF&R Public Affairs Officer Stefan Myers, noted that this app only directs users to cardiac arrests that occur in public areas.
Firefighters in the Verified Responder Pilot Program can also respond to residences and private property, where 80 percent of cardiac arrests happen, Myers said.
The program is the first of its kind in the country, according to Ulven, with Philips Healthcare loaning $400,000 worth of its AEDs during the two-year pilot. During that time, Philips Healthcare and King County EMS in Washington will analyze data collected by TVF&R to make recommendations to other fire departments.
Initially, King County EMS, which Ulven said is at the forefront of cardiac arrest treatment, was chosen to pilot the program. However, because no fire departments in King County, which includes Seattle, were ready to implement the program, they recommended the pilot take place with TVF&R.
"If they couldn't do it now because the timing didn't prove right for them, they wanted to make sure it was done somewhere, and that's how we got the opportunity to be that somewhere."
Even with the program, TVF&R officials are working to broaden the number of citizen responders using PulsePoint to "saturate" the area with people able to provide life-saving assistance to those suffering from a sudden heart attack. In Newberg, this has included CPR training at a local middle school and a planned lesson at George Fox University.
"For us to have citizens within Newberg and Dundee able to help us in saving lives is so important and why we were willing to invest in this app," Myers said.
The department has developed a public service announcement about the PulsePoint app, available at https://vimeo.com/tvfr/review/ 200910187/b3b239221f.
---
Story Credit: http://pamplinmedia.com/nbg/142-news/347597-227406-curbing-cardiac-arrest-deaths