Could You, Would You Save A Life? This CPR-AED Awareness Week, Vow To Know How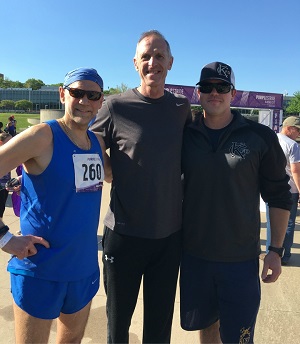 As she prepared for the PurpleStride 5K in Kansas City a few weeks ago, Brooke Worrel took her time attaching the racing number to her shirt. This usually mindless task was a lot tougher with all the tears filling her eyes.
One year before, she ran this race with her dad.
She finished. He didn't.
Shortly after crossing the finish line, 16-year-old Brooke went back on the course to join Rick at the end of his run.
When she reached him, Rick was on the ground, blood pouring from the left side of his face and his right knee. Men on both sides of him were performing CPR.
Rick Worrel's grandfather died at age 55. So did his dad.
Rick was 55 when he and Brooke ran that 5K on May 14, 2016.
But Rick's heart story dates to the day before Thanksgiving in 2014. To a routine trip to the gym cut short because he couldn't catch his breath while warming up.
He went back the next day and it happened again. Was he really that out of shape? The next day, while helping his father-in-law transplant a tree, he became short of breath yet again. On the drive home, he lamented his poor conditioning to his wife and added that his hands felt funny. She redirected them to a hospital. Doctors determined he was having a heart attack.
A cardiac artery was blocked. Rick was taken for a cardiac catheterization and doctors inserted a mesh-like tube called a stent to prop open the troublesome artery.
Between his family history of premature death and wanting to be around for his wife, three daughters and three grandkids, Rick became a model patient. He faithfully took his medications and improved his diet. He went to cardiac rehab and resumed working out and running.
Finishing a 5K became his goal.
Six months after his heart attack, Rick met that goal at the 2015 PurpleStride event.
Being a competitor, Rick set a new goal. He would finish the race faster in 2016.
Rick started wearing a heart-rate monitor while exercising. About six weeks before the 2016 race, he noticed that his heart rate zoomed to his maximum allowable number within a few minutes. The fact he could keep it there lessened his concern.
The day before the race, the forecast called for temperatures around 55 degrees, the minimum allowable under doctor's orders. Rick called his cardiologist for advice. A nurse said it was OK because of how much he'd trained and because he promised to warm up and keep a close eye on his heart rate.
Brooke ran with Rick for the first half of the race. Rick knew he was holding her back, so he encouraged her to take off. He looked fine, his heart rate was under control and he was chatting while running. So she felt comfortable leaving him behind.
About a mile later, while crossing a bridge, Brooke looked back to check in on him. She happened to see him stumble … and immediately recover.
In the final 50 yards, while running between Dr. Jack Uhrig and his son, Rick dropped to the ground.
Dr. Uhrig thought Rick had simply fallen, until flipping him over and seeing an ashen look on his face, his eyes rolling back. Bryan Rice, an off-duty EMT, emerged from the crowd. Two cardiac nurse practitioners joined them.
The immediate attention (CPR started less than 15 seconds after he dropped) and the expertise of the caregivers improved Rick's chances of survival.
But after eight minutes of CPR from Dr. Uhrig and Rice, and another eight minutes from on-duty EMTs, Rick's heart wasn't beating.
The EMTs hooked up their AED and tried shocking him back to life.
Twice.
Then a third time.
Brooke saw it all. She'd arrived after the men who started CPR and before the nurse practitioners.
Now jump to this year's race, to Brooke pushing through the tears while pinning on her racing number. To Brooke fighting more emotion at the starting line and while running the first three miles. To Brooke slowing at the very spot where Rick went into sudden cardiac arrest.
And there he was, joining her for the final 50 yards.
"Slowest time ever – 51 weeks and 30 minutes," Rick said, laughing.
The chain of survival worked.
Between the quick response and textbook care at the hospital, Rick overcame the electrical problem that caused his heart to stop and got five more stents to clear up a plumbing problem – a "widow maker" heart attack that he also suffered. (Learn the difference between cardiac arrest and a heart attack.)
He went home within a week.
"I suffered no cognitive brain damage and no heart muscle damage," he said. "My heart pumps as much blood as yours!
"There are a lot of good outcomes to CPR, especially when it's administered quickly."
CPR and AED Awareness Week begins Thursday. June 1-7 has carried this designation since 2008 under a Congressional resolution aimed at spotlighting how lives can be saved.
About 40 people each hour have a cardiac arrest while not in a hospital, and nine of 10 do not survive, according to AHA statistics. Most people say they feel helpless to act because they don't know how to administer CPR or it's been too long since they learned.
The truth is, when you see a teen or an adult collapse, it only takes two steps to save a life:
Call 911.
Push hard and fast in the center of the chest, preferably to the beat of the disco classic, "Stayin' Alive." (The 120 beats per minute are the perfect rhythm, and you can't beat the title for a helpful memory trick.)
Rick feels as if he was the main character in a miracle performed by others. This leads him to the inevitable questions: "Why me? Why was I spared when most aren't?" He believes it's so he can use his story to encourage others to become potential lifesavers.
"Once people are aware of the benefits of CPR, it eliminates some of the intimidation and anxiety to jump in quickly," he said. "You don't need to do mouth-to-mouth any more. Research and studies show that Hands-Only CPR is as good or better. If we can raise the number of people who know it, the survival rate can exponentially increase. But if I can help save a single life, that's worth it. If it's more than one, that would really be awesome."
People never know how they'll respond to a situation, which is why it's best to envision it now.
A teen or an adult just collapsed and isn't breathing. What would you do?
Imagine being paralyzed by fear. That could lead to the tragic ending you may have been bracing for while reading the beginning of this story.
Now think of being among those who responded and the joy you felt at picturing Rick and Brooke crossing the finish line together.
"No one should ever hesitate to try saving someone's life," Rick said. "Statistically, I'm not supposed to be here. I wouldn't be if it wasn't for the grace of God and for these people stepping in and starting CPR right away."
---
Story Credit: http://www.huffingtonpost.com/entry/could-you-would-you-save-a-life-this-cpr-aed-awareness_us_5925e105e4b090bac9d46b16