Connor Moore - Survivor Story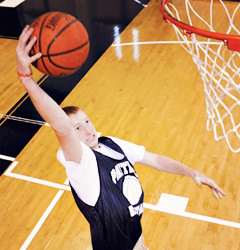 At Johns Hopkins All Children's Hospital, the Division of Cardiology is committed to the prevention of cardiovascular disorders that afflict pediatric patients. In 2010, we participated in a pilot study utilizing EKG screening in high school students in Hillsborough County in which more than 600 students were screened with height, weight, blood pressure and an EKG.
Connor Moore, a talented high school basketball player, had a screening EKG that demonstrated a potentially life threatening arrhythmia-Wolff-Parkinson-White syndrome that can lead to the sudden onset of tachycardia with the potential for sudden cardiac death. Connor (pictured) was successfully treated with an electrophysiology procedure and returned to competitive sports in the 2010-2011 school year. Continued research on the potential benefits of cardiovascular screening for young athletes may provide an opportunity for similar lifesaving interventions.
Courtesy of Johns Hopkins All Children's Hospital - www.hopkinsallchildrens.org
Added note: This screening was done in conjunction with the SafeBeat Initiative in Connor's school in 2010