Community Mourns Unforeseen Death of Quince Orchard Student-Athlete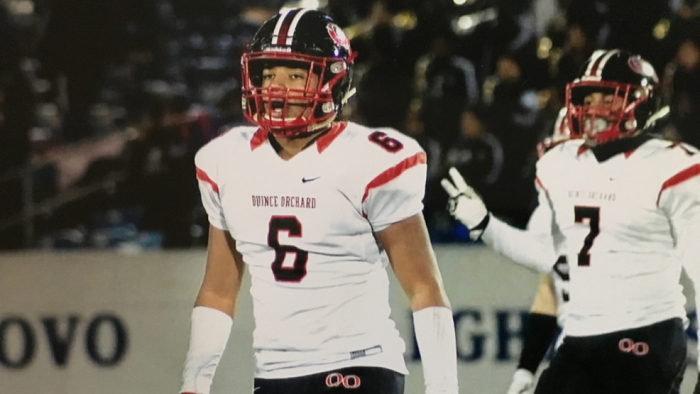 GAITHERSBURG, Md. (ABC7) — A community and a family are mourning following the unforeseen death of Tyler Terry.
The 17-year-old standout student-athlete at Quince Orchard High School was bound for Monmouth University's football team in New Jersey in the fall, but his life was cut short following a series of unexpected events.
Police say back on January 29, a group fight erupted on a neighborhood basketball court near the school and that Tyler collapsed after minimal physical contact with another person.
An eyewitness says, "The ambulance came and their group went over and administered CPR and they put him on a stretcher and wheeled him out."
Tyler died over the weekend.
On Monday, students wore red, Quince Orchard's team colors, in honor of Terry.
Now, investigators are saying that medical personnel are confirming that Tyler had a pre-existing condition and therefore no autopsy would be conducted.
A family spokesperson says that condition was arrhythmia. That's when the heart beats too fast, too slow or erratically. Arrhythmia can impact the hearts ability to function properly.
But his parents tell ABC7 News they didn't know their son had arrhythmia and he never showed any signs of having a heart condition.
This case remains open. At this time criminal charges have not been filed.
Full statement from the Montgomery County Police Dept:
"Detectives from the Montgomery County Police Department – Major Crimes Division are investigating the death of 17-year-old Tyler Steven Terry of Gaithersburg.
On Monday, January 29, at approximately 7:48 a.m., Montgomery County Fire & Rescue personnel responded to a community basketball court located in the area of Hillstone Road and Timber Rock Road in Gaithersburg for the report of a teenage male who appeared to be in cardiac arrest. Gaithersburg Police officers and Montgomery County Police officers also responded to the location. The patient, identified as Terry, was transported to the hospital. Montgomery County Police Department- Major Crimes Detectives began to investigate the circumstances surrounding this medical event as Terry was considered to be in grave condition.
Major Crimes Detectives have determined that on the morning of January 29, two groups of individuals met at the basketball court with the intention of fighting. Terry, from one group, and an adult male from the other group, fought first. The fight between Terry and the other male involved minimal physical contact. After approximately two to three minutes of fighting, Terry stopped fighting and walked away from his opponent, appearing as if he were tired. Two additional fights between individuals from the opposing groups occurred during the next five to ten minutes. While the third fight was occurring, Terry collapsed on the ground and became unconscious. Witnesses called 9-1-1. Several witnesses captured the three fights and Terry's collapse on their cell phones.
Terry was transported to a local hospital and then to Children's National Medical Center in Washington, D.C. Tests were conducted to determine if Terry sustained any injury during the fight; no injury was detected. Medical personnel determined that Terry had suffered a cardiac event and confirmed the presence of a pre-existing medical condition. On February 11, Terry was declared deceased at the hospital. It was determined that no autopsy would be conducted as the pre-existing condition had been identified.
Major Crimes investigators will review this case with the Montgomery County State's Attorney's Office to determine if any criminal charges are warranted in this case."
---
Story Credit: http://wjla.com/news/local/community-mourns-unforeseen-death-of-quince-orchard-student-athlete