Community Left in Tears Following Collapse, Death of 9 Year-Old at Basketball Game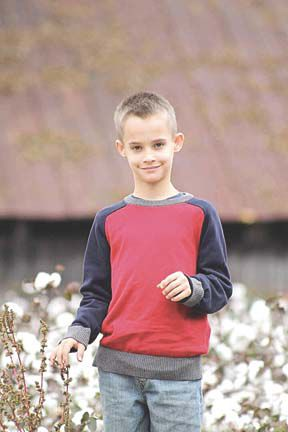 He was just so spunky and full of life."
Classmates, teachers and friends use those words this week to describe Bradley Thomas Stewart. Stewart, 9, died suddenly Saturday afternoon shortly after doing what he loved — playing basketball with his recreation league teammates.
The youngster was part of a 10-and-under rec league team that was playing one of several such games at the Pierce County Gym just off Main Street and College Avenue Saturday when he collapsed on the court.
A stunned crowd stood by helplessly as medical personnel in the crowd attempted to stabilize Stewart until EMTs arrived. He was rushed to Mayo Clinic Health System in Waycross but was pronounced dead there shortly after arrival. Law enforcement in both Pierce and Ware Counties had reportedly blocked intersections between the gym and the hospital, roughly 10 miles away, in an attempt to help get the youth there as quickly as possible but all efforts were futile.
Friends of the family say Stewart had suffered with a heart condition but had reportedly been cleared for participation in the basketball league. The state medical examiner, despite a request from local authorities, declined to conduct an autopsy to determine the exact cause of death.
The young man's mother, Sarah Mitchell of Blackshear, says she remembers her son as a "very loving little boy" who reveled in being around his friends at school.
"Math was his favorite subject but he just liked being around all those other kids. He was outgoing and compassionate."
Bradley's father, Matthew Stewart of Pembroke, recalled "wrestling matches" on the living room floor with Bradley and his siblings, plus fun vacations where the family got to be together, as some of the memories that will help comfort him in time.
"Bradley was simply a blessing," said his father.
Those who knew the youth feel he was happy in his last moments because he dearly loved athletics and had played rec league baseball and soccer, in addition to basketball.
"Bradley was such a kind, thoughtful and fun loving little guy," says Tonya Johnson, principal at Blackshear Elementary where Stewart was in the fourth grade.
Johnson recalls Stewart was "a hugger" and knew practically everyone at his school.
"He was just so full of life," she says, her voice trailing off. "If he saw you, he was going to talk to you."
Classmates and friends recall Stewart loved playing basketball and video games.
Additionally, the young man was a good student, making all A honor roll.
Faculty and staff at Blackshear Elementary spent Sunday afternoon contacting all fourth grade parents to inform them of Stewart's death and to ask them to talk to their children about the loss.
Johnson said BES counselor Sherry Bowen and counselors from throughout the school system were on hand at the school Monday morning as students returned to class following the Christmas break.
"We had an assembly with our students to let them know what had happened and we've had counselors available to help any of our students who need help coping with the loss."
Johnson said Monday it had been a "very difficult day" at the school.
"We are trying to get our minds around it and get our thoughts together and try to help Bradley's family and friends," she said.
Blackshear Elementary students are collecting monetary donations to assist the Stewart family with expenses.
"Parents who would like to help can make out checks to Blackshear Elementary for the "Bradley Stewart Fund"," Johnson said.
Donations are also being accepted by the Pierce County Recreation Department in care of PrimeSouth Bank and to the family in care of Hart Funeral Home.
Funeral services for Stewart are scheduled for 4 p.m. today (Wednesday, Jan. 11), from the Emmanuel Baptist Church.
For a complete obituary, please see page 3.
---
Story Credit: http://www.theblacksheartimes.com/community-left-in-tears-following-collapse-death-of-year-old/article_23db9e1c-d812-11e6-9c2c-cf8ae71cf9e7.html