Mansfield ISD Coaches, Classmates Save Boy after Collapsing on Field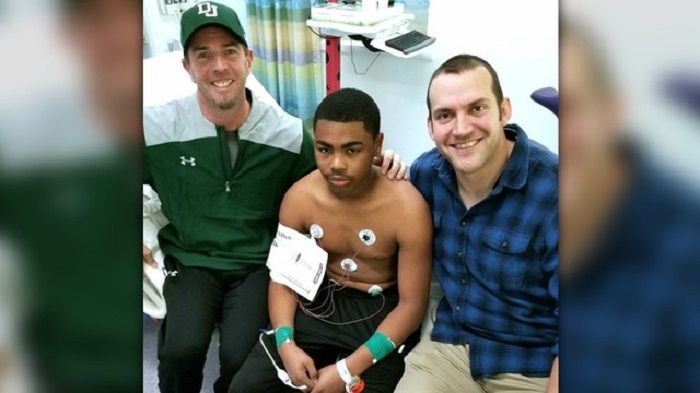 Several Mansfield coaches, students and a nurse are being credited with saving the life of a student who collapsed on the football field.
Jeffrey Cotton is doing well, now. But more than a week ago, the 13-year-old was lifeless for several minutes at Danny Jones Middle School in Mansfield.
Jeffrey's coaches credit an AED for saving the eighth-grade athlete's life. But the lifesaving is thanks more to man than machine.
On January 19 around school pick-up time, offseason athletes were throwing a football and playing outside when Jeffrey collapsed. Coach Shawn Alsup saw from afar. He ran to Jeffery, who was motionless, unresponsive and without a pulse.
"I said, 'Call 911! I'm going to start compressions,'" Alsup recalled.
Just like they train students to do in health class and athletics, Alsup says one boy called 911 while another ran to the school nurse. Another student grabbed Coach Edward King in the gym. He grabbed the AED and hooked Jeffrey up to the defibrillator.
"After the first initial shock, we began to see some rhythm," Alsup said.
At the same time, Alsup says the students made a human chain to block parent pick up to let paramedics through.
"The coaches did what they were supposed to do," Alsup said. "The eighth-grade athletes, they were amazing. They knew exactly what they were supposed to do."
Jeffrey's coaches say it turns out he has an enlarged heart. He spent a week in the hospital and had surgery to get a defibrillator implanted near his heart.
Instead of playing contact sports, Alsup says Monday on Cotton's first day back at school, he signed up for golf.
"Just to see him walking down towards my classroom is somewhat emotional," Alsup said. "Just kind of see him and stopped and a big hug. Just kind of stood there for a second."
Jeffrey and his classmates now call him Iron Man because of his implant. His desk in one of his classes was covered with images of Iron Man.
---
Story Credit: http://www.fox4news.com/news/mansfield-isd-coaches-classmates-save-boy-after-collapsing-on-field