Following Heart Surgery, T.L. Hanna Basketball Player Clate Pendergrass Has Chance to Play Again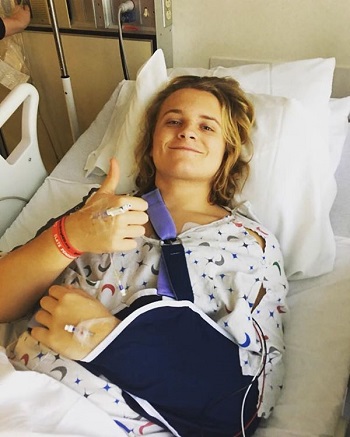 Nearly three months ago, Clayton Pendergrass's life changed. After surgery last week, the T.L. Hanna sophomore hopes he'll be getting back to a semblance of normal life.
Including playing high school basketball again.
Pendergrass, who remains a member of the Hanna varsity basketball team, underwent surgery for an implantable cardioverter defibrillator, or ICD, to help control his Long QT syndrome.
According to the American Heart Association, an ICD is "a battery-powered device placed under the skin that keeps track of heart rate."
Wires are connected to the heart, and if an abnormal rhythm occurs, the device will deliver a shock to restore normal rhythm.
"Instead of me carrying an (Automated External Defibrillator) it is kind of like they put one in me," Pendergrass said. "I should have it with me the rest of my life."
The diagnosis stemmed from a Nov. 21 incident in which the 16-year-old went into cardiac arrest while playing in a basketball scrimmage at Hanna.
Pendergrass was revived by an athletic trainer using an AED, which shocked his heart back into rhythm.
"From everything I understand, he had gone into full cardiac arrest and stopped breathing," said John Crosby, with PlaySafe, which employs the athletic trainers in Anderson.
Pendergrass said those actions that night saved his life.
Freshman James Lovorn, a teammate of Pendergrass's, said it was an emotional evening.
"It was terrible," he said. "(Clate) was playing really well that night. We were sitting beside the bench right beside each other when it happened. No one really knew what was going on, and some people were crying in the locker room."
Long QT syndrome is a disorder of the heart's electrical activity. It can cause sudden arrhythmia in response to exercise or stress, according to the National Heart, Lung and Blood Institute. Arrhythmia is a problem with the rate or rhythm of the heart.
"I had never heard of (Long QT syndrome) until that day," Pendergrass said. "It sounded like a foreign language."
Pendergrass was prescribed beta-blocking medication to control the condition before the surgery. The medication helps his heart valves to be better synchronized.
There is no cure for Long QT syndrome.
Pendegrass went into surgery Jan. 24 at the Medical University of South Carolina in Charleston. He went home the next day.
His mother Ansley, who is the girls varsity soccer coach at Hanna, said she was updated periodically during the three-hour procedure.
"It was the longest three hours of my life," she said. "It was really nerve-racking. When they got to the last hour and were closing him up, we were on pins and needles."
Ansley Pendergrass said adding to the anxiety was that doctors forced a cardiac arrest to see if the ICD was working properly.
"It is working properly now," she said.
Clayton is recovering at home and plans to be back at school later this week.
"I'm ready to get back," he said. "The school has been good working with me, and all my assignments I missed are waiting on me."
He credited the support he got from school and the Hanna basketball team as keys to keeping his spirits up. Pendergrass got a signed card, a large banner signed by students and multiple texts and calls from teammates.
"They were all praying for me and wishing me a speedy recovery," Pendergrass said. "It helped a lot."
Lovorn said Pendergrass has been to every game, when possible.
"We've had a fundraiser selling shirts and bracelets, and it's helped a lot," he said. "Just the thought of maybe being able to play with him again is great."
That is a goal Pendergrass has as well.
"Everything is looking good to be able to play again," he said. "It won't be this year, but maybe next year."
---
Story Credit: www.independentmail.com/story/sports/high-school/2018/01/30/t-l-hanna-basketball-player-clate-pendergrass-recovering-heart-surgery-cardiac-arrest/1074581001/